Vettel hopes for more India success
By his own admission the Indian Grand Prix has always gone "perfectly" for Sebastian Vettel, so there can be few tracks the Red Bull driver would rather be tackling as he closes in on a fourth world championship this weekend.
Indian GP. Click here to bet.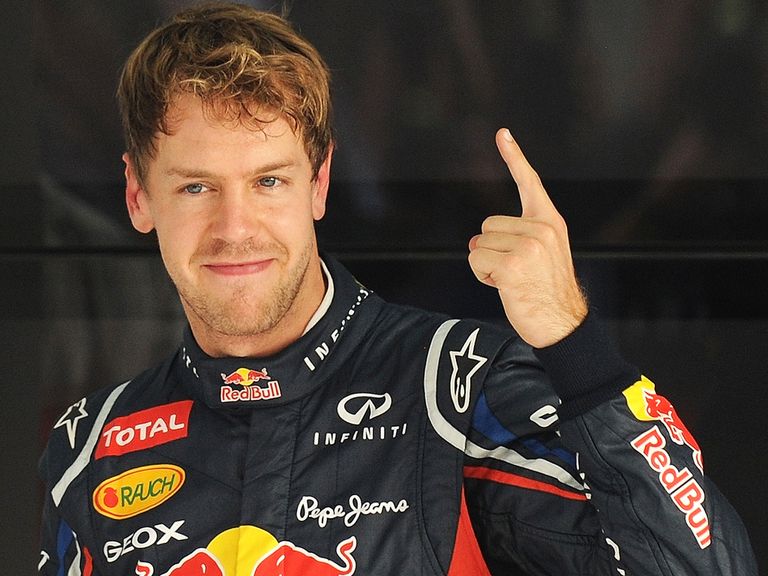 Vettel is so far the only driver to win at the Buddh International Circuit since the event appeared on the calendar in 2011, with his victories in the inaugural race and again in 2012 helping him on his way to his second and third titles.
After Vettel's victory in Japan last time out - his fifth win in a row this year and ninth in total - the German enjoys a 90-point advantage over Ferrari's Fernando Alonso in the drivers' standings.
While victory will be the only thing on his mind, Vettel can guarantee the title regardless of Alonso's result with a fifth place or better, and in doing so would become only the fourth driver to win four titles alongside Juan Manuel Fangio, Alain Prost and Michael Schumacher.
He is also bidding to join with Fangio and Schumacher as the only men to win four successively.
"So far everything has always gone perfectly for us in India," said Vettel. "There is also a very nice trophy at the end of the race - so it would be great to hold one again this year.
"It's a circuit that I like in a country that is very, very impressive every time we go there.
"It is not an easy track because of a few complicated rhythm-breakers that are in there. So to drive a perfect lap around the Buddh circuit, you need a good driving instinct."
Vettel is not alone in his praise of one of the newest circuits on the grand prix calendar, with most of the drivers enjoying the undulating nature of a track boasting the second highest average speed of the year after Monza.
"The track is good," said Vettel's team-mate Mark Webber. "I think they've done a good job with the circuit, it's a place where you can really put a Formula One car on the limit and it's quick.
"It's very, very fast, but has some undulations as well. The undulations are quite good and quite cute; they've put them in some challenging areas for us."
While generally regarded a success, there are however growing fears that this year's Indian Grand Prix could be the last, following the recent announcement that the race would not be held in 2014 and instead come back onto the calendar in 2015 - although this has not been confirmed.
The 2014 race was shelved due to F1 supremo Bernie Ecclestone's desire to have the event much earlier in the season, meaning there would have been a very short - and very expensive - turnaround between between this year's race and next.
In addition to the practicalities of the scheduling of the race, India's tax laws have long been a concern for many of the teams while the difficult economic conditions in India are also making life tough for the event's organisers.
Sauber's Indian-born team principal Monisha Kaltenborn on Wednesday claimed the sport was in danger of giving up on India too quickly, while Vicky Chandhok, the president of the Federation of Motor Sports Clubs of India, went further, saying in the Guardian: "If it doesn't come back in 2015, it may never come back at all. Once you lose a race it can be gone for ever."
Indian Grand Prix statfile:
Venue: Buddh International Circuit, New Delhi
Circuit length: 5.125km/3.184 miles
Laps: 60
Race distance: 307.249km/190.915 miles
Lap record: 1min 27.249secs (Sebastian Vettel, 2011)
2012 pole position: Sebastian Vettel (Red Bull) 1min 25.283secs
2012 winner: Sebastian Vettel
2012 fastest lap: Jenson Button (McLaren) 1min 28.203secs
Number of corners: 16 (7 left/9 right)
Tyre compounds to be used: Medium/soft
Bumpiness: low
Overtaking chance: medium
Engine severity: medium/high
Brake wear severity: high
Average lap speed: 206kph (128.002mph)
Full throttle per lap: 63%
Gear changes per lap: 58 (race = 3480)
2012 winning strategy: 1 stops (lap 33)
Total race pit stops: 28
Total 'normal' overtakes: 1
Total DRS overtakes: 19
Number of safety cars last year: 0
:: In the two Indian Grands Prix so far, Sebastian Vettel has led every one of the 120 racing laps and won both from pole.
:: After his victory in Japan, Vettel now has 35 career wins to his name, leaving him fourth in the all-time standings.
:: Should Vettel wrap up the title in India, at the age of 26 he will become the youngest driver in history to win four championships, beating Michael Schumacher by six years.
:: By winning in Japan, Vettel became the sixth driver in F1 to take victory in five or more successive races, joining Alberto Ascari (nine), Michael Schumacher (seven, six and five), Jack Brabham, Jim Clark and Nigel Mansell (all five).
:: With Fernando Alonso fourth and Felipe Massa 10th in Japan, Ferrari now have 63 consecutive points finishes to their name. McLaren hold the record at 64.
:: Apart from Vettel, the only other driver to feature on both Indian GP podiums is Alonso. The Ferrari driver was third in the inaugural race and second last year.
:: This will be the first Indian GP without an Indian driver involved. Narain Karthikeyan raced in 2011 and 2012 for HRT, while Karun Chandhok participated in free practice for Team Lotus (now Caterham) in 2011.
---
New Sky Bet customers: Claim free £5 bet every week
---