Hamilton hopes for podium finish
Lewis Hamilton has revealed he would happily accept third place if it were offered to him for this Sunday's season-opening race in Australia.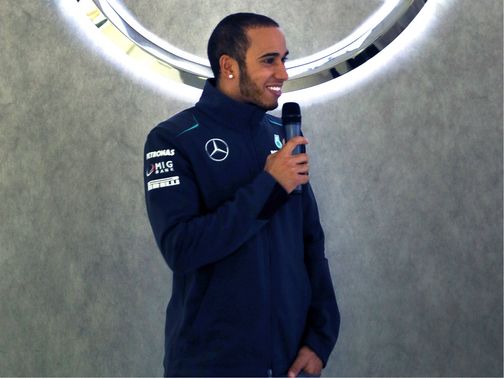 The doom, gloom and negativity that surrounded Mercedes earlier this year has been replaced by a more upbeat and positive attitude over the last couple of months.
The performances in testing from Hamilton and Nico Rosberg have been very impressive, to such an extent many pundits are predicting a far stronger challenge from Mercedes than has previously been the case.
"Right now I'd definitely take third," said Hamilton, a position he had to settle for last season for McLaren after starting from pole.
"It would be a massive positive for the team. It would be a very good stepping stone for us."
But predicting the outcome on Sunday is beyond any fortune teller as the circumstances to be encountered at Melbourne's Albert Park this week will be far different to anything seen in testing.
With a hot week forecast, air and track temperatures will be considerably higher than in Spain, whilst the circuit itself is a temporary 'street' venue, with roads barely used throughout the year.
Throw in the expected high degradation of Pirelli's tyres and the race could be something of a lottery.
"The last couple of years the tyres have been changing quite a lot, so you don't know what's going to happen there," said Hamilton.
"The Pirelli guys have said the supersoft tyre might not last six laps, so you're going to start the race and immediately you're going to be pitting.
"You're going to have to make the medium tyre last as long as possible. It could be a three, four-stop race. Who knows?
"But it's always the most exciting race because you don't know where people stand in terms of performance."
In the long term this season, whether Mercedes are good enough to take the chequered flag, a feat achieved just once in the past three years since their return to F1, Hamilton continues to preach caution.
"Our goal is always to win. We have to be realistic - we definitely have to be that this year," added Hamilton.
"It would be wrong of me to say we don't want to win the world championship this year.
"Every guy or girl back at the factory, they want to win, they want to succeed this year, as do I, but we have to take it one step at a time. It's going to take some time.
"It means if we build a foundation this year, and we have a chance of winning next year, then great.
"If we have a chance of winning at some point this year then that's going to be a bonus for us because the team was fifth (last year in the constructors' championship).
"If I can work with Nico and get the team higher in the championship this year, then that will be a real positive for me."
---
Click here for completely free £10 bet with Sky Bet & £5 free every week
---