Vettel seals title hat-trick
Sebastian Vettel rode a heartstopping rollercoaster of a Brazilian Grand Prix en route to becoming the youngest three-time Formula One world champion.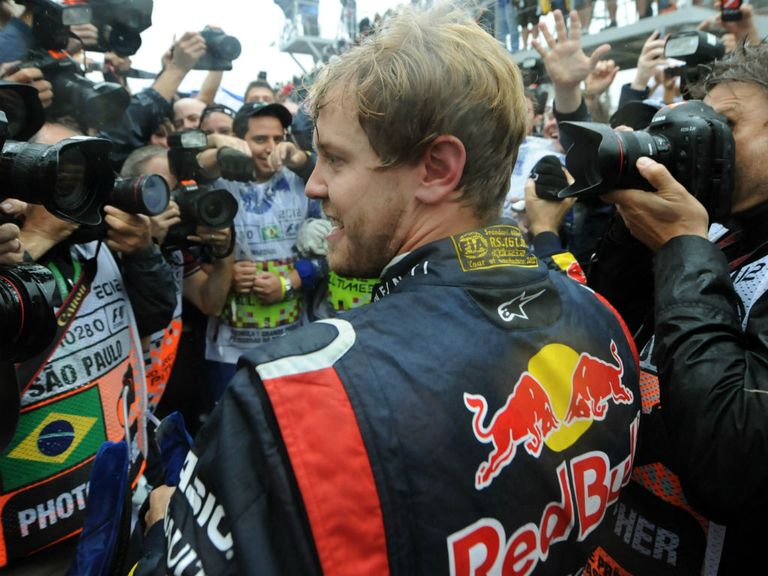 The race at Interlagos proved to be one of the most dramatic in the sport's history as the destiny of the title swung one way and then the other between Red Bull star and Ferrari's Fernando Alonso.
The conditions over Sao Paulo played havoc, resulting in a catalogue of incidents, not least Vettel dropping to last place after the first few corners following a collision with Williams' Bruno Senna.
But through drizzle, light rain, then heavy rain, multiple pit stops, it was Vettel who emerged the man, coming home sixth to finish three points ahead of Ferrari's Fernando Alonso.
The 31-year-old Spaniard could do no better than second behind race winner Jenson Button, his third victory of the season as McLaren team-mate Lewis Hamilton crashed out in his final race for the marque.
Vettel is now the ninth driver to become a triple world champion, and only the third - alongside Schumacher and Juan-Manuel Fangio - to win three in a row.
"It's difficult to find the right words - correct me if I'm wrong but there are only two guys who have done that before," said Vettel.
"You have to be in the right place at the right time, but you have to create your own luck for what is coming up.
"I don't know what to say. We're here in Sao Paulo, the place where he was born, came from and was buried.
"To come here and win the championship for a third time, I don't really know what to say. It's not sunk in. I've hardly had any time for myself.
"It's very difficult to find the right words because everything that could go wrong did go wrong.
"Imagine being the wrong way round on the first lap at turn four, but we kept the car damage to a limit.
"Then we lost the radio, then I did a pit stop at the wrong time. It was unbelievable, and with the conditions as well.
"So to be told I'm champion again was unbelievable, but unfortunately the guys couldn't hear my answer because the radio was broken!"
The race was utterly compelling and totally chaotic, in particular the start of the 71 laps which proved to be a disaster for Vettel, who has eclipsed the legendary Ayrton Senna's record.
From fourth on the grid, Vettel was relatively slow away and through the Senna curves the German had dropped to ninth.
The danger was obvious and it soon materialised as he was tagged by Senna, sending him into a spin and facing the wrong way.
Vettel was fortunate none of those he could see approaching him ran into his car, allowing him to spin his way back on to the track, but running at the back of the pack.
Vettel believed at the time he would have to return to the pits, his voice seemingly cracking with emotion, perhaps fearing his hopes of history were disappearing.
The information, however, from Red Bull was that the damage to the floor on the left-rear of his car was not reparable, but he could carry on.
Sensationally, after six laps as pandemonium exploded all over the track given the greasy conditions with light rain falling, Vettel was back up to eighth.
Ahead of him, following a stunning move into turn one at the start of lap two on Red Bull's Mark Webber and Ferrari team-mate Felipe Massa, Alonso was third, the minimum required for him to take the title.
Those first few laps were almost impossible to call such was the amount of action that unfolded as positions and the championship chase swung like a pendulum.
The second Williams of Pastor Maldonado and Lotus' Romain Grosjean also departed as the rain grew in intensity, sparking a flurry of pit stops to take on the intermediate Pirelli tyres to aid grip, notably Hamilton, Alonso and Vettel.
However, Button and Force India's Nico Hulkenberg stayed out on their dry rubber, the latter eventually leading a race for the first time in his career at the start of lap 19 when he passed the Briton into turn one.
When those behind were forced to switch back to dry tyres given the intermediates began to wear, Hulkenberg and Button found themselves 45 seconds clear of a group led by Hamilton who had stopped twice.
But when Alonso complained over the radio of the debris on track from a number of incidents, within a couple of minutes the safety car was deployed to assist the marshals to clear the circuit.
In one fell swoop, Hulkenberg and Button's clear advantage was wiped out as the safety car stayed out for seven laps, returning after lap 29.
For a while a relatively straightforward race unfolded, with the odd incident spicing up proceedings, before the drizzle became heavier.
That was just before Vettel pitted for a third time, but in taking on another set of dry tyres, it soon proved a bad move.
At the same time Hamilton's McLaren career came to a sad end as he suffered a broken front-left suspension as Hulkenberg slid into him into turn one as they came up behind backmarkers.
As he walked back into the garage, Hamilton was given a standing ovation by the entire team given he joins Mercedes next season.
That allowed Button to take a lead he held on to through to the end, and whilst Alonso passed Massa for second, it was not enough given Vettel was seventh at the time, which soon became sixth when the retiring for a second time Michael Schumacher allowed him by with a few laps remaining.
At the end of lap 70 Force India's Paul di Resta spun in the heavy rain, crashing into a wall on the final turn, so bringing out the safety car for a second time and effectively ending the race.
It allowed Button the victory, and more crucially, Vettel his third world title.
Without the title-winning driver on the podium in Vettel, it was at first left to Alonso to sum up his feelings about being runner-up again.
Alonso said: "I feel very proud of my team and of the season we have had.
"We have lost the championship now, but not here in Brazil, instead in some other other races (Belgium and Japan when he was involved in first corner accidents).
"When you do do something 100 per cent you have to happy and proud for the team, and we will try again next year."
As for race winner Button, he said: "I want to congratulate the whole team.
"This is the perfect way to end the whole season, and it bodes well for 2013."
Behind Alonso, team-mate Felipe Massa was third, followed by Webber and Hulkenberg ahead of Vettel, with Schumacher at least ending his six-race barren run - the worst of his 308-race career - with points for seventh.
Toro Rosso's Jean-Eric Vergne was eighth, Kobayashi ninth and then Raikkonen 10th, whilst crucially Caterham's Vitaly Petrov was 11th ahead of Marussia's Charles Pic.
With the Russian in such a place it allowed Caterham to claim 10th spot in the constructors' championship, and with it the millions of pounds that come with it, edging out Marussia at the death.
Alonso added: "It was good, what we wanted with the mixed conditions, and one of the most difficult races we have ever driven.
"There was a lot of risk to crash and have an accident, which we could not afford because we needed a podium finish to have any chance.
"We started seventh and finished on the podium one more time, as usual, which can only be achieved by perfection from the team.
"We came here hoping for a little miracle, and we had this little present of fighting for the title through to this race.
"It didn't quite happen, but thanks to the team for a perfect season."
Button, meanwhile, said goodbye to Hamilton as he said: "It is sad Lewis is not here in his last race for the team
"I'd like to bid him farewell and I hope he has a good career with his new team
"Also congratulations to Sebastian. Winning three in a row is very impressive."
---
Click here for completely free £10 bet with Sky Bet & £5 free every week
---