Hamilton quickest in first practice
Lewis Hamilton's engine problems in Australia failed to stop him from emerging top of the timesheet in opening practice for the Malaysian Grand Prix.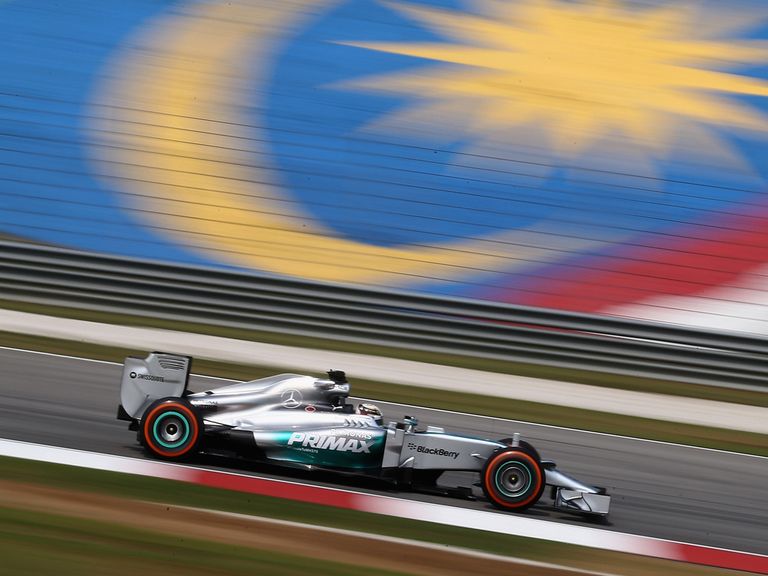 Lewis Hamilton's engine problems in Australia failed to stop him from emerging top of the timesheet in opening practice for the Malaysian Grand Prix.
After starting from pole position in the season-opening race around Melbourne's Albert Park a fortnight ago, Hamilton completed just two laps prior to suffering a cylinder failure in his Mercedes engine.
Over the intervening period the team opted to execute a fix rather than going for a change as the engine forms just one component of the power unit this season.
Over the course of the campaign only five power units are allowed per driver, beyond which grid penalties start to apply, forcing Mercedes to seek a cure and so not compromise Hamilton later in the year.
For now, the engine is holding up as Hamilton was quickest with a lap time of one minute 40.691 seconds.
By way of comparison, given 1.6-litre V6 turbo-charged power units have replaced the 2.4-litre V8 engines, Hamilton was four seconds slower than the best in FP1 from former Red Bull driver Mark Webber last year.
The 29-year-old finished the 90-minute session 0.152secs quicker than Ferrari's Kimi Raikkonen as temperatures soared to over 30 degrees centigrade and with humidity at 57 per cent.
Hamilton's team-mate Nico Rosberg, who went on to win in Australia by almost 27 seconds, was third fastest, a third of a second adrift.
Rosberg had the McLarens of Jenson Button and Kevin Magnussen in close attendance, who were third and second respectively in Australia following the disqualification of Red Bull's Daniel Ricciardo.
Magnussen, however, lost power at the entrance to the pitlane over an hour into the session and did not return to the track.
Toro Rosso's Jean-Eric Vergne was sixth quickest, followed by reigning champion Sebastian Vettel in his Red Bull and Force India of Nico Hulkenberg.
Williams duo Felipe Massa and Valtteri Bottas completed the top 10, the latter just over a second down on Hamilton, with Marussia's Max Chilton six seconds back in 18th.
For Lotus, there appears no end in sight to their problems as both Romain Grosjean and Pastor Maldonado failed to complete a timed lap.
The duo started at the back of the grid in Melbourne such were there woes Down Under, before completing 43 and 29 laps respectively prior to encountering failures with the energy recovery system.
Such distances were viewed as minor triumphs at Enstone, but despite time since then to work on reliability, the issues continue.
Grosjean ground to a halt after completing just two installation laps and although the Frenchman's car was returned to the garage, he completed only a further two laps.
Maldonado, who must surely be questioning his judgement after leaving Williams to join Lotus, also managed only two installation laps before wisps of smoke emerged from the back of his car.
The Venezuelan was able to trundle back to the pits, with the aid of a push from marshals and then his own mechanics, but unlike Grosjean failed to re-emerge.
It means the crews on both sides of the garage face a battle on their hands to remove the gremlins and get the cars back on track for the second session.