Nico Rosberg held off the challenge from Lewis Hamilton to win Formula 1's season-ending Abu Dhabi Grand Prix.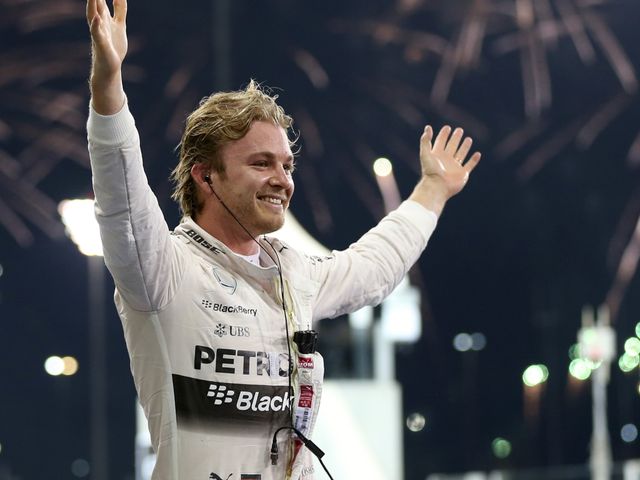 Hamilton attempted a different strategy to his Mercedes team-mate with pole-sitter Rosberg controlling the race at the Yas Marina Circuit.
But his best efforts came to no avail with Rosberg ultimately cruising to a hat-trick of consecutive victories for the first time in his grand prix career.
Rosberg crossed the line 8.2 seconds clear of Hamilton with Kimi Raikkonen taking to the final step of the podium for Ferrari.
Raikkonen's team-mate Sebastian Vettel, who started the race from 14th after a tactical gaffe in qualifying, finished fourth.
Last time out in Brazil, a frustrated Hamilton bemoaned a "boring" race after following Rosberg home and being denied a different strategy to that of his team-mate from the Mercedes pit wall.
His boss Toto Wolff subsequently claimed Mercedes would not adapt their policy of running their drivers on identical strategies. Yet here, at the final race of a season in which the Silver Arrows have dominated, Hamilton was allowed to try something different.
The Briton, who claimed his third world championship in Austin last month, pitted for a second time 10 laps later than Rosberg in a bid to be on fresher tyres than his team-mate in the closing stages. But the decision backfired and Hamilton, who as in Mexico and Brazil previously, was forced to settle for second.
It marked the 12th one-two finish for Mercedes this season, eclipsing the record they set last year.
Hamilton's former team-mate Fernando Alonso has been forced to fend off suggestions from his McLaren boss Ron Dennis that he will take a sabbatical next year.
But while the Spaniard said ahead of Sunday's race that he will be on the grid next year his mind appeared to be elsewhere on the run down to turn one after going in too deep and crashing into the side of Pastor Maldonado.
There was nothing Maldonado, who was forced to retire following the incident, could do here, and it was indeed Alonso who felt the wrath of the stewards.
Alonso was handed a drive-through penalty and spent the remainder of the race plodding around in 17th. At one stage the Spaniard, who won the first of his back-to-back championships a decade ago, hinted he would park his uncompetitive McLaren.
"If we don't have a safety car I will retire the car," he said.
He did not, but he finished one lap down and ahead of only the Manor pair of Will Stevens and Roberto Merhi.
His McLaren team-mate Jenson Button, who was involved in a minor prang with Valtteri Bottas in the pit lane after the Williams crew released their man rather prematurely, crossed the line in 12th.
Button ended the season with five more points than Alonso, the first time the Spaniard has been outscored by his team-mate in his 14-season career.
Sergio Perez ended his impressive season on a high by finishing fifth ahead of Daniel Ricciardo's Red Bull and Nico Hulkenberg in the Force India.
Williams driver Felipe Massa crossed the line in eighth ahead of Romain Grosjean, in his last appearance for Lotus, while Daniil Kvyat claimed the final spot in the top 10.
Rosberg will go into the winter hoping his strong finish is a sign of things to come next season.
"Austin was a tough weekend and since then I have just come back a lot stronger and I am excited how the end of the season went," the German said.
"Next year can come any moment - it could start tomorrow, I don't need any holidays - and it is great to end the season like this."
Hamilton added: "It has been an amazing year. I really have to take my hat off to this team. They have surpassed our own expectations and we have truly shown that Mercedes-Benz is the best team in the world and I am proud to be a part of it."
Regarding his strategy, Hamilton felt he could have got to the end of the race at the Yas Marina Circuit stopping only once.
"In hindsight once Nico had pitted I probably would have backed off and made those tyres last for a lot longer," he said. "The tyres were still fine so I honestly felt I could potentially have taken them to the end."