Lewis Hamilton has extended his lead over Nico Rosberg in the Formula One world championship after romping to victory at the Belgian Grand Prix.
Formula 1 2015 Season. Click here to bet.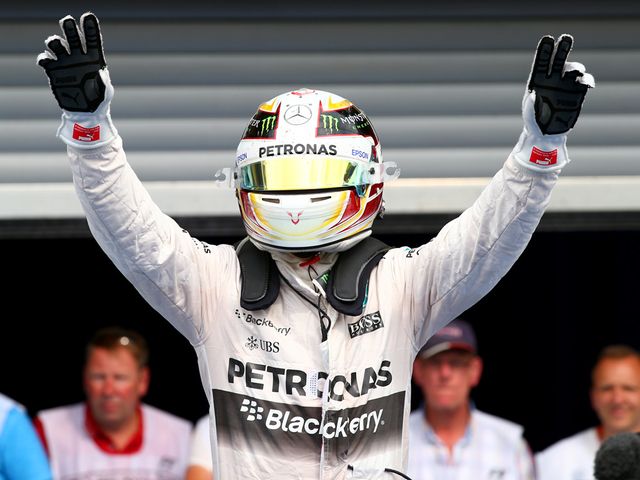 Hamilton, starting from pole for the sixth consecutive race, made no mistake as he eased to the chequered flag in convincing fashion.
Rosberg, slow off the start-line, recovered to finish second with Romain Grosjean benefiting from Sebastian Vettel's late puncture to take the final spot on the podium.
On Formula One's return to action after a four-week summer break, much had been made of the new start procedures introduced for Sunday's race.
The responsibility was being placed back in the hands of drivers - as opposed to the directive of their pit wall - and the premise was that it would lead to unpredictable starts and more dynamic racing.
And it was a tale of contrasting fortunes for the men who occupied the front row.
Hamilton, sluggish off the line at the last three races, enjoyed one of his best getaways of the season. Rosberg, in contrast, slumped to fifth.
Sergio Perez, who started from fourth, was quickest out of the blocks in his Force India. He drew alongside the Mercedes driver on the run down to Les Combes - the scene of Hamilton's collision with Rosberg last year - but Hamilton held the inside line and held off the challenge from the Mexican.
Daniel Ricciardo, winner here last season, was up to third in his Red Bull. The Williams of Valtteri Bottas was ahead of Rosberg, but it did not last for long. Rosberg, set to become a father for the first time next week, made his move on the Finnish driver at the chicane towards the end of lap one to take fourth.
Hamilton then laid down the gauntlet to his rivals at the sharp end of the pack with a number of impressive laps. By the end of lap four he had moved clear of Perez and was already five ahead of Rosberg. From there the race, which saw none of the rain which had been forecast, was all but over.
Ricciardo was the first of the leading pack to pit at the end of lap six. Perez promptly followed which promoted Rosberg up to second, almost nine seconds behind his championship rival.
Rosberg made his first stop at the end of lap 11 and his superior pace saw him rejoin the track ahead of Perez for a net second place. Perez, in his Mercedes-powered Force India, drew alongside Rosberg on the Kemmel Straight, but just as his team-mate did on the opening lap the German held position.
Hamilton stopped for a change to the prime tyre on the following lap. He retained the lead, but lost the best part of five seconds to his team-mate. Rosberg now trailed the leader by a little over three seconds.
Ricciardo's race then came to an abrupt end as he stopped with a mechanical issue on the pit straight.
The virtual safety car was deployed to slow the field down, but when it was withdrawn a little over two laps later, Rosberg had slashed the gap to Hamilton from a little over three seconds to nearer two.
"Nico is definitely closer than when the VSC came out," Hamilton observed over the team radio.
He had a point, but it did not matter. Rosberg was unable to get any closer, and for Hamilton, it was yet another regulation win, the 39th of his career, his lead in the championship extended to 28 points.
Elsewhere, Williams were left embarrassed when they fitted three option tyres and one prime tyre on Bottas' car. The different tyre compounds are defined by yellow, for option, and white for the prime. He was hit with a drive-through penalty and his race scuppered.
Retaining the comical theme, Jenson Button suggested that McLaren had "forgotten to connect the batteries". Down on power, he limped home in 14th ahead of only the Manor duo of Roberto Merhi and Will Stevens. Fernando Alonso was just one place better off on another sour day for McLaren.
Grosjean, who qualified fourth but was demoted to ninth after a gearbox change, then took the final spot on the podium after Vettel's puncture.
The four-time world champion, in his 150th race and who won last time out in Hungary, finished outside of the points.
Behind Grosjean, Daniil Kvyat was fourth for Red Bull, Perez fifth and Felipe Massa sixth for Williams. Kimi Raikkonen crossed the line in seventh for Ferrari with Max Verstappen, the unfortunate Bottas, and Sauber driver Marcus Ericsson rounding out the top 10.
Grand Prix Result
1 Lewis Hamilton (Gbr) Mercedes GP 1hr 23mins 40.387secs
2 Nico Rosberg (Ger) Mercedes GP 1:23:42.445
3 Romain Grosjean (Fra) Lotus F1 Team 1:24:18.375
4 Daniil Kvyat (Rus) Red Bull 1:24:26.079
5 Sergio Perez (Mex) Force India 1:24:34.384
6 Felipe Massa (Bra) Williams 1:24:35.670
7 Kimi Raikkonen (Fin) Ferrari 1:24:36.090
8 Max Verstappen (Ned) Scuderia Toro Rosso 1:24:36.463
9 Valtteri Bottas(Fin)Williams 1:24:41.427
10 Marcus Ericsson(Swe)Sauber-Ferrari 1:25:11.621
11 Felipe Nasr(Bra)Sauber-Ferrari 1:25:22.698
12 Sebastian Vettel(Ger)Ferrari at 1 Lap
13 Fernando Alonso(Spa)McLaren at 1 Lap
14 Jenson Button(Gbr)McLaren at 1 Lap
15 Roberto Merhi(Spa)Manor Marussia F1 at 1 Lap
16 Will Stevens(Gbr)Manor Marussia F1 at 1 Lap
Not Classified
17 Carlos Sainz (Spa) Scuderia Toro Rosso 32 Laps completed
18 Daniel Ricciardo (Aus) Red Bull 19 Laps completed
19 Pastor Maldonado (Ven) Lotus F1 Team 1 Laps completed
20 Nico Hulkenberg (Ger) Force India 0 Laps completed
Qualifying Times
1. Lewis Hamilton, Mercedes, 1:47.197
2. Nico Rosberg, Mercedes, 1:47.655
3. Valtteri Bottas, Williams, 1:48.537
4. Romain Grosjean, Lotus, 1:48.561
5 Sergio Perez, Force India, 1:48.599
6. Daniel Ricciardo, Red Bull, 1:48.639
7. Felipe Massa, Williams, 1:48.685
8. Pastor Maldonado, Lotus, 1:48.754
9. Sebastian Vettel, Ferrari, 1:48.825
10. Carlos Sainz, Toro Rosso, 1:49.771
Q2
11. Nico Hulkenberg, Force India, 1:49.121
12. Daniil Kvyat, Toro Rosso, 1:49.228
13. Marcus Ericsson, Sauber, 1:49.586
14. Kimi Raikkonen, Ferrari, No time
15. Max Verstappen, Toro Rosso, No time
Q1
16. Felipe Nasr, Sauber, 1:49.952
17. Jenson Button, McLaren, 1:50.978
18. Fernando Alonso, McLaren, 1:51.420
19. Will Stevens, Manor, 1:52.948
20. Roberto Merhi, Manor, 1:53.099
Third Practice Times
1. L Hamilton Mercedes 1:48.984
2. N Rosberg Mercedes 1:49.482
3. S Vettel Ferrari 1:49:629
4. K Raikkonen Ferrari 1:49.864
5. S Perez Force India 1:49.866
6. D Ricciardo Red Bull 1:49.930
7. D Kvyat Red Bull 1:49.980
8. N Hulkenberg Force India 1:50.000
9. V Bottas Williams 1:50.179
10. F Massa Williams 1:50.847
11. C Sainz Toro Rosso 1:50.552
12. P Maldonado Lotus 1:50.585
13. M Verstappen Toro Rosso 1:50.599
14. F Nasr Sauber 1:50.690
15. M Ericsson Sauber 1:51.054
16. R Grosjean Lotus 1:51.187
17. J Button McLaren 1:51.981
18. W Stevens Manor 1:54.981
19. R Merhi Manor 1:54.281
20. F Alonso McLaren No time.
Second Practice Times
1. Nico Rosberg, Mercedes, 1:49.385
2. Lewis Hamilton, Mercedes, 1:49.687
3. Daniel Ricciardo, Red Bull, 1:50.136
4. Daniil Kvyat, Red Bull, 1:50.399
5. Kimi Raikkonen, Ferrari, 1:50.461
6. Nico Hulkenberg, Force India, 1:50.461
7. Romain Grosjean, Lotus, 1:50.489
8. Marcus Ericsson, Sauber, 1:50.709
9. Felipe Nasr, Sauber, 1:50.928
10. Sebastian Vettel, Ferrari, 1:50.940
11. Sergio Perez, Force India, 1:50.971
12. Carlos Sainz, Toro Rosso, 1:51.037
13. Max Verstappen, Toro Rosso, 1:51.117
14. Valtteri Bottas, Williams, 1:51.250
15. Pastor Maldonado, Lotus, 1:51.317
16. Felipe Massa, Williams, 1:51.588
17. Jenson Button, McLaren, 1:51.854
18. Fernando Alonso, McLaren, 1:52.570
19. Will Stevens, Manor, 1:54.065
20. Roberto Merhi, Manor, 1:54.253 
First Practice Times
1. N Rosberg, Mercedes, 1:51.082
2. L Hamilton, Mercedes, 1:51.324
3. D Ricciardo, Red Bull, 1:51.373
4. K Raikkonen, Ferrari, 1:51.478
5. S Vettel, Ferrari, 1:51.866
6. D Kvyat, Red Bull, 1:51.960
7. M Verstappen, Toro Rosso, 1:52.158
8. C Sainz, Toro Rosso, 1:52.421
9. S Perez, Force India, 1:52.423
10. V Bottas, Williams, 1:52.511
11. P Maldonado, Lotus, 1:52.539
12. N Hulkenberg, Force India, 1:52.614
13. F Nasr, Sauber, 1:52.640
14. F Massa, Williams, 1:52.653
15. M Ericsson, Sauber, 1:53.426
16. F Alonso, McLaren, 1:53.502
17. J Palmer, Lotus, 1:53.799
18. J Button, McLaren, 1:54.225
19. W Stevens, Manor, 1:55.501
20. R Merhi, Manor, 1:56.086