Lewis Hamilton's domination of Formula One continued in Bahrain as the reigning world champion clinched his ninth victory in the past 11 races.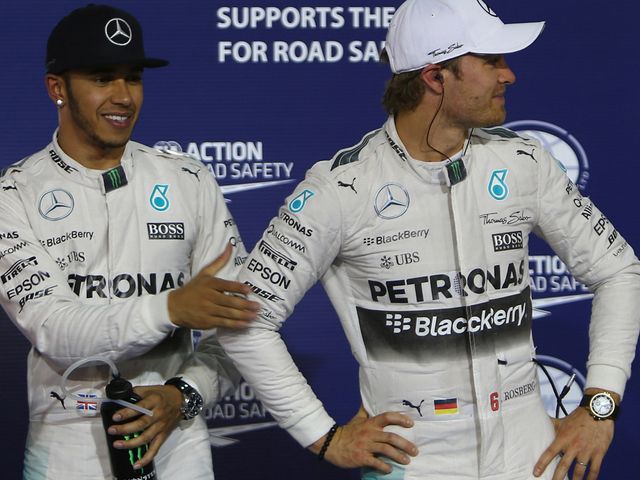 As in China a week ago it was another masterful, controlled drive from Hamilton who has now set a personal best record of finishing in the points for 11 consecutive grands prix.
Overall, Hamilton now has 36 career wins, with 21 of those from pole position, to open up a 27-point championship lead over Mercedes team-mate Nico Rosberg, who had to settle for third behind Ferrari's Kimi Raikkonen.
It was Raikkonen's seventh podium in Bahrain, with the Finn runner-up now on four occasions, but with this his first top-three finish since the 2013 Korean Grand Prix.
Hamilton finished a comfortable 3.3 seconds clear of Raikkonen, who made his way past Rosberg on lap 56 of the 57 under the lights of the Bahrain International Circuit courtesy of a mistake from the German who seemingly had trouble with his brakes late on.
With three-times champion Sir Jackie Stewart conducting the podium interviews, the Scot asked Hamilton as to his chances of emulating his feat to which the 30-year-old replied: "I'm gunning for it."
Hamilton added: "The team did an amazing job, Ferrari gave us a run for our money, but we kept the car together and the tyres as healthy as possible to win through."
Hamilton appeared to suffer a brake issue on the last lap to which he said: "Yeah, my brakes got a bit warm behind a few backmarkers, but it was not really a problem."
Raikkonen, as deadpan as ever, said: "You're never happy when you finish second, but after a difficult start to the year I'm a bit pleased to get a result.
"In the end we ran out of laps, but we have to be happy given where we started (fourth).
"Overall, I'm very happy with the way the team is working, and the atmosphere is good. I'm sure as a team we'll get there all the time fighting for wins."
Rosberg, meanwhile, conceded his brake problem cost him second as he said: "The overtaking was enjoyable; passing the red cars I liked a lot.
"In the end I tried to catch Lewis but couldn't do it, then I lost my brakes which was disappointing."
Sadly for F1, it was not the thriller of last year when Hamilton and Rosberg produced one of the sport's greatest duels over a number of laps before the Briton triumphed.
It is now back-to-back wins for Hamilton in Bahrain, whose 42nd pole again gave him the launchpad to set the pace out in front.
It was an unruffled start for the 30-year-old, whilst behind, Raikkonen had team principal Maurizio Arrivabene punching the air with delight as the Finn squeezed past Rosberg through turn one to claim third.
As to Arrivabene's reaction at the start of lap four, it was likely very different but there was no camera on the Italian when Rosberg passed Raikkonen to reclaim third spot.
Raikkonen, however, was ultimately to have the last laugh.
Five laps later and Rosberg moved up to second at the start of lap nine courtesy of an error from Ferrari's Sebastian Vettel on the prior lap that allowed his compatriot to close.
Come the first round of stops Vettel pitted a lap ahead of Rosberg and managed the undercut to retake the position.
But - with the bit between his teeth and showing some fight on this occasion - Rosberg required only two laps to pass Vettel into turn one.
It was a case of deja vu come the second set of stops as Vettel again undercut Rosberg, only to make another mistake by running wide on the exit of lap 35, seemingly due to a front-wing issue.
That allowed Rosberg to slingshot past Vettel down the start-finish straight, with the latter's bid for a podium ended 90 seconds later as he was forced to make a third stop to replace the wing.
Ferrari's main hope then lay with Raikkonen, who was the only one of the four leading cars to opt for the medium-compound Pirelli tyre in the middle stint.
That allowed him to take the faster soft rubber for the third and final stint and close down a 20-second gap to Rosberg, who would likely have been passed anyway despite his brake problem.
Vettel could eventually only manage fifth behind Valtteri Bottas in his Williams, whilst Red Bull's Daniel Ricciardo was sixth, albeit crossing the line in spectacular fashion as his Renault power unit blew.
Lotus' Romain Grosjean, Sergio Perez in his Force India, the second Red Bull of Daniil Kvyat and Williams' Felipe Massa completed the top 10, with the latter starting in the pit lane due to an electronics problem on the grid.
Fernando Alonso just missed out on the points with 11th, and was the only McLaren to start and finish the race as Jenson Button's car never even made it out of the garage due to ongoing electrical woes.
Manor's Will Stevens again saw the flag, finishing 16th, over 40 seconds clear of team-mate Roberto Merhi.