Lewis Hamilton is closing in on a third Formula One world title after romping to victory at the Italian Grand Prix.
Formula 1 2015 Season. Click here to bet.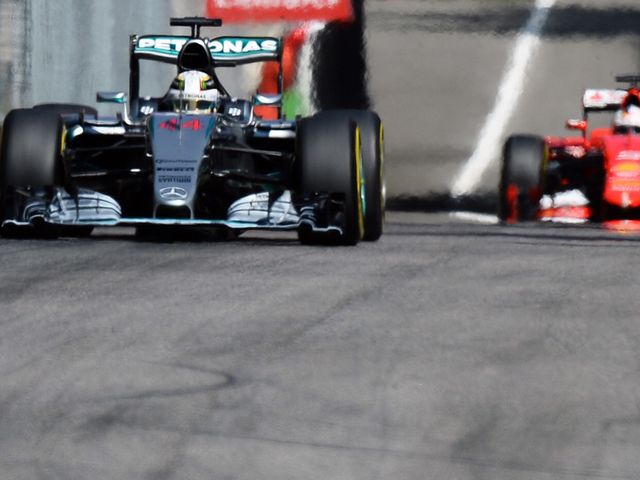 The 30-year-old held off the challenge from Ferrari's Sebastian Vettel on the run down to turn one and from there he never looked back.
Vettel followed Hamilton home while Nico Rosberg retired after his engine blew up with just two laps remaining.
Former Ferrari driver Felipe Massa crossed the line in third for Williams.
As far as dominant race weekends go, Hamilton is unlikely to have sampled one like this before.
The British driver headed into Sunday's race having topped every practice and qualifying session. He followed that up with a lights-to-flag victory and posted the fastest lap, too.
It means Hamilton will depart this historic track 53 points clear of his Mercedes team-mate Rosberg. The Monza venue is known as the 'temple of speed', but for Rosberg it was more the 'temple of doom'.
The German, who had already reverted to an inferior Mercedes engine, after his packed up in practice on Friday, started from only fourth on the grid.
But after Kimi Raikkonen's anti-stall appeared to kick in off the start-line and he failed to get away, Rosberg, who had to take evasive action, was promptly gobbled up by the Williams duo of Massa, Valtteri Bottas and Force India's Sergio Perez to leave him in sixth.
Raikkonen, starting on the front row for the first time in more than two years, finally got going but he was in last place as the pack negotiated the opening chicane.
As Hamilton pranced off into the distance, Raikkonen and - to a lesser extent - Rosberg provided the entertainment.
By the end of lap six, Raikkonen had moved up to ninth after taking the McLaren of Jenson Button. The Englishman had started only 15th, but had enjoyed a strong start. It was a false dawn, however as he fell back down the pack. Indeed by the midway point he and team-mate Fernando Alonso had both been lapped by Hamilton as they trotted around in 15th and 16th and Alonso later retired.
Rosberg, meanwhile, managed to navigate his way past Perez to move up to fifth and the decision to call him in for his pit-stop on lap 18 paid dividends.
Williams, often criticised for being slow to react, promptly hauled in Massa and then Bottas, but Rosberg, in his superior Mercedes, leapfrogged the pair of them and was up to a net third.
Vettel pitted from second and emerged 3.5secs ahead of Rosberg. Rosberg got to within two seconds of Vettel before his engine, six races old, let go on lap 51 and with it his chances of catching Hamilton in the title race seemingly up in smoke, too.
Mysteriously, Hamilton was urged by the pit-wall to put in a series of quick laps in the closing stages sparking concern there may have been something up with his car.
But the Briton crossed the line a mighty 25 seconds clear of Vettel to claim the 40th grand prix win of his career and his seventh of the season.
Massa held off Bottas to take the final spot on the podium. Raikkonen battled back to finish in fifth with the Force India duo of Sergio Perez and Nico Hulkenberg next up. Daniel Ricciardo was eighth for Red Bull with Sauber's Marcus Ericsson in ninth and Daniil Kvyat claiming the final point.
But as Hamilton celebrated on the podium, his emphatic victory was cast in doubt after Mercedes were called to see the race stewards following an alleged tyre pressure breach.
A technical delegate report issued by the FIA, the sport's governing body, claimed Hamilton's left-hand side rear tyre was "0.3 psi below the minimum tyre starting pressure".
A Mercedes representative will report to the stewards at 3.15pm UK time.
Quizzed about the technical probe in the post-race press conference, Hamilton said: "I wasn't aware of it."
Hamilton's 40th victory of his career is just one shy of Ayrton Senna's tally.
"This weekend has been fantastic," Hamilton continued.
"I don't know if I ever had a weekend like this. This circuit is such a special one - and for all the drivers - when you stand on top of that podium you feel incredible pride and incredibly proud to be among the greats that have stood up there.
"The sea of fans is just like anything I have seen so it is very emotional when you are up there. I got a good start, I managed to hold ground and Sebastian was very fair into turn one. I was generally able to control if after that."