A report from the Italian Grand Prix at Monza.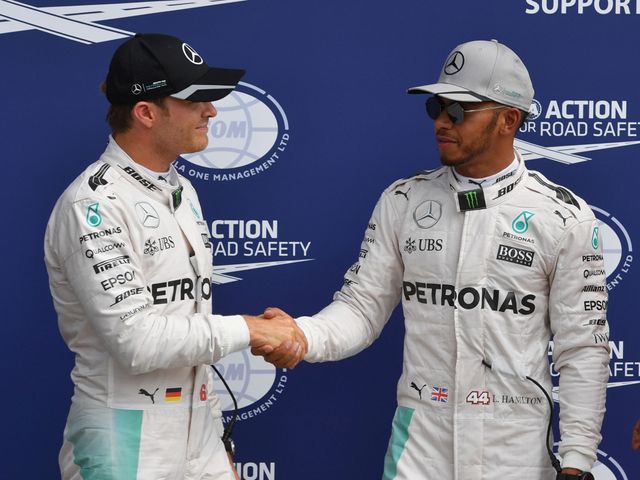 Lewis Hamilton refused to accept blame for the dreadful start in Sunday's Italian Grand Prix which scuppered his hopes of a 50th career victory and blew the world championship wide open.
Nico Rosberg moved to just two points behind Hamilton after he took advantage of his title rival's slow getaway to claim his second victory in eight days.
Pole-sitter Hamilton, 31, was bidding to become the first driver since the great Juan Manuel Fangio in the 1950s to claim a hat-trick of consecutive victories at the so-called Temple of Speed.
But a poor opening to the race, after similar cost the world champion probable victories at the opening two rounds in Australia and Bahrain, was to prove damaging on Sunday.
Gobbled up by Rosberg, both Ferrari drivers, and then the Williams of Valtteri Bottas and Red Bull's Daniel Ricciardo, it left Hamilton facing an almost impossible task of winning.
Hamilton, who recovered to finish second, informed his team that he was at fault for his slow start, but following the race he insisted it was not his error.
"I knew my engineers would be worried and nervous of how the start went, so that's why I tried to put their minds at ease," Hamilton said. "I don't really know what happened. I did everything as normal."
While Hamilton's team publicly insisted his sluggish getaway was a combination of car and driver, the Briton appeared more at fault.
"In the race he said, 'Don't worry guys, I got it wrong at the start'," Mercedes boss Toto Wolff said. "I don't want to blame anybody - not Lewis, not the engineers, not the system - but we have to address that topic because it lost him the race."
Hamilton passed Ricciardo with a sleek move on lap two, but he struggled to make his way past Bottas.
Indeed by the time Hamilton eventually took the Finn on lap 11 he was already 11 seconds behind his Mercedes team-mate. And by the time he had leapfrogged Sebastian Vettel and Kimi Raikkonen, courtesy of stopping for tyres on one less occasion than the Ferrari pair, the gap stood at 15 seconds.
"It soon became not a race with Nico, but making sure I stayed ahead of the guys behind and not lose any further points," Hamilton added.
"Nico drove a great race - he was faultless - and did what he had to do. When you are out front here it is relatively plain and simple. All he had to do was match some of my times and he was sorted."
Unlike in Monza two years ago when Rosberg gift-wrapped victory to Hamilton after two unforced errors, a strong performance from the German enabled him to claim his seventh win of the season.
Suddenly the momentum which had slowly been slipping away from Rosberg after he won the opening four races of the year is falling back in his favour.
"An F1 race is never straightforward," Rosberg said. "The start is always a big battle and I managed to win that. I needed to keep the pace up and it is never easy, but it was not the toughest race."
Vettel completed the podium, while Jenson Button - in what could be the start of his farewell tour after he announced he will not be racing next year - finished 12th. Jolyon Palmer retired after a collision with Sauber's Felipe Nasr.