Bahrain International
Sakhir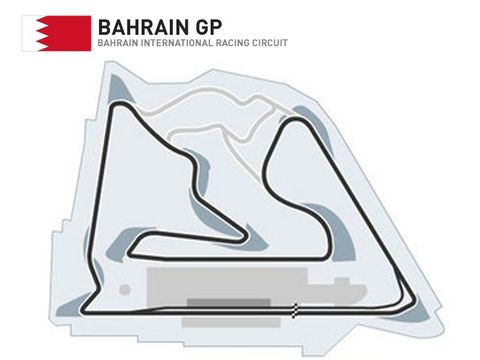 While off-track political controversies have dogged the event over the past two years, the Bahrain International Circuit again takes its April slot on the schedule for 2013.
Located on the outskirts of island Kingdom's capital city of Manama, the Sakhir facility is still very much situated in the middle of the desert. That inevitably means it is one of the dustiest tracks anywhere on the F1 calendar, despite the organisers' best attempts to - would you believe - spray glue the sand.
With air temperatures invariably also in excess of 30 degrees, the three-day grand prix weekend is one of the most physically grueling for the drivers and mechanics and it is not uncommon to see some of the grid's biggest names looking even more exhausted than normal on the podium after the race.
The circuit's stop-start nature also places a premium on the brakes with four straights around the lap punctured by slow hairpins.
As one of the first of the new wave of grand prix venues to join the calendar in 2004, Bahrain raised the bar in terms of the quality of facilities needed to make the grade in F1, even if the 3.9-mile layout itself received something of a lukewarm reception.
Following accusations that it wasn't exciting enough, and in response to the grid's expansion from 18 to 24 cars, a twisty infield loop was added for the 2010 season-opener. However, not helped by a particularly processional race, the extension to the lap failed to find much support and the new-look was quickly shelved.
Indeed, ahead of the race's ninth staging, it's far to say that Bahrain has yet to produce a truly classic race.
Fernando Alonso and Michael Schumacher's duel to open the 2006 campaign - one of two times Bahrain has been given the honour of hosting the season-opener - was certainly tense, as was Sebastian Vettel's battle for the lead with Kimi Raikkonen last year.
From 11th place on the grid, Lotus driver Raikkonen proved overtaking is possible at Sakhir as he raced up to the back of the World Champion but, as the Finn himself later admitted, he didn't take advantage of his one realistic chance to overtake the Red Bull driver.
Circuit length:5.412 km
Lap Record:F Alonso (2010)
Laps:57
Most wins (Drivers):Schumacher (2)
Most wins (Constructors):Ferrari (2)