Valencia Street Circuit
Valencia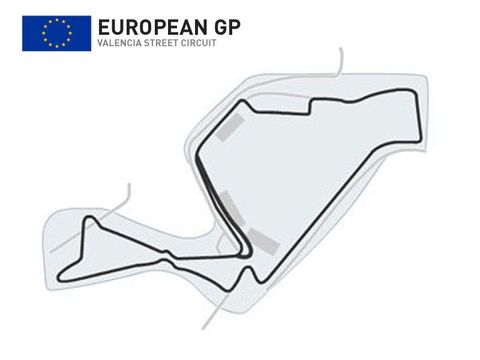 The disappearance of the European Grand Prix came after a period of prolonged speculation about Valencia's future. As things stand, the plan is for the city to share the Spanish Grand Prix with Barcelona. Yet plans can change and given the country's current economic plight, it might be seen as a tentative arrangement at best.
Introduced to the F1 calendar with a pledge to provide "speed, glamour and passion", the circuit disappointed on its debut and its reputation has failed to sufficiently recover since, making it one of the least popular races on the calendar with drivers and fans alike.
How different it was hoped Valencia would be. With the charming and historic city, the third largest in Spain, having committed to the redevelopment of its old port area and already staged yachting's America's Cup, hopes were high that the harbour-side event could become something akin to Monaco over time.
However, five seasons on from its debut, the race has in the main become infamous for its lack of glitz and glamour, either on the track or off it.
Despite being extremely wide in street circuit terms, the track's lack of overtaking opportunities didn't take long to manifest themselves, while the high walls and omnipresent metal catch fencing make the track, from ground level at least, look more like a motorway than a picturesque venue.
Although in theory the circuit has a mix of slow and medium speed corners interlinked by long 'straights', these 'straights' have major kinks in them, meaning there is only one very clear racing line created through the dust. This limits the effect of DRS as it is difficult for a driver to take a high-speed kink after dumping most of the car's rear downforce.
However, a lengthening of the DRS zone for last year's race was cited as a factor in it becoming a thriller rather than a bore. The other, of course, was the inspired display given by race winner Fernando Alonso.
For good performance, traction is essential due to the circuit's start-stop nature, but with so little overtaking possible during the race, the first priority of any driver is a good result in qualifying.
Circuit length:5.419 km
Lap Record:T Glock (2009)
Laps:57
Most wins (Drivers):Vettel (2)
Most wins (Constructors):Red Bull (2)