Circuit of The Americas
Austin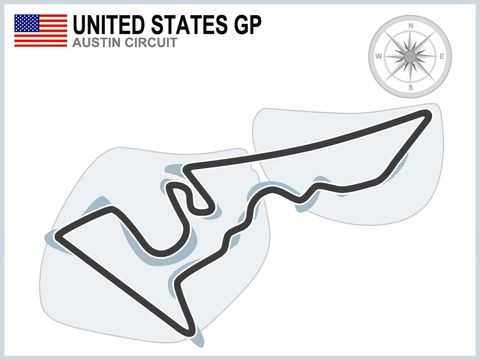 With the sport's preceding five-year absence from one of the one of the largest markets in the word having been widely recognised as being far too long, there was understandably an element of apprehension as CoTA geared up for its inaugural event.
But while there were a few contract scares in the year leading up to the 2012 opener, once the F1 fraternity arrived in the welcoming Texan state capital they soon realised there was no need to worry.
With the local Austin community having firmly embraced its shiny new motorsport acquisition, the 3.427-mile circuit itself quickly won over both drivers and fans alike owing to its unique combination of corners.
The layout, the brainchild of the man who originally secured the race, Tavo Hellmund, and later refined by F1's resident designer Hermann Tilke, had more than than 'something borrowed and something new' about it with inspiration taken from some of F1's some famous venues.
An Esses section reminiscent of the legendary Maggotts and Becketts complex at Silverstone, a reverse triple-apex challenge in the style of Istanbul Park's Turn Eight and a Hockenheim-style arena section all featured in the exciting anti-clockwise lap.
The circuit even had its own signature feature in the form of a steep uphill run to the first corner, characterising the kind of sudden elevation changes seen through the 3.4 miles.
Race day drew a bumper crowd of just under 120,000 and fittingly the battle for the inaugural victory proved an edge-of-the-seat classic as Lewis Hamilton stalked Sebastian Vettel for the whole race before passing the World Champion with 14 laps to go.
All in all it was therefore a fitting debut for the first purpose-built F1 facility in the United States and with a second US round on the streets of New Jersey, originally scheduled for 2013 but since postponed to 2014, to follow the sport's long-held quest to infiltrate the wider American consciousness has the chance to belatedly gain some momentum.
Circuit length:5.5 km
Lap Record:S Vettel (2012)
Laps:56
Most wins (Drivers):Vettel (1)
Most wins (Constructors):Red Bull (1)