Circuit de Catalunya
Barcelona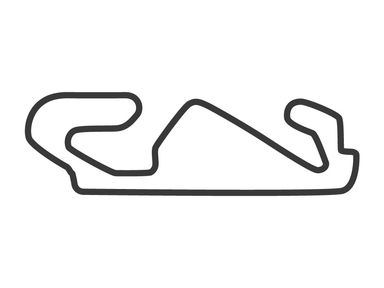 Barcelona's Circuit de Catalunya, now the sole Spanish stop on the F1 calendar, is one of the most familiar tracks for drivers and teams alike.
The 4.655km track has hosted the Spanish Grand Prix since 1991 and although Fernando Alonso's popularity led to the European GP dropping anchor at Valencia's quayside between 2008 and 2012, the country's financial crisis has since caused that race to be mothballed.
For the first decade or so, the Spanish GP was little more than a footnote on the schedules of the country's bike-mad public. But Alonso's rise changed all that and fans now flock to the circuit in massive numbers.
Although the traditional curtain-raiser to the European season in early May, F1 has usually visited the circuit for extensive pre-season testing and the circuit will host two of 2015's three pre-season tests.
The venue's mix of corners makes it an ideal proving ground for new cars and the F1 adage is that any car which is fast at Barcelona will invariably be fast everywhere else.
The unfortunate consequence has, in the past, been an over-familiarity which means that, come the grand prix, teams invariably arrive with car set-ups already perfected - meaning that any performance differential is minimised.
That has tended to mean processional frustration. In 1999, for instance, there was only one recorded overtaking move during the entire race. Pole position has also proved even more advantageous in Barcelona than elsewhere, although Alonso won from fifth on the grid last year.
The Ferrari star's victory came after he overtook both Kimi Raikkonen and Lewis Hamilton on the opening lap. It was impressive stuff, although the race turned into a rather confusing one when extreme tyre wear resulted in a plethora of pit stops.
The introduction of DRS zones has gone some way to boosting the chances of overtaking, with the first corner remaining the most feasible scene for a pass - although the speed cars travel through turn one is said to be a hindrance.
Another opportunity is at the turn ten hairpin at the end of the back straight. The corner was modified in 2004, tightening the apex, whilst creating room to run the car wide on the exit.
Other changes have not proved so successful, however. Tasked with making the circuit more overtaking friendly, Hermann Tilke's solution was to redesign the final two corners and create a chicane to try and keep the cars closer together heading onto the pit straight.
Alas, the tweak proved both a failure and arguably a detraction from the circuit's flow, with fans since denied the sight of the cars operating at the peak of their capacity as they had previously taken the two sweeping corners flat out.
Circuit length:4.655 km
Lap Record:F Alonso (2006)
Laps:66
Most wins (Drivers):Schumacher (7)
Most wins (Constructors):Ferrari (7)