Circuit de Catalunya
Barcelona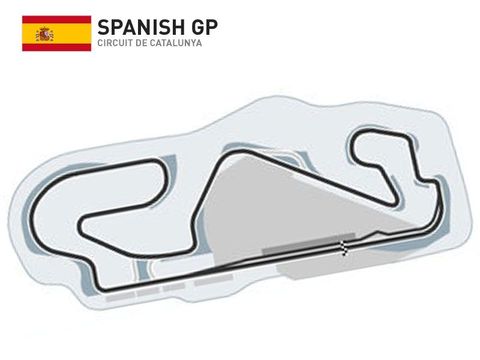 A deal to alternate the Spanish GP between the two cities has been much mooted, although not yet confirmed, so for now at least Barcelona continues its unbroken run in the sport since 1991.
For the first decade or so, the race was little more than a footnote on the schedules of Spain's bike-mad motor racing public. But the rise of Fernando Alonso changed all that and fans now flock to the circuit in massive numbers.
Although the traditional curtain-raiser to the European phase of the season in early May, F1 teams usually visit the circuit during winter testing. This year, for relevant example, eight of the twelve days of testing will be held there.
The venue's mix of corners makes it an ideal proving ground for the grid's new cars and the F1 adage is that any car which is fast at Barcelona will invariably be fast everywhere else.
The unfortunate consequence is a familiarity which means that, come the grand prix in May, teams invariably arrive at the track with car set-ups already perfected - meaning that any performance differences between them are minimised.
That has tended to mean processional frustration. In 1999, for instance, there was only one recorded overtaking move during the entire race while the 2011 race was the only one not won by the polesitter in the past 12 years.
The introduction of a DRS zone down the long main straight has gone some way to adding the opportunity for overtaking to the mix, with the first corner remaining the most feasible scene for a pass - although the speed cars travel through turn one is said to be a hindrance.
Another opportunity is at the Turn Ten hairpin following the back straight. The corner was modified in 2004, tightening the apex, whilst creating room to run the car wide on the exit.
Other changes have not proved so successful, however. Tasked with making the circuit more overtaking friendly, Hermann Tilke's solution was to redesign the final two corners and create a chicane to try and keep the cars closer together heading onto the pit straight.
Alas, the tweak proved both a failure and arguably a detraction from the circuit's flow, with fans since denied the sight of the cars operating at the peak of their capacity as had taken the sweeping two corners flat out.
Circuit length:4.655 km
Lap Record:F Alonso (2006)
Laps:66
Most wins (Drivers):Schumacher (7)
Most wins (Constructors):Ferrari (7)