Buddh International Circuit
New Delhi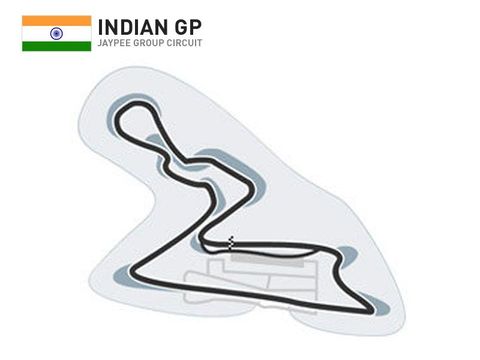 Making its debut in October 2011 after years of anticipation, India received an enthusiastic thumbs-up both on and off the track, with 95,000 spectators in attendance to see Sebastian Vettel - who romped to victory again last year - take the chequered flag and the drivers, almost to a man, approving of their new place of work.
Hailed as "great fun to drive" by Jenson Button, and "awesome" by Nico Rosberg, the 3.18-mile Buddh International Circuit proved a rare instant hit.
Anything but an 'off-the-shelf' replica, the circuit boasts lots of elevation changes, and a good mix of high-speed corners with slow and medium speed turns.
The turn 10 and 11 sequence is slightly banked providing an unusual challenge for drivers and the long fast right-hander is similar to the triple apex turn eight at Istanbul Park.
It also contains the Tilke trademark: an ultra-long straight followed by a hairpin - which duly provided a healthy amount of overtaking opportunities into turn four during its debut race. A further attempt to promote passing came with a number of partcularly wide corner entries.
With Force India seen as a national team, and Bollywood stars turning out to add showbiz glamour, Formula 1 took the country by storm, unlike in other new venues on the calendar.
Expect the Indian GP to become an essential item on the calendar for many years to come.
Circuit length:5.137 km
Lap Record:S Vettel (2011)
Laps:60
Most wins (Drivers):Vettel (1)
Most wins (Constructors):Red Bull (1)