Hungaroring
Budapest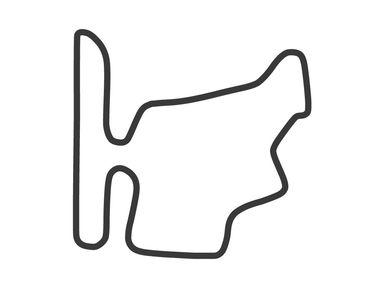 A curiosity in more ways than one, the Hungaroring boasts a unique piece of history in being the first circuit to have staged a grand prix behind the old 'Iron Curtain' in 1986.
Yet that remarkable piece of history now hangs heavy on the circuit's shoulders. Although alterations to both the twisty track and paddock have naturally had to be made over the last two decades as F1 continues to demand more of its venues, the circuit is conspicuously narrow by modern standards and the facilities are far from the best on the calendar.
Yet for all this the Hungarian Grand Prix has been ever present for the last 26 years and has its own inimitable charm. Indeed, in 2009 a new deal was announced securing its presence on the calendar until 2016.
Set in a valley, the circuit's original designers made full use of the natural terrain, using the bumps and crests to create a unique driving challenge. With 80 per cent of the track visible from certain spots in the grandstands, it's also great venue for spectators to attend.
Indeed, with the circuit situated close to Budapest, fans from around the world travel each year and, with the entire area caught up with F1 fever, the result is a real party atmosphere. Indeed, with the successes of Mika Hakkinen and now Kimi Raikkonen, it has become something on an unofficial 'Finnish GP' owing to relative proximity of the two countries.
Despite all the positives, however, overtaking is notoriously difficult at the circuit. A core issue is that the Hungaroring is hardly used throughout the year, meaning the surface becomes very dusty and 'green'. Thus its characteristics become similar to that of a temporary street circuit, where the track is at its quickest on the final lap of the race weekend.
The dust also means it is difficult for drivers to go off the racing line to attempt an overtaking move as even if the pass is successful, the dirt on the tyres makes the car difficult to drive for the next few corners.
Unless it rains, as has been the case in a couple of recent years, the best overtaking spot will be into turn one, a right-hand hairpin at the end of the pit-straight and DRS zone. The straight was lengthened in 2003 by 200 metres and the corner tightened to try to facilitate overtaking. In practice, however, any benefits from the tweak have been minimal.
It's an unfortunate sign of the times that with European races under a bigger threat than ever, Hungary may well have to literally rip up some of its cherished heritage to secure its future beyond 2016.
Circuit length:4.381 km
Lap Record:M Schumacher (2004)
Laps:70
Most wins (Drivers):Schumacher (7)
Most wins (Constructors):Ferrari (7)