Korea International Circuit
Yeongam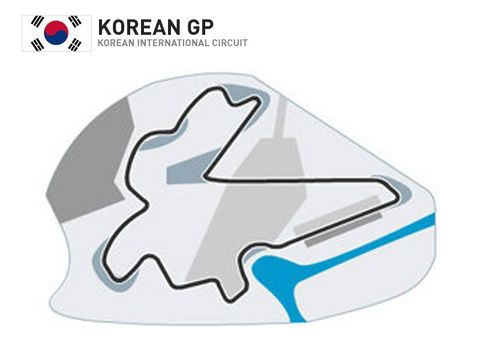 Located more than four hours away from the country's capital, Seoul, the event has failed to really capture the imagination of the nation and officials have already indicated a desire to renegotiate their contract with Bernie Ecclestone after running at a loss so far.
The venue's original blueprint included the construction of a new marina complex around the final sector of the lap, with the track becoming public roads during the rest of the year. However, these plans have yet to materialise, leaving something of a soulless circuit stuck in imperfect isolation and surrounded by marshland.
This lack of development has also made it incredibly difficult for teams, media and fans to find accommodation in surrounding Yeongam, with many forced into so-called 'love hotels' in the nearby city of Mokpo.
The 3.49-mile circuit itself is another Hermann Tilke design and typically features his trademark long straight followed by a hairpin between turns two and three. The straight is the longest in F1 and very arguably too long as cars driving in a straight line for a prolonged period is not an entertaining or invigorating sight for fans.
The pit entry and exit have also come in for major criticism. Cars slowing down to pit have to do so on the racing line of a blind corner, which is normally taken flat, meaning there is a major risk of a car being run into. The pit exit, meanwhile, feeds into the middle of turn one, meaning any driver who doesn't make the corner's apex could collect someone coming out of the pits.
Despite the seemingly permanent cloud under which the race hangs, it remains on the calendar for 2013 and has a contract for three years after that. The Korean Grand Prix is backed by the local government - who see it as a way of bringing investment to the area - meaning it's future could well be linked to their own. A change of office might bring about a chance of heart - but even then there would be cancellation fees to consider.
Circuit length:5.615 km
Lap Record:S Vettel (2010)
Laps:55
Most wins (Drivers):Hamilton (1)
Most wins (Constructors):McLaren (1)