F/T: Manchester City 2 Liverpool 2
FULL TIME. Manchester City 2 Liverpool 2. City lose more ground on league leaders Man United, but a terrific game ends with a fair scoreline that saw three magnificent goals in the process.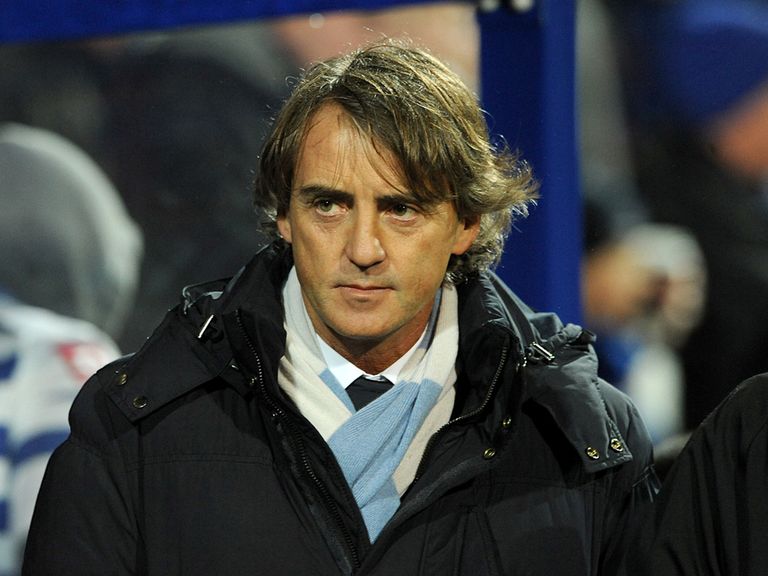 Agger controls Downing's ball coolly, and as he plays a dangerous bll in towards Suarez, Clichy is on hand to calmly play away the danger.Kolarov's corner is poor, travelling out of play and a big chance to continue the asssault on Liverpool's goal is wasted by City.Aguero helps the ball on to Maicon, whose surging run forward sees him look to feed the ball into Dzeko, before Skrtel makes the tackle to see the ball behind.Late change for the Reds as Sturridge is taken off, earning a mixed reception, to be replaced by Allen.Five minutes of injury time are added on.Great save from Hart! Sturridge lets rip with a thunderous drive, with the keeper at full stretch to palm the ball around for a corner.Reina does well to get a punch away to Milner's delivery, but it's City who are firmly pressing right now, until Johnson is floored by Nasri and a free-kick is given.Aguero makes a sensational, cutting run through Liverpool's defence, before Agger eventually gets a tackle in to concede a corner.Barry is hauled off for City, with Nasri introduced to try and grab City a winner.City press forward now, with Milner drifting to the left this time and forcing a corner. He delivers, and Maicon meets it, heading over the bar as a second chance from a corner goes begging for the hosts since the restart.Henderson keeps the ball alive in the final third, before Johnson takes aim from long range and drives a fairly impressive effort slightly over the bar.Another big chance for Liverpool. as a scramble in the box ends up falling to Gerrard, whose powerful half-volleys is charged down by Lescott.Downing looks to set himself up to take on Lescott, but he forgets to take the ball with him and the ball rolls out of play.Kolarov sees his vicious free-kick strike the wall, and Liverpool look to break with Suarez. The striker finds Sturridge but as the ball comes back to Agger, his comically atrocious flies well over the bar.The home fans are rallying back around their team and the next ten minutes could prove crucial in City's bid to retain their Premier League title now.This is very, very special. Barry plays in Aguero out wide, but as Reina sprints out, the striker chooses to go from goal from an outrageous angle and finishes absolutely magically. 2-2 and what a finale we're set for here in Manchester!GOAL FOR MAN CITY - AGUERO!A Gerrard free-kick is headed on by Sturridge, and the striker is unlucky to see his header flash wide of goal as Liverpool look to make the game safe.This really has been an exceptional performance in the second half, and Mancini could face a mighty backlash if his team fail to turn the game around here.Liverpool add some steel to their defence as Enrique is replaced by Skrtel.Silva heads off and Maicon comes on in his place.Another stunning goal from Liverpool, as Clichy clears into Gerrard's path, who unleashes a magnificent half-volley past a helpless Hart to give the Reds the lead. City 1 Liverpool 2!GOAL FOR LIVERPOOL - GERRARD!Gerrard's neat flick takes a touch off Barry but lands in Sturridge's path, with Milner doing superbly to knock the striker off the ball and regain possession for his team.Suarez is tripped under Garcia, and that's rightfully a yellow card for the City midfielder.Gerrard can't provide that killer pass to set Sturridge away, and on take two into Suarez, he only finds the welcoming arms of Hart.Milner again whips an impressive ball into the box, with Aguero unable to flick the ball into harm's way as Liverpool clear once more, with City much improved since the beginning of the half.Milner goes long this time, looking for Aguero at the back post, but Johnson intercepts and Liverpool look to counter. Sturridge finds Suarez divinely but their momentum is halted after an aimless pass from Downing.Milner crosses in to Barry, with the delivery looking fairly harmless, but Barry gets enough on the ball to trouble Reina, who is relieved to see it land on the roof of the net.Sturridge's one-two with Downing is neat, but the former's ball back out to Gerrard is poor and City break. Aguero travels up to 50 yards but slips at the final hurdle and loses control of the ball.Downing's sublime pass finds Suarez in space, but upon broaching into the penalty area, his curling right footed strike lands narrowly wide.Aguero takes another crunching hit in an exchange with Agger, and as the striker eventually gets to his feet, it wouldn't be a stretch to say he looks somewhat groggy.Barry finds space on the right, delivering a fine ball into Dzeko whose flick on fails to find the net or a team-mate and Johnson takes control.Carragher slips at a costly time, but Aguero's loose first touch allows the centre-back to recover, doing brilliantly moments later again to deny Silva shooting with an accurate tackle.Barry's speculative drive takes a couple of touches, with Silva and Aguero looking to keep the ball alive before Reina claims and eases the pressure.Strong challenge from Carragher, as Aguero takes a complete clattering with a yellow card shown to the Reds defender.Nastasic makes way for City in an attacking change that sees Kolarov take his place.Great stuff from Downing, who holds off Nastasic before driving the ball into the six-yard box, where Lescott beats Suarez to the ball before clearing away.Sturridge takes a tumble in the box, and the referee punishes the striker accordingly with a yellow card.It really is all Liverpool for the time being, with Cuty penned in their own half as Downing heads wide from Henderson's drilled delivery into the box.Dzeko heads on Gerrard's corner, but the ball is fizzed back into the six-yard box but Suarez, as Carragher sees his touch nudged over the bar.Solid Reds pressure as Suarez and Gerrard both take aim from the corner, with Nastasic and Lescott getting in the way of both efforts.After the ball is positioned back two yards by the referee, an odd call to say the least, Suarez lets rip and the wall takes his effort behind for a corner.Sturridge is tugged as he looked to find Suarez, and Liverpool have a free-kick 30 yards from goal, with the aforementioned striker is eyeing up with menace

.
Early chance for City as Milner's corner is powered behind goal by Garcia, after lovely work initially from the former in the build-up.
City get the action restarted.
New York's own Dylan Fearon writes: "City need to come out very strong on the attacking front in the second half. Look for Aguero to get on the score-sheet before this one is over. City wins 2-1."
A thoroughly entertaining half ends 1-1 after a Sturridge scorcher cancels out Dzeko's opener. Send your thought to jack.woodfield@bskyb.com or tweet @JWoodfield365
HALF TIME. Man City 1 Liverpool 1.
Two minutes of injury time are added on.
Enrique finds Suarez with a lovely ball, and on the half-volley Suarez tests the hands of Hart, who makes a very calm save.
Suarez collects the ball from Gerrard, but a poor touch allows Lescott to step in. Liverpool win back possession through Johnson though, where a ball forward sees Zabaleta nearly score an incredible own goal. the ball rolling narrowly behind Hart and out of play!
Henderson picks out Suarez on the overlap, but Nastasic marshalls his progress all the way, making the tackle to prevent the striker breaking away.
Silva looks to feed the ball into to the oncoming run of Barry, but Agger intervenes as Liverpool start to assert themselves defensively, leaving City a little flat at the moment.
Free-kick to Liverpool after an apparant handball from Aguero after trying to control Clichy's pass. This first half has completely flown by so far.
Really poor from City, as Silva's corner directed towards the far post finds none of his team-mates and it rolls out for a Liverpool goal-kick.
Johnson speculative drifts the ball across the face of goal, which turns into a shot during its flight as it lands on the roof of the net.
Yellow card for Henderson after a reckless sliding challenge on Milner.
City seemed to have been plucked out of their rhythm as SIlva and Aguero twice fal to link up in a meaningful way, making both attacks easy for Liverpool's defence to intercept.
Gerrard's delivery is flicked on by Sturridge, but the pace of the ball sees it roll of play before Suarez can retrieve it.
Suarez battles near the byline with Zabaleta, and while the ball did appear to come off the Reds striker last, it's the visitors who win the corner.
This certainly is a much more resilient Liverpool than we've seen earlier in the season and it all looks very even again now as Liverpool control the lion's share of possession.
Dzeko had stayed down during the build-up to Liverpool's equaliser, and after remonstrating with the referee afterwards, he receives the first booking of the game.
Liverpool respond in terrific fashion, but it all started with a dreadful clearance from Javi Garcia, who clears straight to Gerrard, who in turn knocks the ball into Sturridge where the striker fires a spectacular effort past Hart. All square again at the Etihad!
GOAL FOR LIVERPOOL - STURRIDGE!
Patient play now from Liverpool, as they progress slowly up the pitch, before heavy hussling from Silva sees Henderson lose possession, moments before Gerrard slides slightly wildly into Aguero.
City probe for a second with Milner, but as the ball comes in from the right, Agger stays alert to the presence of Dzeko and makes a towering clearance.
The Reds look to respond instantly with a corner, but as Downing finds Henderson, he can only knock the ball back towards the taker, finding Downing offside in the process.
Lovely move from City, as Milner is fed in by Silva before delivering a stunning ball across goal with Dzeko the first to react, poking the ball home to give City the lead.
GOAL FOR MAN CITY - DZEKO!
Aguero hogs the touchline in a bid to nip round Carragher, but the centre-back is having none of it as he makes the tackle.
Milner shows strength to skip away from Enrique, but as the winger is eventually dispossessed, he isn't happy as he claims tugging from the Reds full-back.
Lescott criminally gifts Suarez possession with a poor clearance, and the striker is agonisingly close to finding the net as he drives a left footed error narrowly wide of goal.
Suarez scuffs his shot after Sturridge's pull back, but Downing keeps the ball in play, until Gerrard plays another uncharacteristically poor ball wide which travels out of play.
Dzeko handles Barry's chip forward, which was a shame as the way the striker set himself up to shoot looked quite promising for City, with both teams looking quite capable of scoring when they venture forward.
Aguero eventually gets the ball past Gerrard into Silva, but the hosts find space limited before Barry's shot is cannoned back out into play by Carragher.
Oustanding play from Suarez, who skins Clichy and Barry before Lescott stands firm to concede a corner. As it comes in, Carragher gets in the way of Agger's header and it's a City goal-kick.
Downing tries to feed in Suarez, but Lescott comes across to cut out the pass, as Liverpool start to flex their muscles in the final third.
Barry steps in as Gerrard looked to combine with Suarez, and after finding Silva down the line, he is felled by Johnson and City are awarded a free-kick.
Gerrard drifts a speculative chip into the box, and as Garcia gets his head in the way, Liverpool win a corner.
Liverpool press forward with Johnson, who picks out Sturridge sublimely, the striker taking the ball round Hart before a diving challenge from Zabaleta prevents him finding the net. Superb play all round.
Lovely possession play from Man City, but as Dzeko progresses down the right he meets Enrique, who stands firm and ends up winning a free-kick.
Gerrard plays a rather aimless ball forward, gifting City the ball back after a nice spell for Liverpool in the centre of the park.
Milner looks for the head of Garcia from the corner but the ball comes off Dzeko and bobbles out of play. Fairly lively start so far from the hosts.
Very poor from Liverpool as Silva initially loses control going forward, before both Agger and Reina fail to prevent a corner occuring.
Zabaleta leaves it late before sliding into Henderson and Liverpool win a free-kick. The Reds play back though and hold up play in midfield for the time being.
Lovely interplay between Dzeko and Aguero, with the latter taking on Johnson after collecting Dzeko's pass, but the Reds defender holds his ground and earns a goal-kick for his efforts.
Liverpool press high up the pitch, but Johnson concedes possession and City charge forward through Zabaleta, who is tackled down the left side by Enrique.
Downing looks to lead Liverpool forward from the corner, but upon trying to find Suarez, the Uruguayan is caught out by the offside flag.
Reina is drawn into action within 50 seconds of the match commencing, the goalkeeper tipping over Silva's volley to concede a corner.
Liverpool get the action underway.
The pre-match handshake went smoothly, and we're now minutes away from kick-off at the Etihad.
Man City have been backed into 4/5 favs for this clash, with Sky Bet making the Reds 100/30 to win at the Etihad. Daniel Sturridge starts against his former club and is enhanced to 8/1 to open the scoring.
Bradley Horrocks writes: "City need the win today. I expect the players to perform like they did against Arsenal and close the gap. I say 3-1 City."
Robin Hughes writes: "My name's Robin and I'm a Liverpool supporter hoping for a win today. My prediction is that Liverpool will win 2-0 with Suarez getting both goals."
Manchester City defender Matija Nastasic returns to the centre of defence as one of two changes for the visit of Liverpool.

The Serbian recovers from a knee injury which kept him on the bench for the midweek goalless draw at QPR with Edin Dzeko also returning as Samir Nasri and Carlos Tevez make way.

Liverpool make just one change with Jose Enrique returning at left-back, meaning Glen Johnson switches to his usual position on the right with Andre Wisdom dropping to the bench.
Liverpool: Reina, Johnson, Enrique, Agger, Carragher, Lucas, Gerrard, Henderson, Downing, Suarez, Sturridge. Subs: Jones, Wisdom, Skrtel, Allen, Shelvey, Sterling, Borini.
Man City: Hart, Zabaleta (C), Nastasic, Lescott, Clichy, Milner, Garcia, Barry, Silva, Dzeko, Aguero. Subs: Pantilimon, Rodwell, Kolarov, Sinclair, Nasri, Tevez, Maicon.
Good afternoon folks and welcome to live coverage of Manchester City v Liverpool from the Etihad Stadium. For City, victory is imperative today if they are to reclaim ground on Premier League leaders, who went 10 points clear yesterday with a 1-0 win at Fulham. Stay here for team news, and if you'd like to get in touch today you can e-mail jack.woodfield@bskyb.com or tweet @JWoodfield365
Kick-off is at 1600.