Liverpool reveal settlement agreed
The last remnants of the former Liverpool regime of Tom Hicks and George Gillett were finally expunged after they agreed a settlement to drop their lawsuits over the sale of the club in 2010.
Premier League Top 4 Finish 12/13 Top 4 Finish: Liverpool 150/1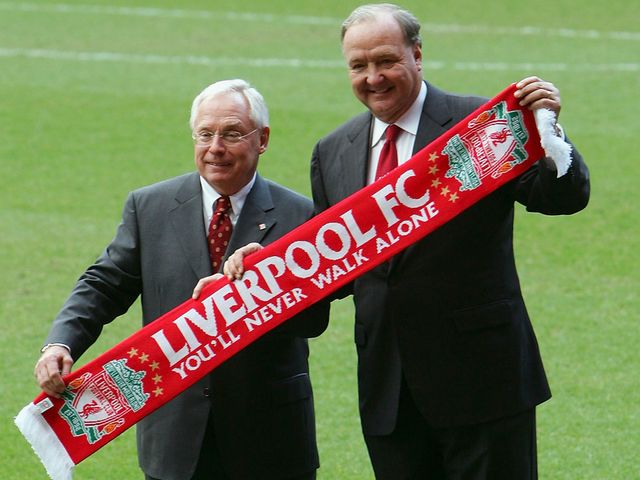 Deals have been struck with Royal Bank of Scotland, Sir Martin Broughton, Christian Purslow and Ian Ayre - chairman, managing director and commercial director at the time - to bring an end to their legal challenge.
The Americans, unhappy with the way the £300million sale was conducted in October 2010, made a number of claims and allegations against RBS and the individuals, which were all denied, which resulted in court proceedings.
However, all parties have come to a confidential agreement which has resulted in all allegations being withdrawn and the case being concluded.
"The parties have now agreed a settlement (the terms of which are confidential)," said a statement from Liverpool.
"All claims and allegations made against Messrs Broughton, Purslow and Ayre have been withdrawn by Messrs Hicks and Gillett and all legal proceedings between the parties concluded.
"The parties will not be making any further statement to the press."
RBS issued a similar statement in which they also confirmed: "All claims and allegations against RBS arising out of the sale process have been withdrawn (and will not be repeated) and as a consequence all legal proceedings between the parties have been concluded."
Earlier this week Hicks and Gillett had applied to delay the onset of a trial scheduled for April at which the Americans' grievances were due to be heard.
They failed in their attempt to vary a security costs order made in October after their legal team unsuccessfully argued the pair could not raise the required funds within the timescale.
According to the Court of Appeal ruling, the claimants had paid £712,000 on account securing the future of the case, half of what they had offered to pay by way of security.
That ruling appears to have expedited an out-of-court settlement between all parties and Liverpool are understood to be delighted with the work of the club's general counsel Natalie Wignall in bringing a long and complicated legal action against Broughton, Purslow and Ayre to a successful conclusion.
Hicks and Gillett's issues surrounded the manner in which the club had been sold against their wishes.
As part of the attempts to find a buyer for Liverpool in 2010, having come under increasing pressure from creditors Royal Bank of Scotland to expedite the sale, Broughton was brought in to lead the process.
However, when he, Purslow and Ayre out-voted Hicks and Gillett on the decision to sell to FSG the Americans tried to reconstitute the board and sack Purslow and Ayre.
That failed as Hicks and Gillett were deemed to be in breach of an agreement with RBS which permitted Broughton to lead the sale process and make decisions as to the composition of the boards.
In the spring of 2012 Hicks and Gillett took their case against Broughton, Purslow and Ayre, and RBS, alleging that they conspired to sell the club at a reduced price, to court.
They claimed RBS and the Liverpool directors had deliberately blocked their attempts to refinance, allegations denied, and that RBS had been too actively involved in the sale process.
At October's High Court hearing Mr Justice Peter Smith decided the matter should go to trial to ascertain the full details but that will now not happen.
Purslow, who stepped down a couple of weeks after FSG took over, expressed his pleasure at the conclusion to the matter.
"I am delighted we can finally close this traumatic chapter in the history of Liverpool FC," he said in a statement.
"I was brought in to fix the financial crisis at the club by leading the search for new owners and that is precisely what I did.
"I would particularly like to thank Sir Martin Broughton for agreeing to come to our club to lead our board at a difficult time, all my fellow Liverpool supporters, members of LFC staff and the entire football family for their unwavering support and the solidarity shown to me during my time at Liverpool - especially over the past two and a half years since I stepped down."
---
Click here for completely free £10 bet with Sky Bet & £5 free every week
---