Wenger rues star sales
Arsene Wenger will always regret not being able to realise the potential of his Arsenal squad over the past two years when key men were sold.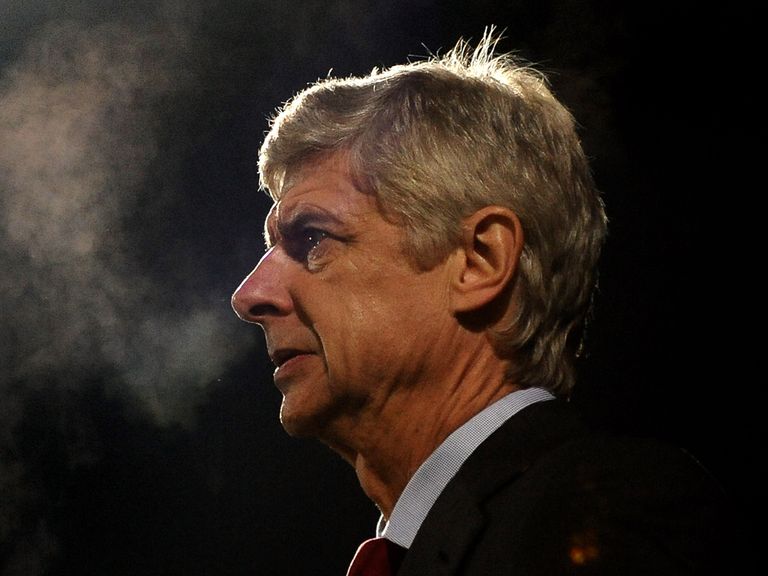 Arsenal's quest for a first trophy since 2005 suffered another blow on Tuesday night when they were beaten on penalties by npower League Two Bradford at Valley Parade in the quarter-finals of the Capital One Cup.
After guiding Arsenal to earlier great success, Wenger's plans to build a team capable of sustaining a challenge for honours were shattered by the departures of Samir Nasri, Cesc Fabregas, Robin van Persie and Alex Song.
In a wide-ranging interview with the January edition of Four Four Two magazine, conducted before Tuesday's loss at Bradford, Wenger admits there will always be a sense of what might have been if the club had been able to retain their talent.
"My regret is that we already had a great team two or three years ago which could compete on four fronts," Wenger said.
"We just missed out in the Champions League [last 16 tie] against Barcelona, when we could have scored in the last minute, and then we just missed out on the Premier League too.
"But you could feel the potential was there, and I thought, 'Okay, let's do this together'. Then the team split up, sometimes after five or six years' work, it is frustrating, you have to start all over again."
Wenger added: "We have lost recent players earlier in their careers - to lose Van Persie, Fabregas, Nasri and Song in just two years, it is a massive amount of potential, of course you worry."
Following Arsenal's decision to leave Highbury in 2006 for the 60,000-seater Emirates Stadium, the north London club found themselves having to battle the financial commitments to the move as well as the seemingly bottomless pockets of rivals including Manchester City and Chelsea.
Wenger turned 63 in October and his position has come under increasing scrutiny this season.
The Frenchman, whose contract runs until June 2014, feels he must remain true to the values he inherited when taking over more than a decade ago.
He said: "I am not saying I never made mistakes. I was fortunate to work for this club for 16 years and I hope I respected the traditions of this club. I feel fortunate, but I think somewhere as well I tried at least pay the club back with the trust they had in me."
Arsenal have long championed their self-sustaining business model.
Chief executive Ivan Gazidis maintains it is a philosophy which will give Arsenal an edge on the pitch, with UEFA's financial fair play regulations soon to kick in.
"Let's be clear - we don't see Champions League qualification as enough, we are proud of our record, but we want to do more, and we will," Gazidis told Four Four Two.
"Irrespective of financial fair play's impact, we will be among the top five most financially powerful clubs in the world by 2014, that is when we will really start competing."
Meanwhile several fan groups are demanding the club's chiefs act swiftly to stop the rot.
Wenger insisted that part of his job is to help the team "recover and focus on the next game", but the Arsenal Supporters' Trust (AST) was set to demand immediate changes at a meeting with Gazidis on Wednesday night.
The AST has long supported the Gunners' prudent financial approach but believes the lack of spending has now gone too far and that the defeat by Bradford was a symbolic moment, with the team having decreased in quality year after year since 2009.
The Trust wants changes at board level, for Wenger to release some of his duties to others and for the manager to spend some of the many millions available to him.
AST spokesman Tim Payton said: "This is the most difficult time in Arsene's 16 years and both the club and himself need to change direction quickly if his wonderful era is not to end on a sad note.
"The Arsenal Supporters' Trust cannot fathom why £70million was left untouched this summer. Arsene needs to get over his distaste for spending and use the resources that, after all, are provided by the hard-pressed fans who watch the team.
"The AST believe a shake-up is needed. We would like to see new, younger blood added to the board, and they also need to exercise more control and direction over Arsene's football strategy.
"One man cannot direct all transfer targets, wages, coaching methods and manage the team at games. It's too much for one man."
Even if results do not pick up, Wenger's position should be safe at least until the end of the season but an increasing worry for club executives is that significant numbers of fans are not turning up to matches at the Emirates despite having bought tickets.
There is also a fear that Theo Walcott may also leave the club - especially with Manchester United now linked with the England forward.
Arsenal do not play now until Monday, when they face Reading away, and Wenger has to try to raise the players' spirits though he insists the team suffered some misfortune at Valley Parade.
"It's extremely disappointing because in the second half and extra-time it was one-way traffic," said Wenger.
"We created a lot of chances but the final ball was missing."
Asked how Arsenal could recover, he added: "I believe that it is part of our job to recover and to focus on the next game."
---
Click here for completely free £10 bet with Sky Bet & £5 free every week
---