Landlord describes attack on fans
The landlord of a pub where a group of Tottenham fans were attacked by 50 knife-wielding Italian thugs has described the ambush.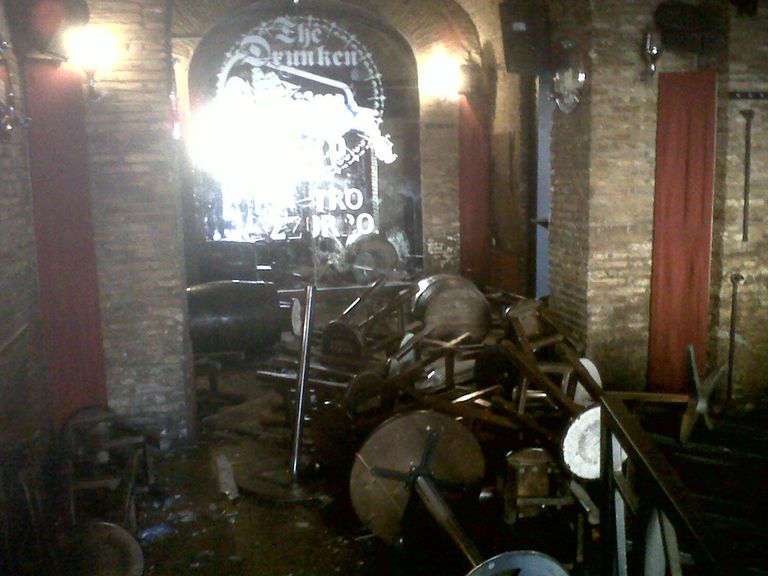 Marco Manzi said the troublemakers, fans of Lazio, stormed the Drunken Ship pub in Rome at 1am today wearing motorcycle helmets and armed with weapons.
Speaking as police conducted a forensic search along the blood-stained cobbles of Campo de Fiori, Mr Manzi said the Tottenham Hotspur fans were well behaved ahead of their club's Europa league clash with Lazio in Rome tonight.
Italian officials have said the hooligans known as Ultras - notorious thugs - had planned the attack which was "obviously organised".
Mr Manzi spoke out after his American-owned pub, popular with international tourists, was left practically destroyed in the violence.
He said: "The bar was full of about 30 English supporters at 1am. Most of them were aged between 40 and 50 and they were well behaved.
"Then arrived what I presume were Italian supporters wearing scooter helmets with their faces covered with scarves carrying stones and rocks.
"They arrived in the pub and they attacked the English supporters.
"Some of the English supporters tried to escape down Via dei Cappellari and it was in this street where one of them was hit by a knife.
"I think he was quite badly hurt but I don't know any more about him.
"The whole operation from start to finish was over in around 10 minutes. Most of the fans left and the police arrived."
Bar co-owner Gabriele Cianella was not present when the chaos erupted but was quickly contacted by his business partners.
He said: "They started throwing stones.
"They threw pieces of iron at the windows and they were wearing knuckle dusters. After a while they got inside and made all this mess.
"There were Tottenham supporters here to celebrate, they were drinking and singing but quietly, so the situation seemed to be under control, but then these people came aggressively and then after throwing this stuff they got inside and they were looking for these English guys, trying to catch them and they started to throw the chairs and tables.
"It is horrible. I think the worst thing was that there were no police here yesterday. We couldn't immediately call anyone.
"The partner who saw what was happening called the police. They came but I don't know how much time they took to get here but there was nobody here when the situation started.
"I think it's pretty bad. The equipment is broken, I think. All the tables, all the chairs, the windows, they are all broken. It's a lot of damage.
"This bar means a lot to me. I have owned this pub for four and a half years now. I like it very much.
"I'm an accountant, too, so it's a second job for me but I like it very much.
"I knew the previous owner and we know it's a very good pub, that is very much liked by the English and the Americans.
"I think this is the first time that something so bad has happened. We have had other incidents like this but this is the worst.
"If you throw stones and knuckle dusters I think you want to hurt someone. There was a lot of blood inside on the floor.
"Now we also have some blood on the windows. They came here to hurt someone."
Rome police said up to 50 assailants were part of the raid which brought bloodshed to the popular night-spot - situated in one of the capital's most colourful and renowned squares.
Sources today named four of the injured as Ashley Mills, Dave Lesley, Stephen Tierney and Christopher Allen.
Mr Mills is said to have been stabbed and was seriously ill in the city's San Camillo Hospital.
Police said a Californian and a Bangladeshi were also injured.
A spokesman for Tottenham Hotspur said: "We understand from local police that nine of our supporters suffered injuries last night following an incident in the city centre.
"Three of these supporters were taken to hospital for further treatment. We continue to seek further information and are liaising with both Italian and UK police on this matter."
Italian newspaper La Repubblica reported scenes of "urban warfare", said that the bar was wrecked in the attack and two tourists are also thought to have been injured.
One witness told La Repubblica: "We feared the worst."
Three victims are being treated at the Holy Spirit Hospital and three others at Fatebenefratelli.
A police spokesman said: "A group of about 40 or 50 people in motorcycle helmets or with their faces covered were armed and attacked the group of English football fans drinking in Campo de Fiori square."