Luis Suarez confirms exit plans
Liverpool striker Luis Suarez has confirmed he wants to leave Anfield this summer due to "my family and my image".
The 26-year-old - who is currently serving a 10-game ban for biting Chelsea's Branislav Ivanovic, served an eight-match suspension for racially abusing Manchester United's Patrice Evra and has faced repeated accusations of diving - is no longer prepared to put up with what he perceives as the unjust treatment he gets from the English media.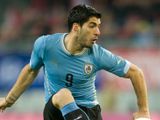 9. Luis Suarez
| Title | Number |
| --- | --- |
| Appearances | 27 (1) |
| Goals | 19 |
| Assists | 8 |
| Yellows | 7 |
| Reds | 0 |
*Current Season
He told a press conference in Uruguay: "My reason for leaving is not the money. If it were the money I would have left already. My main reason is my family and my image.
"That's my priority now. It's a difficult moment for me. The coach and may colleagues know that they didn't treat me well here. I don't feel comfortable here anymore. They know it [the team]. So I think it's understandable that I leave."
Asked to further explain his reasons for wanting to leave, he added: "Firstly, being persecuted from the paparazzi all the time. I couldn't go to my garden or the supermarket. I couldn't do anything. I know is normal being followed by the press, but it was too much. All silly things they said about me, all the pictures, all the taunts, etc.
"That happened every day and nobody (in the press) supported me. They talk about me being the named as the best player in England, but I knew that wasn't going to happen.
"I knew it because of the way the treated me. And the straw that breaks the camel was my mistake. I accept my fault, but they went too far (English press)."
Suarez recently told Uruguayan radio station Sport 890 radio that he would find it difficult to say no to Real Madrid, but claims he's received no bids from any potentially interested clubs.
He added: "I don't have any offer yet. I don't know when I will leave or even if I will finally leave or I will stay.
"The club knows what I think and what I want. I don't know what will happen but I have a contract. If I stay, I will do my best here. But I don't think that will happen because of all the bullying from the press against me. And the team is very aware of everything."
---
Click here for completely free £10 bet with Sky Bet
---