Luis Suarez given 10-game ban
Luis Suarez and Liverpool were left "shocked and disappointed" after the striker was hit with a 10-match ban for biting Chelsea's Branislav Ivanovic - a sanction that could see him suspended from domestic football until October.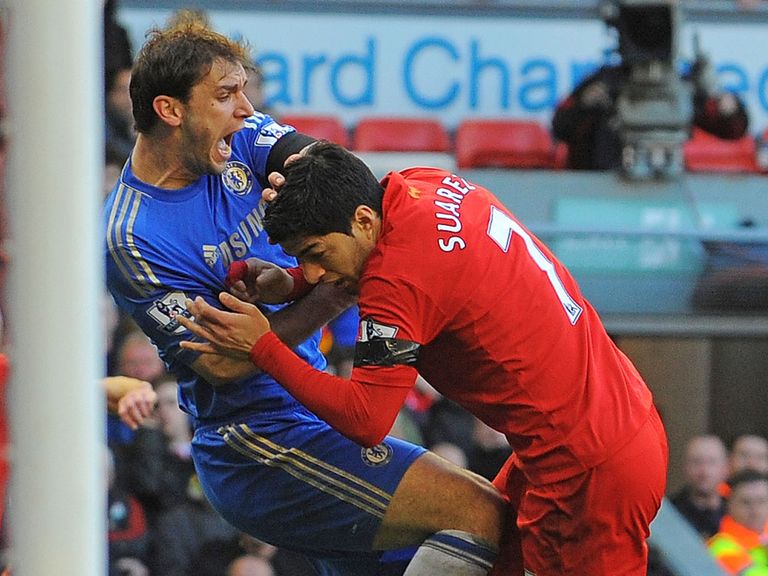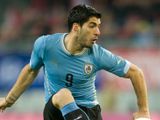 9. Luis Suarez
| Title | Number |
| --- | --- |
| Appearances | 36 (1) |
| Goals | 26 |
| Assists | 13 |
| Yellows | 10 |
| Reds | 1 |
*Current Season
The severity of the ban caught Liverpool's by surprise and the club, who will wait to see the written reasons on Thursday before deciding whether to appeal, will now have to make a decision over whether to sell the Uruguay striker.
Suarez missed eight matches last season due to his racist abuse ban, and following the punishment imposed by a Football Association independent regulatory commission now faces the prospect of missing the last four games of this campaign and the first six of next season.
Liverpool's managing director Ian Ayre, who earlier this week insisted the club were determined to keep Suarez, said in response to the decision: "Both the club and player are shocked and disappointed at the severity of today's independent regulatory commission decision.
"We await the written reasons tomorrow before making any further comment."
Suarez had admitted violent conduct after biting Ivanovic during the 2-2 draw with Chelsea on Sunday but challenged the FA's contention that he deserved more than a three-match ban.
The commission, however, agreed with the FA, which said in statement: "A three-person independent regulatory commission today upheld the FA's claim that a suspension of three matches was clearly insufficient and the player will serve a further seven first-team matches in addition to the standard three. The suspension begins with immediate effect."
Suarez has until midday on Friday to appeal the additional suspension, above the standard three matches.
Former Liverpool defender Mark Lawrenson believes the latest ban leaves the club in a difficult position.
Lawrenson told BBC Radio Five Live: "The thing about Suarez is he is now becoming a constant offender, and Liverpool are going to have to make a decision re Suarez and the future.
"I think it's a possibility he will have to leave. They are trying to sell season tickets at the moment and people will be saying 'hold on a minute, is Suarez going be here, is he going to miss 20% of the season?' It's a really tough one for Liverpool."
The 10-game ban is not only harsher than the eight-match suspension handed to Suarez in December 2011 for racially abusing Patrice Evra, but is significantly more than the four-game ban given to John Terry last year for racist abuse. The FA, though, is expected imminently to announce a new and more severe minimum ban for racism.
Joey Barton was given a 12-game ban last season, for a red card and violent conduct towards three players. In 2006, the FA banned Ben Thatcher for eight matches for an elbow incident that left Pedro Mendes unconscious.
The three-person regulatory commission included a former player and dealt with the case under the FA's fast-track system.
It also appears that Suarez's past has counted against him - the 26-year-old was banned for seven matches in Holland in 2010 when he sank his teeth into Otman Bakkal, and although that incident did not form any part of the FA's case as it was in a different country, the commission had the discretion to take his personal disciplinary history into consideration.
The same approach was also taken in relation to deciding whether his eight-match racism ban should have any impact on the sanction for this case.
There is no standard minimum or maximum punishment for biting in football's disciplinary code, unlike rugby union which has a 12-week recommended suspension for first offences up to a four-year ban for the most serious biting offences.
Suarez had apologised on Monday to Ivanovic, who suffered a bruised arm from the bite, and the Chelsea defender acknowledged the apology.
Liverpool moved quickly to deal with the latest crisis surrounding their star striker and imposed a club fine which is being donated to the Hillsborough families' support group.
Suarez will remain eligible for the Professional Footballers' Association Player of the Year award, for which he has been shortlisted, with the announcement on Sunday.
Chelsea manager Rafael Benitez said: "We know it was wrong and after the decision it's not something we can say too much (about).
"I'm here to play against Basle, concentrate on the Europa League and try to achieve our targets.
"We said we will not talk about that. We will talk about Basle."
A Chelsea spokesman added: "We consider it to be a matter for Liverpool and the FA. It could be a matter for an appeal and we'd rather not get involved."
Gordon Taylor, chief executive of the PFA, hopes the two-pronged approach of a strong sanction and education will work in Suarez's case.
He told Sky Sports News: "I think there is a twin approach. There is a sanction but also an education to make sure it doesn't happen again.
"The deterrent is definitely sending out a strong message but what I would like to re-emphasise is trying to get a player, in this case Luis Suarez, back on track and make sure there is a proper programme of counselling.
"There is a sports psychologist at Liverpool and clearly you hope there will be a renewed effort to improve matters in the future and we have made our offer of help on that."
Taylor also believes the time has come for retrospective punishment to be allowable for all incidents.
At present the Football Association is unable to subsequently punish players for an incident a referee has seen during the course of a match.
But Taylor believes the swiftness of Suarez's sanction provides a blueprint for how all matters should be handled.
Asked if he thought television replays should be used in any such action, he told BBC's Radio Five Live Sport: "Yes I would. I think the game is so high-profile.
"We've got enough experienced people in football to set up a panel and we have the technology to make quick decisions.
"Today was a relatively quick decision made by video and there's no reason why that can't be done in the immediate aftermath of the game.
"In this day and age with technology as it is I am very much in favour of retrospective action both ways. If there has been an error and a player has been punished when they shouldn't have been punished or sent off and vice versa.
"I just feel we've got the people who can do that and whilst justice is very difficult, it's never agreed on 100%, at least there's plenty of experienced people who could make that decision and you have to respect their judgment."
---
Get a free £10 bet on the future of Luis Suarez
---