Stramaccioni out, Mazzarri in
Inter Milan have parted company with head coach Andrea Stramaccioni after his first full season as a Serie A manager ended in huge disappointment, with Walter Mazzarri confirmed as his replacement.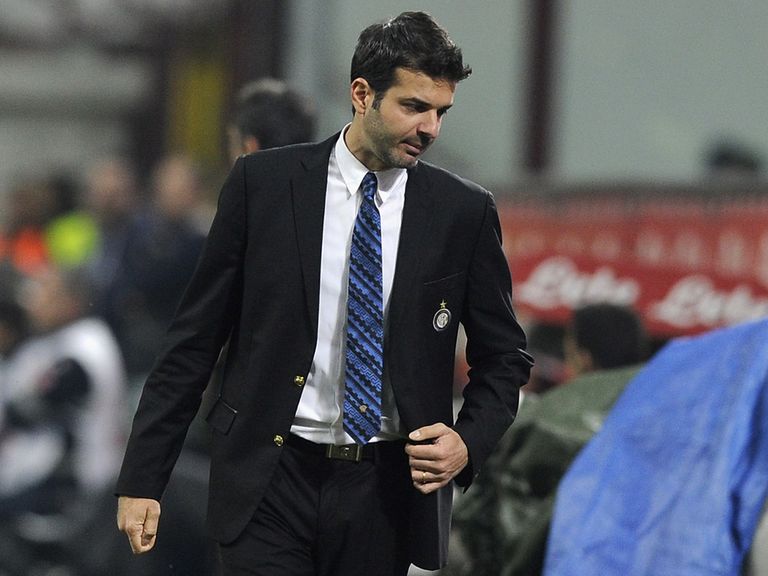 The 37-year-old Stramaccioni has paid the price after only guiding Inter to a ninth-placed finish - a worst performance since 1994 - while overseeing 16 league defeats in the 2012/13 campaign.
Mazzarri, who announced his decision to leave runners-up Napoli last weekend, has been named as Inter's new coach on a two-year deal.
A statement published on inter.it read: "Inter would like to communicate that they have reached an agreement with Walter Mazzarri - the new coach of Inter.
"Inter thank Andrea Stramaccioni for his great efforts and the professionalism he showed in a particularly difficult year.
"The agreement with Walter Mazzarri will last for two years."
Stramaccioni, whose contract ran until 2015, was spared the news until Friday having spent the week absent from Inter's Angelo Moratti training complex due to a bout of flu.
The Roman was a surprise choice to replace Claudio Ranieri in March 2012, with president Massimo Moratti temporarily putting his faith in the man who had guided Inter's youth team to glory in the inaugural NextGen tournament earlier that month.
A subsequent sixth-placed finish in Serie A - and a Milan derby victory that ultimately helped Juventus beat the Rossoneri to the title - saw Stramaccioni confirmed as head coach for the 2012-13 season.
A run of seven consecutive league wins through the autumn then culminated in a famous 3-1 victory at Juventus, who were denied the chance to go 50 games unbeaten, but Inter's campaign soon took a turn for the worse.
The departure of influential attacking midfielders Wesley Sneijder and Philippe Coutinho in the January transfer window preceded a serious injury crisis and a flurry of defeats that saw the Nerazzurri tumble out of the race for Europe.
Indeed, eight losses from 11 at the end of the season saw Inter finish ninth and miss out on continental competition for the first time since the 1999-2000 campaign.
Moratti had consistently backed his young coach but an unenviable record of 16 defeats in a single season and the sudden availability of Mazzarri seems to have forced his hand.
Mazzarri, 51, spent the last four seasons in charge of Napoli having previously coached the likes of Sampdoria, Reggina and Livorno.
While at Samp, Mazzarri led the Genoese club to a sixth-placed finish in 2008 and to the Coppa Italia final the following year, where they lost on penalties to Lazio.
He left the club that summer before taking charge of Napoli later in the year as the replacement for Roberto Donadoni.
Napoli finished sixth in his first season and the following year they claimed third spot and a place in the 2011/12 Champions League, where they progressed through the group stages before being knocked out at the last-16 stage by eventual winners Chelsea.
Last season Napoli finished fifth in Serie A as well as winning the Coppa Italia, beating Juventus in the final, while in the recently completed campaign the Partenopei were runners-up behind Juve in the league - their highest finish since winning the title in 1990.
Moratti explained the reasons behind the change of coach, saying he wanted someone with a proven track record.
The Inter chief also had words of encouragement for "unlucky'' Stramaccioni, who he believes could develop into one of the top managers in the country.
"They (sackings) are never nice. But let's say it for what it is: for now this change is due to the fact that we'll have a tough year and I thought we needed a coach with the experience of Mazzarri,'' Moratti told the club's website.
"That doesn't diminish the fact that we rate Stramaccioni as a talented coach, with potential, and I'm sure he'll become one of the best coaches in Italy.
"The reasons might even safeguard his professionalism because perhaps he was particularly unlucky and, at this moment in time, he might need to find himself in an easier situation than the one at Inter.
"But with the year he's had he will find that.'"
Looking ahead to life under Mazzarri and what Inter fans can expect for next season, Moratti said: "We expect to do well every year. Now let's see what happens in the transfer market.
"We'll speak to the coach about that and we'll see what comes out of that and then our hopes based on how good the team is.''
"We didn't start badly this season, it was an Inter side capable of winning but then we had a series of catastrophes, in terms of injuries, that meant we didn't do as well.
"We'll certainly try to rebuild to have solid targets.''
---
Click here for completely free £10 bet with Sky Bet
---