Flores seeks repeat feat
Chico Flores knows nothing less than a repeat of their cup heroics will be good enough if Swansea are to get a result at Stamford Bridge.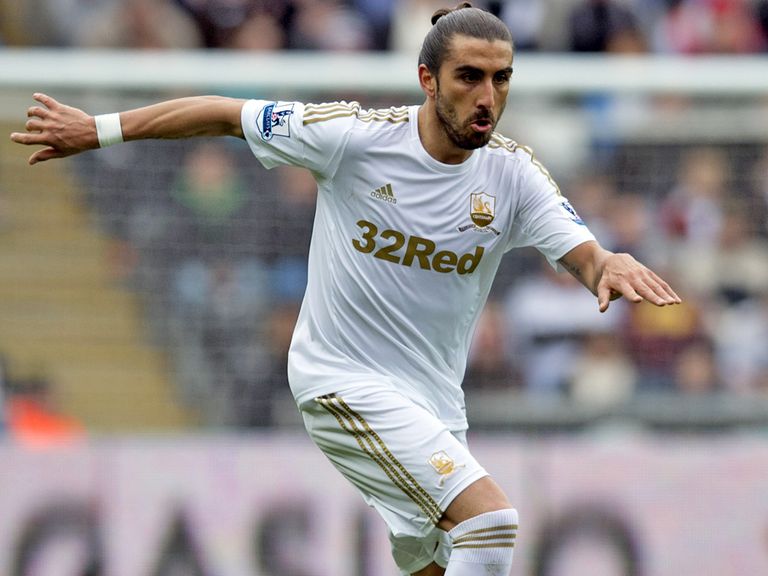 The Swans are unbeaten in three meetings against the reigning European champions this season.
The league meeting at the Liberty Stadium ended in a 1-1 draw, while two clean sheets in the last-four of the League Cup were enough to secure a 2-0 aggregate victory.
The outstanding performances of Flores and centre-half partner Ashley Williams were hallmarks of the cup contests, particularly during the first leg in London where the Swans had to survive wave after wave of Chelsea pressure.
Flores modestly deflects the praise for his individual performances, but acknowledges a similar standard will be required as they return to Stamford Bridge.
He said: "I don't know if they were our best performances of the season but obviously to keep Chelsea to zero in two games is an achievement.
"But it is not just about me and Ashley - our whole defence was good over those two games and has been throughout the season.
"Ben Davies is young and new to the Premier League but he has done well and is improving all the time, and Angel Rangel has been here for many years and is very good.
"We have two good goalkeepers in Michel Vorm and Gerhard Tremmel and as a team we work hard in defence, including the strikers and midfielders.
"We've done well in the big games this season, keeping a clean sheet against Chelsea and Arsenal, only conceding one goal against Manchester United and Manchester City. We need to keep that going."
While Flores has enjoyed a fine first season in the Barclays Premier League, it has been another inconsistent campaign for his compatriot Fernando Torres.
The £50million striker has scored 20 goals in all competitions this season, but has not scored a league goal since December, a drought of almost 1,000 minutes.
Flores has sympathy for the 29-year-old's situation and hopes he will enjoy an upturn in fortunes, but not during tomorrow's game.
"He has been a very good player for Spain in the Euros and the World Cup," Flores said.
"Before going to the Premier League, he was very good at Atletico Madrid.
"He did very well at Liverpool but it's been complicated at Chelsea.
"He's not scoring as many goals and the fans have criticised him.
"It's difficult for a player to go through that but he's a very good player.
"I hope he will get back to his best because it is difficult to see him get criticised - but only after Sunday."
Flores arrived from Genoa last summer with a reputation for being an aggressive defender, and he picked up a red card in just his third game for the club after a high challenge on Louis Saha in a draw with Sunderland.
But the 26-year-old has answered any questions over his temperament by quickly adapting to the British game, and is happy with the progress he has made.
"I'm a young player, but I've played in Spain, Italy and, this year, the Premier League," he said. "Each league is different. In Spain, it's not as normal to get a red card for that (the high-footed tackle on Saha).
"The fans might think I was very aggressive, but I think it's just because the leagues are different.
"I learned after that red card to control my aggression, that the Premier League is different.
"It's normal for a player in a new league to make a mistake and to learn from it and I think I have."
---
Get £90 from your free £10 bet with Sky Bet if Chelsea win 3-1
---