Van Persie makes Man United move
Robin van Persie has completed his move to Manchester United.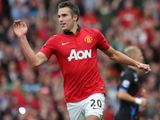 20. Robin van Persie
| Title | Number |
| --- | --- |
| Appearances | 3 (3) |
| Goals | 1 |
| Assists | 0 |
| Yellows | 0 |
| Reds | 0 |
*Current Season
United confirmed they had agreed a fee with Arsenal on Wednesday evening, and after a medical on Thursday the final elements of the transfer have been wrapped up.
The deal has been done in time for Van Persie to go straight into Sir Alex Ferguson's squad for Monday's trip to Everton.
United announced in a statement: "Robin van Persie has completed his medical, agreed personal terms and signed for Manchester United on a four-year contract until June 2016."
With his career at Arsenal at a crossroads, Van Persie knew Europe's biggest clubs all wanted him.
Last season's Golden Boot, plus the prestigious PFA player-of-the-year award were merely confirmation of what everyone felt about the 29-year-old.
Juventus confirmed their interest. Manchester City started the summer believing Van Persie would join their title-winning squad.
"In these situations, when you have to make a hard decision in your life, I always listen to that little boy inside me," he said.
"What does he want? That boy was screaming for Manchester United."
Van Persie likes to think of himself as a student of the game. He is interested in far more than the here and now.
And, for all City's riches, it was the history at Old Trafford, which at the very moment Van Persie was speaking, was playing host to yet another group of tourists eager to learn about Jonny Carey, Munich and Sir Matt Busby, which attracted him.
"Manchester United breathes football - every aspect," he said.
"I made my decision quite quickly.
"It was based on a lot of things. All the Manchester United players, the stadium, manager.
"I love football. From that perspective I am quite principled.
"And I feel this is the perfect match for me."
As United's recent transfer dealings have tended to err on the side of caution, Arsenal's supporters can hardly claim Van Persie has gone for the money, as they did with Samir Nasri and Emmanuel Adebayor, two of a growing list of departures that have done such damage to Arsene Wenger's vision.
Booed by the travelling Gunners supporters when he was introduced as a substitute during last Sunday's pre-season encounter with Cologne, Van Persie is nevertheless keen to limit the antagonism from a club where he spent eight largely happy years.
"I would like to thank Arsenal and Arsene Wenger for the last eight years," said Van Persie.
"The last eight years have been part of my history. They have always been good to me.
"I look back on the last eight years on a positive note.
"I don't want things to get twisted. From my side definitely, and I think from Arsenal's, there are no hard feelings.
"It is just that on certain elements, that were vital for me, we had a different view.
"That is life. No-one is angry with me. I am not angry with them.
"Sometimes you disagree on things."
Van Persie regards his latest challenge as the biggest of his life.
Having seen Nasri and Cesc Fabregas prosper since leaving Arsenal, now his intention is to do the same.
Key to that dream will be how he gels with Wayne Rooney.
Van Persie was the only person to score more Premier League goals than Rooney last season and Ferguson knows the crucial element of his entire project is getting the pair to work together to produce the same individual tallies.
"I love to play with Wayne Rooney," said Van Persie. "He is world class.
"When I look at players, I like to see if they can adapt in every single game.
"Wayne Rooney can score a lot of goals. He can make assists. He can play for the team. He works hard.
"But it is not just him.
"(Paul) Scholes and (Ryan) Giggs are world class and have been proving it for 20 years.
"I like to think we are all in it together.
"You need every single player to achieve greatness."
With little pre-season match practice under his belt, it seems likely Van Persie will start Monday's game at Everton on the bench, with Rooney being paired by England team-mate Danny Welbeck.
Shinji Kagawa is also in line for his first appearance as Ferguson chooses from a massive list of forward players.
And the Scot has vowed never to lose another league title due to lack of goals.
Monday's trip to Merseyside represents the first stop on the Red Devils' quest to regain their Premier League crown from Manchester City.
It was a loss famously confirmed by Sergio Aguero's stoppage-time winner against QPR, after United had finished their final match at Sunderland.
And it came through the narrowest of margins, just six goals.
That damning fact has eaten away at Ferguson throughout the summer.
It explains why the Scot has abandoned the recent policy of buying younger talent to pluck Van Persie straight from the top shelf.
"No matter the years of experience we have had in terms of winning titles, last year was different," said Ferguson.
"It was the first time anyone has beaten us on goal difference.
"It cost us the league and it won't happen again, trust me on that."
Although Wenger eventually drove a hard bargain, Ferguson's delight at signing a player who scored 37 times for Arsenal last season was understandable.
Six months ago, he did not believe there was a chance Wenger would let Van Persie join the Old Trafford outfit.
Even when his antennae were raised by Van Persie's damning statement confirming an intention not to sign a contract extension when his current one expired in 2013, there was still the small matter of City to overcome.
"I am looking forward to following in the footsteps of so many great strikers, bringing my experience and playing my part to help the team compete for the biggest trophies in the game. I can't wait to get started."

After all, it was only last summer that Nasri looked bound for Old Trafford, only to abandon that plan for City's ambitious, and lucrative project, which quickly turned him into a league champion.
"We never thought we could get Van Persie," said Ferguson.
"I thought Arsenal are not going to let him go. When I read he had refused a new contract that is when we acted.
"It has been a long haul and he (Wenger) got a great price - he could win a poker school in Govan.
"But we are happy the matter is concluded."
A cynic might suggest Ferguson went for Van Persie because, having celebrated his 70th birthday, the United boss simply does not have the time to wait for a new team to emerge as bona-fide challengers to City.
In Van Persie's case, the Red Devils are buying the finished article.
"He is what we have needed for the last couple of years," said Ferguson.
"He has maturity in his game. His authority, timing and understanding of the game is complete.
"I hope we will benefit over the next four years."
RvP's first day at United gallery
ROBIN VAN PERSIE FACTFILE
1983: Born August 6 in Rotterdam.
2002: January - Signs three-and-a-half-year deal with Feyenoord. Drafted into the first-team squad because of injury shortages at the age of 18.
February 21 - Features as a 57th-minute substitute in UEFA Cup fourth-round, first-leg clash against Rangers. Plays from the start in the 3-2 second leg win at home which books his team's progress.
May 8 - Plays in Feyenoord's 3-2 UEFA Cup final victory over Borussia Dortmund in Rotterdam.
2002-03: Ends the season with eight goals from 28 games as Feyenoord finish runners-up in the Dutch Cup. Played twice in the Champions League.
2004: January 20 - Feyenoord reveal they have rejected a bid for Van Persie from Arsenal.
Makes 32 appearances for Feyenoord, scoring six goals.
April 28: Arsenal reveal they have signed Van Persie on a long-term contract for an undisclosed fee.
August 8 - Makes his debut as a substitute in the 3-1 FA Community Shield win over Manchester United.
October 27 - Scores on his competitive debut, a 2-1 League Cup win over Manchester City.
2005: June 4 - Makes Holland debut in a 2-0 World Cup qualifying win against Romania.
2006: January 4 - Signs new five-year contract with Arsenal.
June - Plays in all four of Holland's matches at the World Cup.
2007: January 21 - Season ended by a broken foot suffered against Manchester United.
October - Begins life as Arsenal's main striker following Thierry Henry's departure. Scores seven goals in 10 matches, but then suffers a knee injury, leaving him out for two months. Suffers a series of minor injuries during the rest of the season.
2009: January 3 - Captains Arsenal for the first time.
July 8: After several months of talks and with his existing deal entering its final year, signs a new four-year contract.
November 14 - After another strong start to the season, injures his ankle on international duty, ruling him out for five months.
2010: Misses two months at the start of the season with an ankle injury.
July 11 - Plays in the World Cup final as Holland lose 1-0 to Spain.
2011: January 22 - Scores his first career hat-trick in a 3-0 win over Wigan.
August 11 - Named Arsenal captain after the departure of Cesc Fabregas.
September 2 - Scores four goals in Holland's record-breaking 11-0 win over San Marino.
September 24 - Goal against Bolton takes his Arsenal tally to 100.
December 31 - Scores in the 1-0 win over QPR to take his tally for the calendar year to 35, one short of Alan Shearer's Premier League record.
2012: April 22 - Named PFA Player of the Year.
May 13 - Arsenal finish fourth in the Premier League with Van Persie netting 30 Premier League goals.
July 4 - After scoring once in Holland's winless Euro 2012 campaign, reveals he will not be signing a new contract with the Gunners.
July 20 - Sir Alex Ferguson confirms Manchester United have made a bid for Van Persie.
August 15 - United announce they have struck a deal to sign Van Persie from Arsenal, subject to a medical and personal terms.
August 17 - United confirm they have completed the signing of Van Persie on a four-year deal.