Laudrup warning for Flores
Swansea manager Michael Laudrup has warned Chico Flores his play-acting must stop against Fulham with the defender on the verge of picking up a suspension.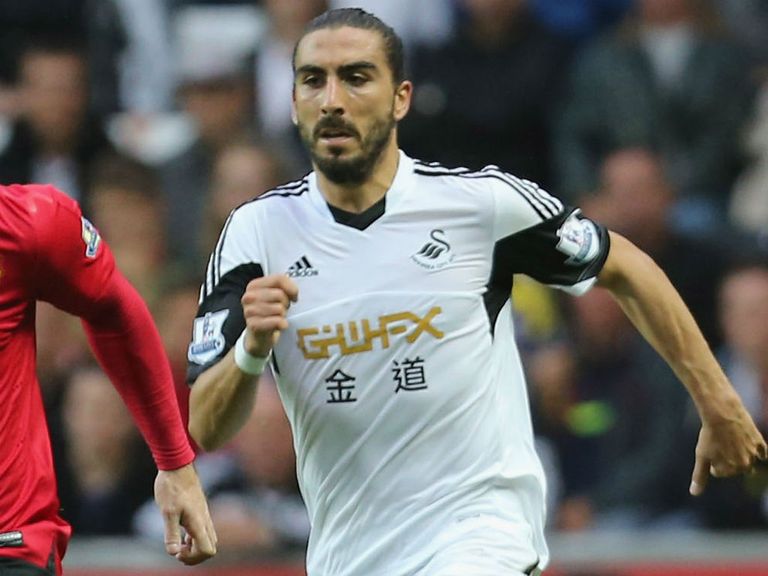 The Spanish centre-half has earned a reputation for theatrical reactions to challenges on him, and there were further examples in Swansea's most recent home games against West Ham and Stoke.
Against West Ham, Flores' rolling around on the floor saw Hammers' boss Sam Allardyce laugh at him, before the pair indulged in a touchline stand-off.
Against Stoke, Flores was struck in the throat by Steven Nzonzi, but fell to the ground clutching his face, and was booked for his actions, leading Potters' forward Jon Walters to call for Flores to be banned.
That booking was Flores' fourth of the season and a fifth against Fulham on Saturday would see him suspended.
Laudrup admits the 26-year-old needs to cut out such behaviour, particularly after a section of Swansea fans appeared to applaud his yellow card against the Potters.
"He has to avoid it," said Laudrup. "I'm of an opinion where if there is too much spotlight on a player for certain things, right or wrong, referees are human and, if a player is said to dive a lot, then when I take charge of that team I have it in my mind.
"We have seen cases, and you can say it may be fair or unfair, with Gareth Bale and Luis Suarez. We have to avoid it with Chico because if someone really does hit him, instead of it being exaggerated, then maybe the other player gets punished.
"We know how the rules are here with the cards and he knows he will be suspended after the next one and of course it's important to try to avoid that.
"Obviously the position he plays means that he will get more cards over a season than others but we have to avoid bookings for this."
Laudrup also believes that had Flores not reacted as he did against Stoke, Swansea could have found themselves playing against 10 men.
Laudrup said: "We can agree that Chico was definitely not dead and he played on, but if we have to take the letter of the law, he (Nzonzi) actually hit him and it says in the law if he hits him it's a red card.
"But there I think the referee did okay. Even If the law says that, I don't think Nzonzi should have had a red card.
"But then you can argue did he exaggerate? Yes, Chico did, but why give him a yellow?
"Maybe in that situation if I was the referee I would just take the two of them and say 'hey, I saw that Nzonzi. Next time, you are off and Chico, don't play around and play dead as you are not'.
"But to tell the truth it should have been a red card and a yellow card."
---
New Sky Bet customers: Claim free £5 bet every week
---