Argentina to edge tight final
Our tipster Ben Coley previews the World Cup final between Germany and Argentina and sees little between the sides.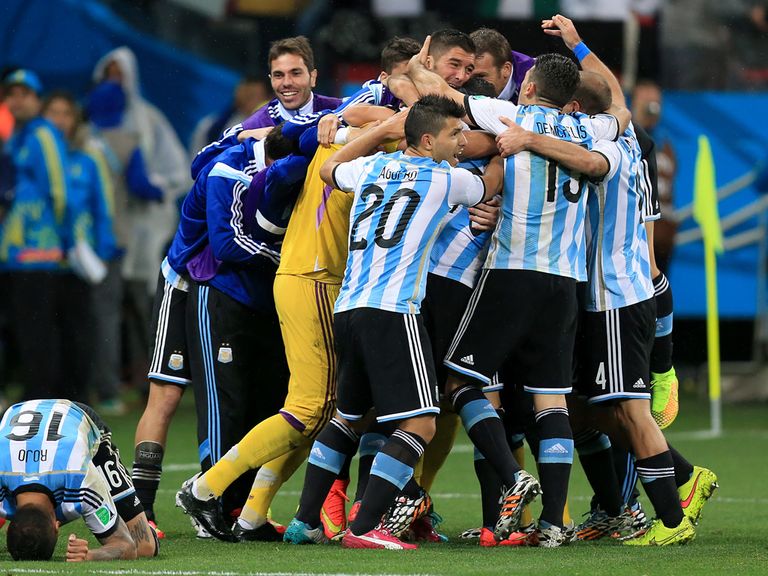 Our tipster Ben Coley previews the World Cup final between Germany and Argentina and sees little between the sides.
Germany v Argentina (World Cup final, Rio de Janeiro, Sunday 2000 BST)
So here we are. Germany v Argentina for the World Cup, as it was in 1986 in Mexico City when Argentina held on for a 3-2 victory, and four years later when Germany gained their revenge.
Had this final been priced before the tournament, without the benefit of seeing how each side got to it, it'd have probably been a 10/11 take-your-pick affair.
But Germany's 7-1 victory over Brazil, a scoreline which still doesn't quite fit in with reality, means that Joachim Low's side have attracted strong support and look set to go off at around the 8/11 mark to lift the trophy for a fourth time.
Argentina may not have produced such fireworks but they haven't yet been behind and their progress has had something rather Germanic about it. They've been organised and disciplined, doing just enough to get the job done without the need for heroics from their star players. Yes, fortune has played a part but it's hard to argue against the belief that they've edged their tight knockout games.
Lionel Messi drew criticism for his semi-final display - criticism which was a little over the top in my opinion - but there is a feeling here that his sacrifice in dropping deep may give Germany's midfield something more to worry about, and that Argentina can most certainly win this without relying on the little magician who has still been the most creative player at this World Cup.
In fairness to Messi, the absence of Angel Di Maria in the last-four clash with the Netherlands certainly didn't help and Alejandro Sabella will be hopeful that his recovery in training continues, because Sergio Aguero looked short of the required fitness level and it's Di Maria who looks the more valuable asset at this point.
For Low, there's probably little to consider. The decision to leave out Per Mertesacker for the France quarter-final seems to have paid off - they haven't conceded while he's been on the bench - and it would be brave at best, foolish at worst for him to change the formula which saw them rip apart the tournament hosts.
There's a feeling in some quarters that their midfield, expertly marshalled by Bastian Schweinsteiger and with talent throughout, gives Germany the edge and that in trying to deal with it, Argentina will have to sacrifice much of what makes them such dangerous opponents. It's one that's easy to understand and there's no shortage of confidence among the German ranks, as Argentina sit comfortably in the unexpected role of underdogs.
Our position is a strong one thanks to Chris Hammer's antepost preview in which Germany were advised at 6/1. Those following that preview will have their own decision to make as to whether or not to save or level-out their book, which is very much an each-to-their-own situation.
But for the sake of those looking to bet on this match as a single entity, the value call would have to be Argentina.
Quite understandably there's been a big reaction to Germany's semi-final win but before that they rode their luck against France, laboured to victory over Algeria and the USA and disappointed somewhat against Ghana.
Of course, they do have that first-round thumping of Portugal to their name but there were extenuating circumstances there and I don't for a second expect them to find Argentina anywhere near as open to siege.
Indeed, in a game which looks hard to solve it looks logical to me to side with the team who have the best player of his generation among their ranks and the biggest price next to their name.
It may sound sentimental, but the reality is that in Messi, Argentina have a player who could guide them to victory without the need for any great assistance much as Diego Maradona did in '86. And, even if Germany stop him, there's plenty of quality here with Gonzalo Higuain the man most likely to steal the limelight and further enhance what's an exceptional scoring record at this level.
The best market to back Argentina in might be half-time/full-time, with 7/1 the price about these sides going in square before Argentina go on and win inside the distance, and it's one I'm heading to in order to eke out a price from what looks a really difficult final to call. I just don't want to get heavily involved at short prices and if I'm right and Argentina are just about good enough, this method of victory looks the best option.
We've seen throughout the knockout stages that the first-half will often be tight, notwithstanding what happened in Belo Horizonte, and Argentina's first objective will be to nullify Germany's midfield in a way that France and Brazil could not.
I believe this is a side capable of doing so and I'm willing to back them to extend their record of not yet having been behind in the hope that they can secure a poignant success in the wake of Alfredo Di Stefano's death.
Other options include backing 0-0 at half-time although 6/4 is surely the right price while Di Maria (16/1) and Maxi Rodriguez (16/1) are the two standout first scorer candidates in terms of value, but waiting for team news makes sense in light of the concerns surrounding the former and the likelihood that the latter is not in the starting line-up.
In truth this is the World Cup final and it's one which looks fascinating on paper, so there's probably no great need to go searching for an angle as entertainment is already guaranteed.
However, at the price there's sufficient value for a small bet on Argentina asserting after the break and winning their third World Cup.
Verdict: Germany 0 Argentina 1
Opta facts:
Germany are set to play in their eighth World Cup final; more than any other nation. They have won three titles.
They have won just one of their last four appearances in the World Cup final (1990 v Argentina).
Germany have now reached a World Cup final in each of the last seven decades (1954, 1966, 1974, 1982 and 86, 1990, 2002 and now 2014).
Argentina are set to play in their fifth World Cup final, they have won two and lost two of the previous four.
This will be the third World Cup final between Germany and Argentina. They met in successive finals in 1986 and 1990, with each team lifting the title (3-2 Argentina in 1986, 1-0 Germany in 1990).
No other fixture has been played as often in a World Cup final as Germany v Argentina.
Germany are unbeaten in 17 internationals (W12, D5).
Argentina haven't been trailing in any of their six games at the 2014 World Cup, Germany just eight minutes (v Ghana).
Lionel Messi has been the most creative player at World Cup 2014, setting up a tournament-high 21 goal-scoring chances for team-mates.
Selection:
1pt draw/Argentina in HT/FT betting