Jav a punt on Mascherano
David John previews Tuesday's World Cup games and thinks following Javier Mascherano could be profitable.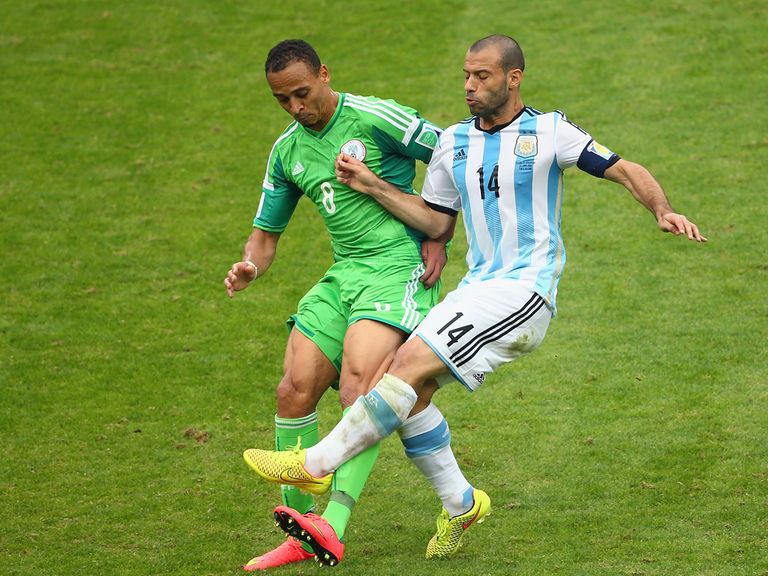 David John previews Tuesday's World Cup games and thinks following Javier Mascherano could be profitable.
Argentina v Switzerland (Round of 16, Sao Paulo, 1700 BST)
The final pieces of the Lionel Messi jigsaw are in place after his splendid displays have helped Argentina emerge from the group phase. Questioned as to whether he could deliver consistently on the international stage, his four goals so far have really seen him come of age at the World Cup as captain of his country.
And boy, have they needed him. Argentina may boast a perfect start but none of their three victories have been overly convincing with Messi's eye for the target ultimately proving the difference. Their rivals booked their ticket with an impressive 3-0 success over Honduras and are likely to provide a determined if perhaps uninspiring test for the tournament's current third favourites.
It is no shock to see them well drilled and well organised under Otmar Hitzfeld but they will rely heavily once more on hat-trick hero Xherdan Shaqiri for anything like a creative angle.
That said, a number of the Nigerian players from Argentina's last game said they found their defence rather static and was certainly the weak link which could be exploited. Only a couple of good saves from Sergio Romero against Iran prevented Argentina conceding in all three starts so perhaps those keen to go in on a short one could do worse than both teams to score at a shade of odds-on.
But the one bet that does catch my eye is for Javier Mascherano to pick up a card. The Argentine midfield cruncher has gone unpenalised so far in the tournament and I can't see that statistic continuing much longer as the stakes are raised. I don't think he is a particularly unpleasant character but has turned mis-timing tackles into an art form and nine yellows for Barcelona in 2013/2014 was his second highest caution rate domestically during his career.
A recent interview said that he would be keeping an extremely close eye on Shaqiri - which could spill over and become a bit too close for the officials.
Verdict: Argentina 3 Switzerland 1
Opta Facts:
Argentina have had an average possession figure of 65% so far at this tournament - the highest in this finals and their highest average at a World Cup finals since 1966.
Four of Argentina's last seven World Cup goals have come from outside the box, including half of their six goals (3) at this tournament.
Switzerland have been knocked out in the second round in their two previous appearances at this stage (versus Spain in 1994 and versus Ukraine in 2006).
This will be the seventh international meeting between Argentina and Switzerland. Argentina are unbeaten in their previous six (W4 D2).
Belgium v USA (Round of 16, Salvador, 2100 BST)
From what I have seen so far at these finals, Jurgen Klinsmann's vast experience at this level combined with that seemingly in-built winning mentality of every American has been a match made in heaven. And I have every reason to believe that their story in Brazil will continue on Tuesday with a victory over the Belgians.
They may have suffered their first setback with a 1-0 defeat at the hands of Germany last time but the hard work had been done in the previous two games as they possess exactly the right attitude to thrive now we are at the all-or-nothing stage of affairs.
"We're excited about it and we'll be ready to go," said midfielder Michael Bradley, who also alluded to the meticulous preparation that Klinsmann will take this team through before stepping on to the pitch in Salvador. Belgium took nine points from nine in qualification but did not entirely convince in one of the weaker groups.
That is is not to say that Marc Wilmots' side is not without the quality to grow further but star names like Eden Hazard have been somewhat anonymous while striker Romelu Lukaku showed some real displeasure at his substitution against Russia having not found his stride either.
Wilmots has said he is "preparing for a war" in terms of the physical nature the USA could bring to the game and in terms of raw talent, the Belgians do have more at their disposal But the sum total of the Stars And Stripes is greater than their respective parts and a prep for this against Ghana, Portugal and Germany should have them nicely battle-hardened.
I fancy them to show that moving towards World Cup glory is more about the team than the individuals involved - they simply should be a shorter price to make the last eight.
Opta Facts:
Belgium won all three of their group games at a World Cup for the first time.
It was also the first time they had won three successive games in the competition.
Only Iran (30%) had a lower average possession figure in the group stage than Jurgen Klinsmann's side (39%).
The last six Belgian goals at World Cups have come in the closing 20 minutes of games.