World Cup verdict
Our football team look at the World Cup so far and make their predictions for the rest of the tournament.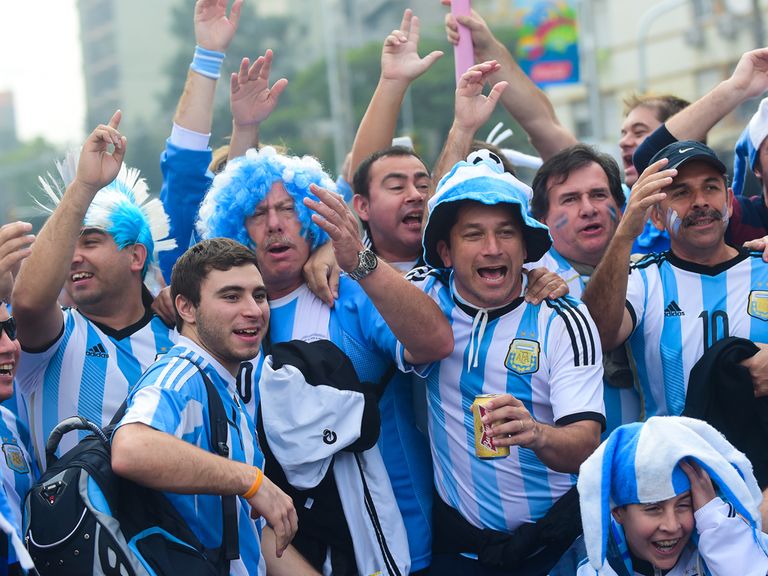 Who's your favourite to win the World Cup and outside pick after the group games?
Matt Brocklebank: Other than a low-key showing against Ecuador, France have been seriously impressive but it's very rarely the team that looks best through the group stage that goes on to lift the trophy. Argentina have another gear yet and look sure to go deep into the competition with Messi in red-hot form; they're a fair price around 4/1. With all the furore surrounding Luis Suarez, Uruguay have drifted to a massive 40/1 in places and I wonder if it's right they are now twice the price of Belgium and Colombia, even without their star striker.
Chris Hammer: I personally backed Holland at 33/1 before the tournament started so to say I had a wry smile on my face when they destroyed Spain is something of an understatement! Without wanting to seem too smug, I also had Arjen Robben and Robin van Persie in the top goalscorer markets so everything is looking rather rosy for me right now and I'm already tempted to count my winnings. Therefore I have no reason to change my view – Holland are still my pick to lift the trophy. Robben is clearly the key. When he's playing like a man possessed – like he did against the Spaniards – few sides (if any) will be able to shackle him while it's great to see van Persie look a lot more dangerous than he did for Manchester United last season. To come through a group with Spain and Chile, widely regarded as dark horses, with nine points is a real statement of intent and proves how much their nation truly wants this prize at long last having just missed out four years ago in South Africa. Desire, quality, strength and flair are four key ingredients to go the distance and the Dutch tick all these boxes for me.  They should be able to beat Mexico and then the winner of Costa Rica v Greece awaits. There's no point speculating their opponents from that point onwards but they'll be well capable of going the distance whoever they face based on what I've seen. If I had to pick an outsider, then I suppose the obvious choice is Colombia after scoring nine goals in their three wins to take the tournament by storm and you have to fancy their chances against a Uruguay side who are expected to be without Luis Suarez due to the latest bite-gate affair. Then it would be hosts Brazil or Chile which obviously would be a tall order but no 'outsider' is going to have it easy from now on.
Nick Hext: All about Argentina for me. I don't think they have been at their best so far but Lionel Messi is well on the way to making this HIS World Cup. Switzerland should be defeated fairly easily in the last 16 and that will set them on their way for the knockout stages. Argentina have other star power in the ranks and I wouldn't be surprised to see Angel di Maria make a big impact before the tournament is out. I'd go with Chile as an outside bet. I think they can push Brazil all the way on Saturday and will obviously drop in price if they knock out the hosts.
Dave Tickner: Holland have been arguably the most impressive side in the tournament to date. They are definitely now the best drawn. Mexico, who respond to the idea of last-16 clashes with the same calm assurance with which England treat a penalty shootout, followed by Greece or Costa Rica. None of those teams are terrible, but as a path to a World Cup semi-final goes it's pretty sweet. The South American sides have all looked sharp; if you think 'home' advantage will continue to be a factor, then you have to back Argentina. They're sitting pretty on one side of the draw while on the other Brazil, Chile, Colombia and Uruguay have all landed in the same quarter and are scrapping it out for one place in the last four. For me the winner comes from the probable semi-final between Holland and Argentina. Don't make me choose.
The top goalscorer race is providing plenty of excitement. Who's going to finish on top?
MB: Lionel Messi looks like scoring just about every time he gets possession around the penalty area but Robin van Persie is only one behind and he appeals most with a last-16 clash against Mexico next up. He and Arjen Robben are a lethal pairing when playing together, as Spain found out, and manager Louis van Gaal will surely be doing all he can to persuade the latter to head to Old Trafford.
CH: As previously mentioned, I'm on the Dutch double of RVP and Robben in this particular market so I'm more than content to see them one goal behind the tournament leaders on three apiece. Considering I'm pretty sure Holland will advance to at least the semi-finals then that's a couple more games minimum for the duo to add to their tallies. For those who haven't yet backed either player, I still feel they represent good value as the attention is firmly on Neymar and Lionel Messi right now. That's obviously understandable, especially with Messi who has really come to the party for Argentina to help them reach the knockout stages with maximum points. 
NH: Having picked Lionel Messi as the man to take Argentina to World Cup glory it only follows that I think he'll bag the top goalscorer prize as well. Neymar looks like he'll be the closest contender but don't rule out James Rodriguez as an outside contender if Colombia make it past Uruguay.
DT: Got to be Robin van Persie (12/1) or Arjen Robben (16/1) at the prices. They both sit only one goal behind Messi and Neymar and, looking at the bracket, Holland look the safest bet to reach the semi-finals and therefore get the maximum four more matches. With the easiest path in the early knockout rounds and the ability to blow teams away, the Dutch pair look stonking value. If picking one, I'd go for Robben. If you want to get one of the two market leaders onside at prices around 5/2, go for Messi over Neymar. Brazil's route to the last four looks tougher than Argentina's.
Give us your favourite moment from Brazil so far?
MB: Call me an old romantic but Tim Cahill's volley which rattled in off the crossbar against Holland had me up out of my seat and I doubt we'll see a better goal at these finals. It's no surprise to hear a few Premier League clubs looking into his availability as the 34-year-old clearly still has more than a touch of class.
CH: From a betting point of view, my favourite moment has to be Arjen Robben's second goal in the 5-1 massacre of Spain (did I tell you that I'd…) as it initially gave me that triumphant feeling that I'd backed the right horse and prompted me to dream about my potential winnings. Obviously there was a long way to go at that point – and still is now – but if you can't prematurely celebrate a 33/1 winner when they've just thrashed the defending champions 5-1, when can you? From a neutral perspective, I'd go with Georgios Samaras' dramatic stoppage-time penalty to put Greece into the last-16 at Ivory Coast's expense. Essentially the only thing this thrilling World Cup needed was a heart-breaking exit with virtually the last kick of a game to leave defeated players collapsed in despair and victors in a euphoric state of celebration – and thanks to Samaras we got it.
NH: Holland's 5-1 victory over Spain on the second day of the World Cup really let us know that something special was happening in Brazil. The main moment from that match was Robin van Persie's flying header to level before half-time and the Dutch striker's goal is one that will be remembered for a long time. The defending champions had it all to do after being crushed by Louis van Gaal's men and the defence of their title came to a very early end in the next match against Chile.
DT: Raheem Sterling's phantom goal for England against Italy. For one brief moment in time it seemed everything might be different for England. Everyone was fooled. But while it took only a few emotionally confusing seconds to realise Sterling had just failed to find the target, it was five days before the illusion of English competence was shattered with an inept, lifeless and timid display against Uruguay. The first four games in Group D were the perfect storm for England: an encouraging display against Italy that raised hopes, but a defeat that increased pressure; wilting under that pressure against Uruguay. And those defeats happening while Costa Rica were beating both to dispel any notion that there was nothing England could have done differently. Brilliantly, in the one tournament where a group stage exit would not necessarily have led to the usual half-witted post-tournament angst ("too many foreigns, not enough passion"), England still contrived to make it so. You almost have to admire it.
England are back home with just one point and few happy memories. Is the time right for Roy Hodgson to step aside or should he remain in place?
MB: I'm not convinced he's the right man but there can't be many tougher jobs in world football and I'm hardly bursting with ideas when it comes to possible replacements. Failure to qualify from Group D in Brazil should be classed as a managerial failure in my view. It's no surprise to see Gary Neville favourite to be the next manager and I'd be happy with that switch.
CH: Is it Roy Hodgson's fault? Was Wayne Rooney's poor finishing to blame? What about our unreliable defence? The post-mortem into England's failure has also seen the finger pointed at the state of grassroots football, the general English style of play, a lack of qualified coaches compared to other leading nations, the amount of foreign players in the Premier League, the reluctance of English players moving abroad etc etc. Basically, if English football is as rotten to the core as this typically long-winded debate suggests, then Hodgson didn't have a cat in hell's chance of leading us to World Cup glory did he? Sure, we could have sneaked a point against Italy and Uruguay to give us something to play for against Costa Rica but how much further would we realistically have got? A plucky run to the quarter-finals would have merely papered over the same old gaping cracks which have once again been identified. We didn't fail because of major errors on Hodgson's part or tactical gaffs – we just aren't good enough right now. A change in manager now wouldn't really solve anything and he should therefore be given time to lead us towards Euro 2016.
NH: Stick with Roy. I can't see anyone better to take over and I think it's a bit much for critics to come out of the woodwork when there appeared to be pretty much full agreement with his squad selection and the attacking line-ups selected in Brazil. It was far from a great World Cup for England but starting from scratch won't achieve anything. Qualification for Euro 2016 will be achieved pretty easily because of the expanded tournament set-up and that gives the chance for Sterling, Shaw et al to learn more. Who would come in and do better?
DT: The media and fans were pretty much unanimous in their view that England had to be bold to stand any chance in Brazil. Hodgson was bold. It didn't work, but at least he tried. As it turns out, he should probably have stuck to what he knew best, but hindsight is 20:20. The only real error he made that can legitimately be judged harshly without being wise after the event is the bonkers call to leave Ashley Cole out of an internationally callow backline. Hodgson will survive in all likelihodd and is probably fortunate to do so, but I'm struggling to come up with viable replacements.