Weekend Review: Decima point
Our team of writers look back at the weekend's action, with Real Madrid claiming 'La Decima' and QPR winning promotion.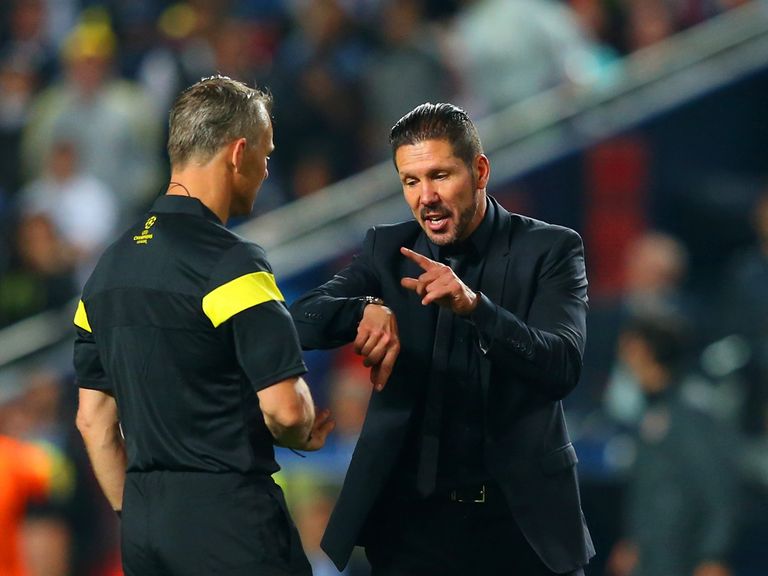 Real Madrid's dream of achieving 'La Decima' finally came true in Lisbon on Saturday night – can this team now stamp their authority on the Champions League crown for years to come?
Matt Brocklebank: It was a quite remarkable match between two seriously strong sides and Real were seconds away from defeat. Their strength and power came to the fore in extra-time when you couldn't help but think Atletico's La Liga exertions took their toll. Real have looked a work in progress under Carlo Ancelotti this season and the early-season injuries to record-signing Gareth Bale were a key factor. He and Cristiano Ronaldo have gradually built up a fantastic partnership and in my mind they are without doubt the team to beat in the Primera Division next term. The Champions League can obviously hinge on a bad day at the office, but Los Merengues are sure to strengthen again in the summer and if their two prized assets can stay fit then they look certain to mount a strong defence. Sky Bet are a standout 9/2 about Real Madrid backing up in the Champions League next season and they look significantly better value than Bayern Munich at 7/2.
Dave Tickner: I think they're far more likely to stamp their authority on La Liga than the Champions League. No team has managed to dominate the CL in its current guise and that won't change. Bayern Munich remain strong, Barcelona will come again, and the new money mammoths from Chelsea, Manchester City and PSG show no sign of weakening. Real Madrid will clearly be among the favourites while this team stays together, but it would be foolish to expect titles number 11, 12 and 13 to necessarily follow in a rush.
Simon Crawford: Real Madrid are a collective of individual stars, NOT a team. It's the way they choose to do things but it's the reason they are not more successful ... third in La Liga with a squad that cost the earth is a nonsense. OK, they won the Champions League and maybe that's a bigger prize for them. But the reason they fall down at the final hurdle so often is that they don't have the fighht and grit other teams have. Of course they will be among the favourites to defend the trophy next season, but I wouldn't have too much faith in them.
Atletico Madrid were just moments away from completing an incredible league and cup double before Sergio Ramos' late, late equaliser. Will Atleti build on this campaign next season, or was it their big chance for European glory?
MB: No one would have begrudged Diego Simeone's side what looked like a brilliantly executed 1-0 win, but the pressure was gradually mounting from half-time and the 93rd minute equaliser killed them. They barely threatened the Real Madrid goal for the last hour and were clearly out on their feet as the salt was liberally applied their wounds. Yes, it was a golden opportunity missed, but their 2013/14 season has been a memorable one and is highly unlikely to prove a flash in the pan. Simeone has proved he can get the absolute maximum out of every single player at his disposal and although frustration got the better of him in the dying moments of the final, that was understandable at the end of a mentally gruelling campaign. Diego Costa is leaving and no doubt others will follow him out the door, but Simeone's teams will always be hard to beat and won't be underestimated by any means next season.
DT: It's almost impossible for Atleti to improve on this staggeringly brilliant season, the challenge will be to do all they can to match the standards and repeat the trick. A Bale and Ronaldo inspired Real Madrid will take some stopping next term, and you do fear that Atletico will slightly drop back to the pack. But it's hard to overstate the size of their achievement in beating both runners in a two-horse race domestically while getting within two minutes of adding European glory to the mix. Another La Liga win will be beyond them, but consolidating their status as the third force in Spanish football would still represent progress.
SC: What Atletico have done is make the title-race in Spain a three-horse race, instead of just a battle between Real and Barca which must must feel like a breath of fresh air. The problem is the vultures are circling and star players such as Diego Costa are set to leave and you wouldn't be surprised if manager Diego Simeone was in charge somewhere else next season. Sustaining a challenge next season will be difficult depending on transfer ins and outs, but it goes to show how remarkable 2013/14 has been for them.
Bobby Zamora repeated his West Ham heroics by scoring the winner in the Sky Bet Championship play-off final for QPR. How will Harry Redknapp's Rangers fare back in the top flight next season after seeing off Derby?
MB: It wasn't the season most Rangers fans were hoping for but the money poured into the club by Tony Fernandes and co has seen them claw back into the top flight. Given Bobby Zamora's last-gasp strike was their only shot on target, QPR didn't deserve to beat Derby on Saturday but play-off finals at Wembley can often boil down to a mistake or moment of inspiration. Rangers will only survive next season if they bring in the right blend of quality and experience during the summer as the squad they have at present won't cut it. For what it's worth, Derby can certainly build on their efforts next season and I expect them to be pushing for an automatic promotion spot.
DT: Without wishing to urinate on the promotion chips, QPR fans' joy at being back in the top flight must be tempered with concerns about what happens now. We've all seen the eye-watering wage bill comparisons. Harry Redknapp has promised not to repeat the mistakes of the past, but newspaper links with Rio Ferdinand, Frank Lampard and Joe Cole don't exactly inspire confidence. Expect Scott Parker and Jermain Defoe to be the next linked with six-figure-a-week jaunts on the Loftus Road gravy train. With the backing of Tony Fernandes and a manager who - for all his faults - knows how the Premier League works, QPR should be able to survive comfortably in the top flight. But all that was true two years ago as well.
SC: It will be a struggle for them, that's for sure. I can see them being a handful at home but on their travels I think victories wil be hard to come by. I do believe striker Charlie Austin can hack it in the top flight so his goals will be vital and - like him or not - Harry Redknapp is one of the most experienced Premier League managers around. I'm also not sure signing the likes of Ferdinand and Lampard is the answer - it will cost plenty in wages and it smacks of being very 'short-term' to me.
How will Rotherham find life in the Sky Bet Championship next season?
MB: Tough, as all teams do. Steve Evans has done a fantastic job achieving back-to-back promotions with the Millers and they once against showed on Sunday that they never give up when behind. The New York Stadium is a fantastic ground and their home form will be crucial if they're to survive, but I fear other teams might enjoy playing there too.
DT: Tricky. The gap between League 2 and League 1 is not that great. Plenty of teams, boosted by the confidence that winning games brings, have made the journey through the two lowest tiers of the league before finding life far tougher when they hit a fiercely competitive second flight where at least two thirds of the competitors are targeting a return to a top flight they feel they should probably already be in. Avoiding an immediate return to League 1 would be the most remarkable achievement yet for Steve Evans' Millers.
SC: The Sky Bet Championship is a very, very difficult league. Rotherham will start with plenty of momentum behind them buit I agree that staying up would be a remarkable achievement. I just hope they can enjoy it - most home games will be sell outs and there are mouth-watering derbies to look forward to against Leeds, Sheffield Wednesday and Huddersfield while Derby and Forest are just down the road.