Grant backing for Keogh
Derby goalkeeper Lee Grant believes Rams captain Richard Keogh is strong enough to put his Wembley heartache behind him and lead the club on another promotion challenge next season.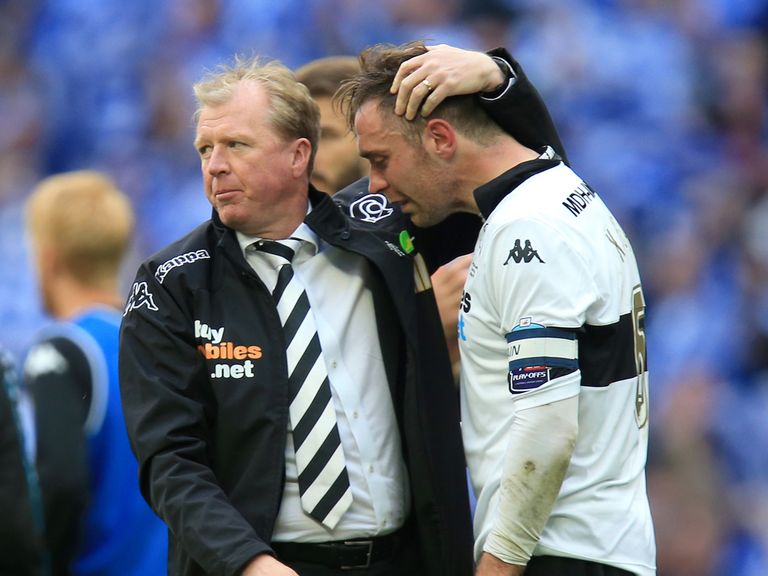 Keogh, outstanding alongside Jake Buxton in central defence during a record-breaking campaign for Derby, was at fault for Bobby Zamora's 90th-minute goal which saw 10-man QPR snatch victory in the Sky Bet Championship play-off final and seal an immediate return to the Barclays Premier League.
Junior Hoilett managed to wrestle possession away from Buxton down the right-hand side of the penalty area. His cross was poor but so was Keogh's touch and he knocked the ball straight into the path of Zamora who beat goalkeeper Grant with a left-foot shot into the far corner.
Keogh, understandably, was in tears after the final whistle and was consoled by several of his team-mates and manager Steve McClaren.
Grant, an ever-present this season for Derby, insists his room-mate has the strength of character to cope with the disappointment and expects the experience to make him - and the whole squad - stronger.
"Obviously it's very difficult for him right now but he hasn't let us down this season, quite the opposite," said Grant.
"Richard Keogh has led the team on and off the field, you don't really get much better.
"He'll recover from this in time, we all will, and Richard will be right there when we return in the summer eager to help the club hopefully go one step further next season.
"We are room-mates and we talk in great detail about, well everything really. I've said to him that we win together and we lose together. He's led us with his character and his ability - more importantly his ability - all season and he'll be back again next season doing exactly the same things, don't you worry about that.
"They (Keogh and Buxton) have every right to be distraught. There's an opportunity presented to you and you're excited about what the future might hold and then that's all taken away from you in the blink of an eye. So I'm not surprised.
"And those two in particular for me have been magnificent. It's almost impossible to put into words how well they have done this season. How well they have led a young side. I've stood behind them all season and some of the work I've witnessed at times has been incredible.
"Those two can hold their heads high for the season they've had."
Grant was part of the Derby squad that last reached Wembley in 2007. However, he watched from the stands as Stephen Pearson's goal gave Billy Davies' Rams side a 1-0 victory over West Brom and clinched promotion back to the Premier League.
Stephen Bywater started that game while Lee Camp provided the back up on the bench - Grant had been told he was not going to be offered a new contract and had already agreed to join Sheffield Wednesday.
Like seven years ago, Grant was a mere spectator for much of Saturday's final, particularly following Gary O'Neil's red card with half an hour remaining, as Derby dominated but found themselves frustrated by Rob Green in the QPR goal.
But the 31-year-old insists the Rams could not have done much more and he is already looking ahead to the 2014/15 campaign.
"It doesn't surprise me that I hardly had anything to do because of the players we have and how well we can defend as a team," said Grant.
"They've had one shot on target in the whole 90-odd minutes and it's gone in. We've created four or five chances and Rob Green has made three or four good saves. Hey-ho, good luck to them.
"We've a lot to be proud about - not only today but over the season as a whole. We dominated and had possession for long spells in the game and had a game-plan and stuck to it and I think we did nine-and-a-half things right out of 10 what was asked of us.
"But all you need is one chance and unfortunately for us QPR took it - and what a great finish it was from Bobby Zamora.
"I missed what was said in the dressing room after the game as I was selected for drug testing but the feeling I got when I returned was one of pride and a sense of achievement.
"But we're not looking back, we're already looking forward and I'm already excited about what next season might hold."