Roy has England squad sweating
England boss Roy Hodgson had his players sweating in training in Portugal to prepare for the sweltering heat of Manaus.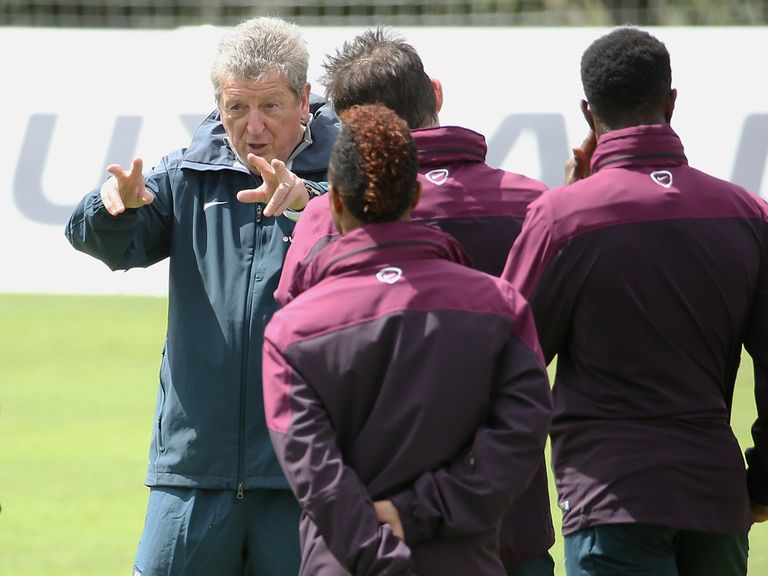 Hodgson took his team to Portugal in the hope that the Algarve would provide baking heat which would help replicate the conditions they are expecting to face at the World Cup in Brazil.
But the weather did not play ball with Hodgson - the resort of Vale do Lobo was colder than much of England on Wednesday, with a powerful cold wind blowing through the squad's first and only open training session.
Not to be outdone by the weather, Hodgson ordered his players to put on three layers to train in - and they were soon sweating buckets.
In addition, Dave Reddin, Hodgson's head of performance services, recommended the players wear special pads underneath their tracksuit tops.
That way, England's medical staff, and three sports scientists who have been brought to Portugal from Loughborough University, can assess how the squad responded to sweating - as they will do in the jungle city of Manaus on June 14 when they face Italy.
"The players wore sweat pads for part of today's training," Hodgson said. "We tested how much they sweat, how they will be able recover and what can be best done for them to help them.
"They will be analysed in terms of the extra heat we tried to generate. It is part of our process which Dave (Reddin) and his team have formed - it's about learning to be comfortable being uncomfortable.
"There are going to be uncomfortable moments (in Brazil) and you've got to learn to get comfortable with that.
"We started off on the first day just with them wearing the extra gear for the warm-ups and then we've increased it.
"When the word came to take the tops off there weren't too many who kept them on. They were very quick to whip them off so it is obviously working."
Humidity levels can reach over 80 per cent in Manaus, so Hodgson wants to do everything he can to help his players reach peak condition ahead of the Group D opener.
It is a far cry from his previous experience at a World Cup when he just sent his Switzerland players inside a sauna for a while prior to USA '94.
"Compare that to what we are doing now and it was an unbelievably amateurish performance," the 66-year-old said.
The Italian squad have been doing fitness sessions in saunas at their base in Coverciano, Florence.
Back in Portugal everything is going to plan for Hodgson's 23-man squad, apart from the weather.
Dr Steve Peters, the acclaimed psychiatrist who will be with England all summer, introduced himself to the squad on Tuesday night at their hotel.
"The players were very attentive and listened to him," Hodgson said of the man who has worked with some of Britain's leading sports stars, including Ronnie O'Sullivan, Chris Hoy and Victoria Pendleton, plus the Liverpool squad.
"He's an entertaining man. The things he's done in life are quite amazing. I don't know how old he is but to do all the things he's done in life he must be about 150 at least."