Crawford: No pressure on us
Ali Crawford insists Hamilton have all the momentum and none of the pressure going into the first leg of their Scottish Premiership play-off final against struggling Hibernian at New Douglas Park tonight.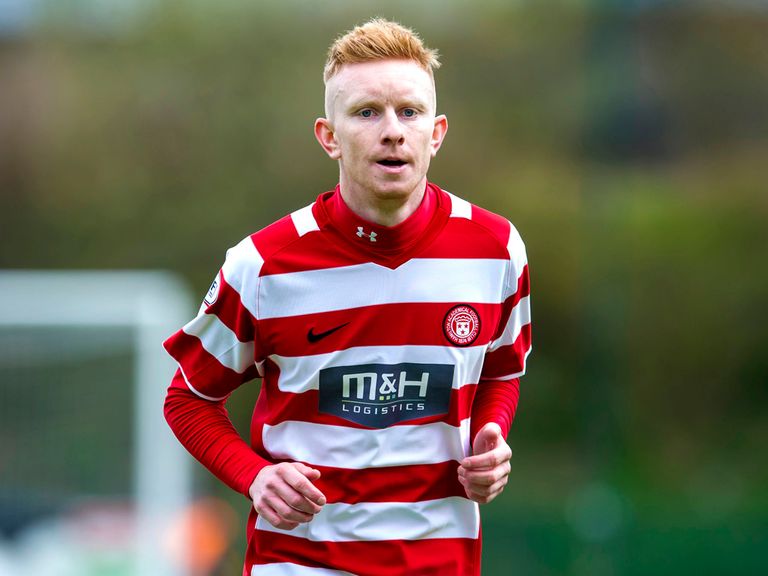 The Accies are on a high following their 2-1 semi-final aggregate win over Falkirk, which came after the Lanarkshire club finished just two points behind Championship winners Dundee.
By contrast, Terry Butcher's side finished their miserable season with just one win in their last 18 league games, although they are bookmakers' favourites to retain their top-flight status.
Crawford, 22, is the only ever-present in the Hamilton side this season, appearing in all 43 games, and he is confident the last two matches will take him back to the Premiership, where he made his Accies debut four years ago.
"We go into the game as underdogs so we have no pressure on us whatsoever," said the Accies midfielder.
"Hibs have been struggling of late so we have a good chance of going up.
"It is a massive game. We have to try to unsettle them early and see where it takes us.
"If we get an early goal, we will see whether they have enough to step up and come back against that.
"But the amount of chances we have created in the last couple of games will stand us in good stead."
Butcher insists his team's form improved in the last four games of the season despite not getting the results and he senses a change in fortune.
The former Motherwell and Inverness boss said: "Bad runs and good runs have to come to an end sometime.
"If we keep on playing the way we have been playing and making the chances that we have been making, then we will be fine.
"You can look back and say we didn't do this and we didn't do that, it is what we will do that concerns me and I am looking forward to seeing these boys in the two games.
"It is a big game at Hamilton, there is going to be a full house with lots of Hibs fans there and a cracking atmosphere.
"These are games where you want big players to stand up and we have big, strong players who know they have to stand up and be counted because it is very much crunch time."