Marlon King jailed
Marlon King has been jailed for 18 months for dangerous driving after a crash which left a motorist with a broken arm.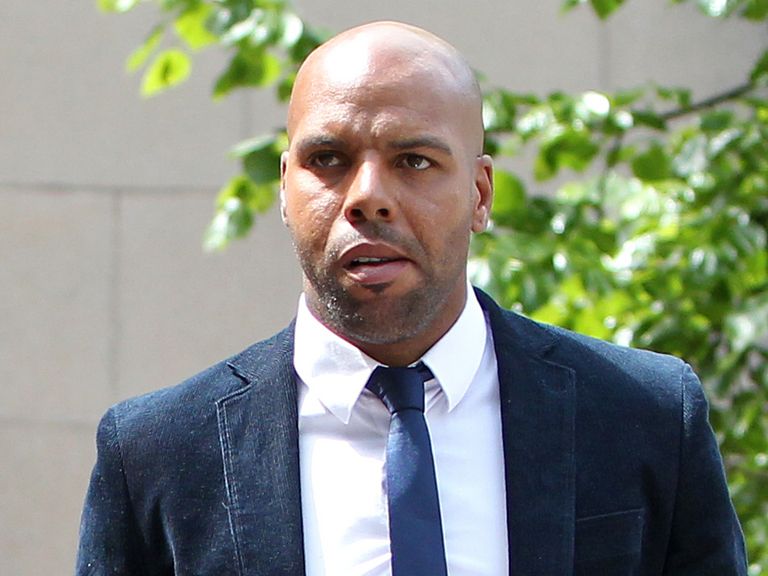 The striker, currently without a club after being released by Sheffield United last year, had pleaded guilty to a charge of dangerous driving at Nottingham Crown Court in March.
Sentencing King at the same court on Thursday, Recorder Paul Mann QC said: "I do not regard your case as merely impulsive or silly behaviour.
"It was aggressive. It was arrogant."
The court heard King had been eating an ice cream at the wheel when he caused a three-car pile up on the A46 in Nottinghamshire last April.
The judge also handed King a three-year driving ban.
The court heard that King committed the offence on his 33rd birthday while driving a white 2011 Porsche Panamera.
He was eating an ice cream he had bought from a McDonalds just moments before the crash, which happened at around 3pm on April 26.
King was seen weaving in and out of traffic before he undertook Martin Beck, whom he perceived as travelling too slowly in the outer lane of the A46, the court heard.
The former footballer slammed on his brakes in frustration, forcing Beck to perform an emergency stop in his black VW Polo.
As Beck came to a halt, another driver in a silver Vauxhall Astra who had pulled out behind him, collided with the stationary Polo.
The 'concertina effect' forced the Polo into the back of King's Porsche.
Mr Beck had to be cut out of his car and airlifted to hospital after the collision at Winthorpe, near Newark. He spent three weeks in hospital and required surgery for a fractured and dislocated forearm.
Mark Bush, who was travelling in the Astra, was also taken to hospital for cuts and bruises.
The court heard that King drove off from the scene but was flagged down by another motorist who feared Beck had been killed by the collision.
King returned to Beck's car, where he blamed the driver for the collision.
The judge told King: "You were so pumped up with road rage, you had to start accusing him of being to blame for these collisions".
The judge said: "You tailgated him (Beck) for some little while. He touched his brakes in the hope you would pull back but you didn't.
"Mr Beck saw an opportunity to get out of your way and he started to do so but you aggressively undertook him.
"The road ahead was clear for you. You could have sped away. Instead you decided to pull out in front of him. You slowed down, applied your brakes considerably.
"Mr Beck was forced to perform an emergency stop."
In mitigation Charles Langley, defending, told the court King admitted he had been "frustrated" with Beck's driving.
He said King was "genuinely remourseful" for the incident and the injuries caused to Beck and Bush.
Appealing to the judge to consider a community order or a suspended sentence, Langley said: "It was dangerous. He should never had done it and he accepts that and he is genuinely remorseful."
The court heard King, of Torkey, Lincolnshire, had been planning to move with his wife and children over to Zambia in August, where her mother runs a guest house.
The judge told King: "Your offences and the consquences are too serious to merit anything other than a custodial sentence.
He added: "I do not regard your case as merely impulsive or silly behaviour.
"It was aggressive. It was arrogant.
"You forcing Mr Beck to stop in the outer lane on a fast and busy dual carriageway on a Friday afternoon is little short of madness.
"The collisions and injuries that followed were forseeable if not inevitable".
King was jailed for 18 months and told he would serve half that before being considered for parole.
The judge also handed him a three-year driving ban, telling him he would need to retake his driving test, and ordered he pay a victim surcharge of £100.
The Jamaican international's previous clubs include Gillingham, Nottingham Forest, Watford, Wigan, Coventry and Birmingham.
The court heard today that he had retired from football and had planned to start a new life in Zambia with his wife and family.
The court also heard details of King's previous convictions stretching back to 1997 including violence against women, dishonesty, drink driving and other motoring offences.
In 2010 King lost a Court of Appeal challenge against a conviction for groping a young woman and then breaking her nose after she spurned his advances.
The player, who was sentenced to 18 months imprisonment in October 2009, had his application for permission to appeal rejected by three judges in London in December 2010
They said the prosecution had a "strong" case against King and ruled: "We have no doubt that this conviction is safe."
During his trial, London's Southwark Crown Court heard that the striker, who had been celebrating his wife's pregnancy and scoring a winning goal earlier, launched an "unprovoked" attack after repeatedly being "cold-shouldered" by women in the Soho Revue Bar in December 2008.
King claimed he was the victim of "mistaken identity".
But a jury convicted him by a 10-2 majority of sexually assaulting a 20-year-old university student, who cannot be identified for legal reasons, and causing her actual bodily harm.
In a statement released by Nottinghamshire Police following today's hearing at Nottingham Crown Court, Mr Beck, said: "I have driven on the roads for a lot of my career and have seen the full spectrum of motorists' attitudes. I have been jaded by this incident and it's prompted a change of career for me.
"I am getting on with my life. My body is back together again, but I will be physically affected by what happened that day for the rest of my life."
Pc Richard Pocock, from Nottinghamshire Police, said: "It is beyond me why some people continue to think they can use the road networks as a race track, without any consideration for their own or other people's safety.
"In King's case, there appears to have been absolutely no reason for his aggressive and dangerous actions that day, other than that he had a high-performance car and he thought that made him king of the road.
"Today's outcome shows that it doesn't matter who you are, if you drive in a dangerous manner on Nottinghamshire's roads, we will work hard to ensure you face the consequences in court."