Most at stake for Redknapp's QPR
Nick Miller brings us his views on the Sky Bet Championship play-offs, with the spotlight firmly on Harry Redknapp and Queens Park Rangers.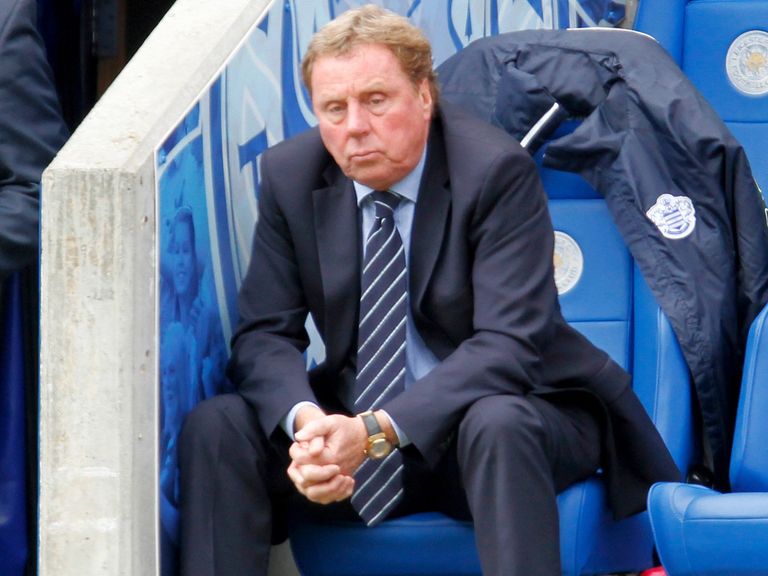 There isn't much Harry Redknapp hasn't seen in his time in football. There have been highs and lows, promotions and relegations, trophies and near-misses, but one thing he has never experienced is the often gut-wrenching horror and nerves of the play-offs.
Redknapp has a few players in his squad that have taken part in the end of season jamboree of tension (Rob Green, Bobby Zamora, Andy Johnson) but not many, so this particular brand of stress will be new for many at Loftus Road. However, they will have to get used to it pretty quickly, because promotion is an absolute must for Queens Park Rangers.
Given the quality and experience of both their squad and manager, it could be argued that QPR's participation in the play-offs alone is a failure, but should they not prevail at Wembley on May 24, then it unquestionably will be. Indeed, it is not so much that QPR haven't achieved automatic promotion but from around the beginning of March they were never really in serious contention, Burnley and Leicester pulling away and leaving the expensively-assembled Rs trailing.
There are obvious parallels to West Ham's ultimately successful 2011/12 season, when Sam Allardyce's men were prohibitive favourites to win the division, but finished third and were forced to clamber up via this most uncertain of methods.
Like West Ham then, QPR have a pressing need to win promotion, if only because their wage bill, even trimmed as it was last summer, is simply not sustainable for another season in the Championship. Parachute payments have seen them through this term, but those will decrease the longer they spend in the second tier, and the club will have to rationalise their spending accordingly.
Redknapp has preached from the off that winning promotion is not as simple as merely throwing money at the problem, and while that looks like self-preservation talk, he undoubtedly has a point because the Championship is an illogical and unpredictable division.
However, Redknapp must accept that his side have under-performed this season, and even in victory their all-round play has often been unimpressive, frequently relying on goals from Charlie Austin (in the first two-thirds of the season, in any case) or moments of individual brilliance from Ravel Morrison after his arrival on loan.
Of course goals, or lack thereof, have been QPR's problem, with only one top-half side (Brighton) scoring fewer than their 60, but it's arguably a slip in their defensive solidity that has left them in this position. In the first half of the season they were virtually impregnable, keeping an extraordinary 14 clean sheets before the turn of the year, conceding just 13 goals. Since then this frugality seems to have disappeared, with QPR's defence breached 31 times in the second 23 games, and only three clean sheets kept.
There is no apparent explanation for such a drop-off in terms of personnel (Green has played all-but one game, Clint Hill and Richard Dunne have made 40 and 41 appearances respectively), so the signs point to the manager, who has experimented with a slightly ill-advised back three on occasion.
It's possible that, after such a successful first 20 or so games, levels of motivation at Loftus Road fell, the players assuming that they had already done enough to win promotion and auto-pilot until the end of the season would suffice, leading to slackness and an increase in the 'Goals Against' column, and it's also possible that QPR were simply 'found out' after Christmas.
Of course, these again are problems for Redknapp, whose main quality is supposed to be man-management - if he can't get that right then QPR could be in some trouble.
Redknapp will have to get things right very quickly, for the play-offs are an unforgiving place, but they will go into Friday's semi-final as favourites to beat a Wigan side who, while winning their place in the top six with an impressive run after Uwe Rosler's appointment, have suffered something of a blip in recent weeks. They lost five (including a defeat to QPR) and won only three of their last 10 league games, and in the end only finished two points ahead of seventh place, but Rosler seems fairly relaxed about the whole thing.
"I overslept this morning - for the first time I slept for 11 hours," he said after Saturday's madcap but basically irrelevant 4-3 defeat to Blackburn. "It was fantastic."
Should Redknapp get past Rosler he will have an even tougher test in the final, where Derby should await, assuming they can get past a Brighton side that they have already beaten twice this term, and who only just snuck into the top six on the final day.
"It's all up for grabs for us," said Redknapp this week. "We're going to give it a right go."
QPR had better hope so, because promotion this season matters more to them than it does to most.