Birmingham set for nervy finale
Nick Miller looks ahead to the final day of the Sky Bet Championship season, when Birmingham fans can expect a nervy afternoon.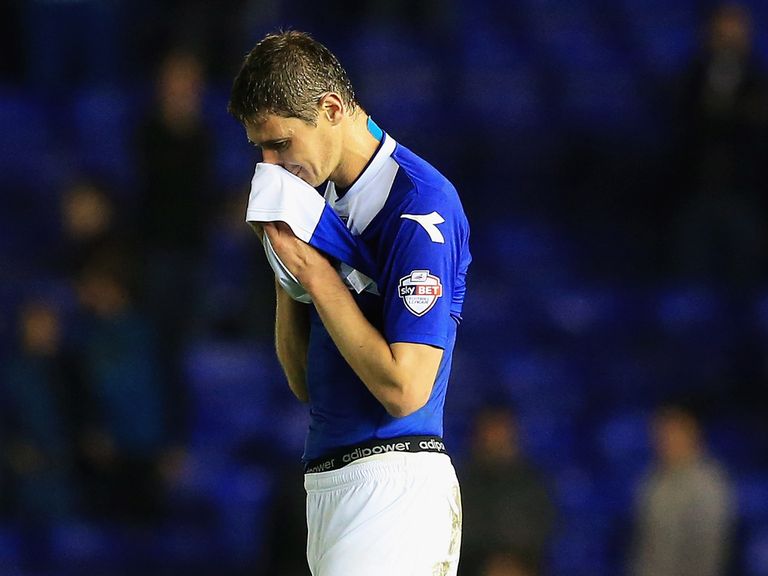 The final day of the Championship season is often a frantic affair, with teams scrambling for promotion, misinformation spreading like wildfire and premature pitch invasions making the whole thing a sort of joyous chaos.
Usually the focus is, quite naturally, on the top of the table, but this season it is slightly different.
Automatic promotion was decided a couple of weeks ago, with Leicester and Burnley deservedly enjoying a few games of celebration football before the planning starts in earnest for next season. Three places in the playoffs are wrapped up, the third for Wigan after their victory on Tuesday evening, and while only a week or so ago it looked like five or six teams would be in with a shout of claiming the fourth, in reality it is down to two.
Reading currently sit in sixth, with Brighton a point behind them. Blackburn still technically have a chance, but they are three back and have a much inferior goal difference to both sides above them, meaning they need to beat Wigan, hope that Reading lose at home to Burnley, Brighton lose at Nottingham Forest and have an eight-goal swing in their favour.
In short, it's unlikely.
Arguably more interesting than the top of the table is the bottom, where there is also only one place 'up for grabs' in the relegation zone with Yeovil and Barnsley already through the trapdoor into League One, but it is the clubs involved in the scrap that will make it an interesting afternoon.
"The situation is altogether murkier at Birmingham, and one fears that their experience in League One might be more akin to that of Leeds and Nottingham Forest, big clubs who wallowed in the third tier for longer than their reputations suggested they should."
Nick Miller
Blackpool are still just about involved, but they can only go down if all three of the teams immediately below them win, which leaves Millwall, Doncaster and Birmingham scrapping to avoid doom.
This has been a thoroughly confusing season for Birmingham, but one that has been coming for a couple of years. From winning the League Cup in 2011 they have been on a steady decline, their league positions getting worse and worse until they reach the point of probably needing a win on the final day (though a draw might just be enough), away at Bolton, to stand a chance of staying in the division. And, of course, even then it might not be good enough.
Lee Clark's side are in the drop zone, a point behind Doncaster and two back from Millwall, the game in hand against Wigan that had given them some hope lost in midweek. There are myriad reasons for their fall, not least the uncertainty over their ownership situation, with Carson Yeung imprisoned in Hong Kong but the company he owned still controlling the club.
Birmingham are still haemorrhaging money, unable to spend on new players and thus relying on loan signings, some of whom have helped, but others perhaps less so.
Indeed Paul Robinson, the veteran defender, had some choice words for some of those loanees last week, telling the BBC: "The big clubs send these players out for a reason and that's to get first-team football. For me, they've let the gaffer down, they've let us players down, some of them, and they'll just go back to their clubs and get on with it.
"That hurts the most because we're football players and we're brought up to love the game. Do these young kids love the game as much? I don't think so."
| Position | Player | Score |
| --- | --- | --- |
| 19 | Blackpool | 46 |
| 20 | Millwall | 45 |
| 21 | Doncaster | 44 |
| 22 | Birmingham | 43 |
| 23 | Barnsley | 39 |
| 24 | Yeovil | 37 |
Of course, that might be Robinson's way of motivating the players that have to try and keep Birmingham in the division, and it's difficult to imagine a man as experienced as him making comments as explosive as that without consulting his manager, but it does at least suggest some sort of disharmony in the camp. And, if it was a boot in the pants for the likes of Federico Macheda, Emyr Huws and Jordan Ibe, it looks like the sort of desperate tactic that has characterised a dispiriting season at St Andrews.
Clark has seemingly tried everything possible, from blooding these youngsters, to some rather 'creative' team selections, to simple calls for 'passion'. Indeed, that has become something of a running joke with Blues fans, Clark's intensity occasionally making him look like he's going to burst on the touchline.
"There's too much at stake, I'm not going to sulk - but it's hurting to the pit of my stomach," Clark said last week. "We've got to keep fighting and we've got three games left to get enough points and do what we've got to do."
Two of those games have passed without a point gained, and they go into the last day on the back of five straight defeats. One crumb of comfort for Birmingham might be that at least they aren't at home on Saturday - they have won just twice at St Andrews this season, and not at all since October 1, an extraordinary run that speaks to the nerves at uncertainty around the club at present.
In short, it all looks fairly bleak. Birmingham fans might look to neighbours Wolves for inspiration, who took relegation to the third tier as an opportunity to start again, to clean up the club and rebuild under Kenny Jackett, winning immediate promotion at a canter and now look in decent shape to perhaps make an impression on the Championship again next season.
Birmingham are different, largely because Wolves had a relatively stable (if unpopular) boardroom, and whatever one might say about chief executive Jez Moxey, he did manage to get the majority of the high-earning and under-performing 'stars' like Karl Henry, Kevin Doyle and Roger Johnson out of the club pretty sharpish, allowing Jackett to rebuild.
The situation is altogether murkier at Birmingham, and one fears that their experience in League One might be more akin to that of Leeds and Nottingham Forest, big clubs who wallowed in the third tier for longer than their reputations and fanbases suggested they should.
The decline has been rapid and painful, and unfortunately it may not be the end of it yet.
Much like the Championship, with not only the League One automatic promotion decided but all the playoff spots too, all of the interesting action at the weekend will be at the grim end of the table.
And it doesn't look good for Carlisle, third-bottom and three points behind Crewe so they must now travel to face Wolves requiring a victory to even stand a chance of survival.
They might try to take solace in the knowledge that Wolves, promotion and League One title in the bag, have nothing to play for so might ease off a little, but that particular bubble of optimism should burst when they realise Jackett's side have scored ten goals in the three games since promotion was confirmed.
Should Carlisle pull off the implausible then a point could still be enough for Tranmere at home to Bradford, while fifth-bottom Crewe are not out of the woods yet with a home game to come against Preston.
Once again, things are more or less sorted at the top of League Two, although the title is up for grabs, with Chesterfield, Rochdale and Scunthorpe separated by a single point.
At the bottom, things look grim for Wycombe, who must win at already-relegated Torquay and hope Northampton lose to Oxford, and/or Bristol Rovers are beaten by Mansfield.
If they don't get those three points, then the Chairboys will slip out of the Football League for the first time since Martin O'Neill brought them up, way back in 1993.