Liverpool quartet key for England
With the World Cup drawing ever closer, our Chris Hammer has taken the role of Roy Hodgson to pick his England squad.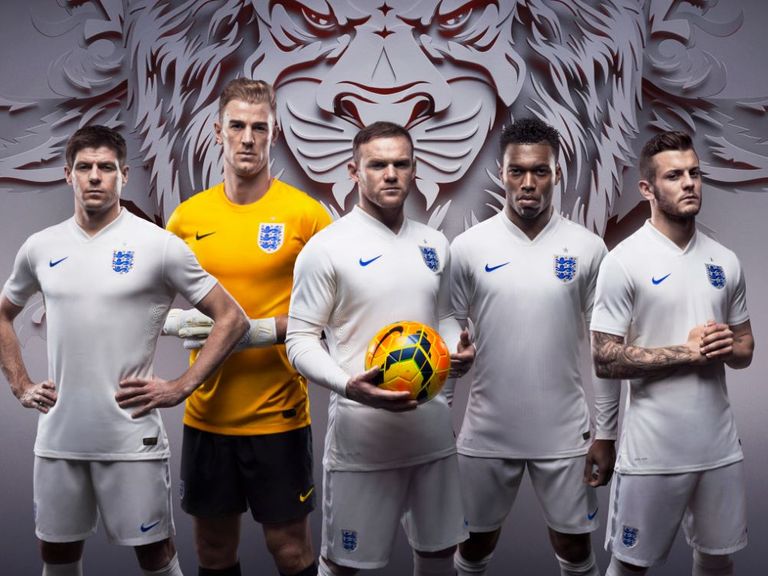 England manager Roy Hodgson has to name his provisional 30-man World Cup squad on May 13 but we've got our Chris Hammer to act early and name the 23-man party he would take to Brazil.
Things can of course change between now and May but if the squad is selected today these are the players who would make the cut and prices are provided from Sky Bet's England World Cup squad market.
Nick Hext selected his squad at the start of March but who gets the nod from Chris? Big names miss out and he's also picked his team to take the field for England's opening Group D contest against Italy on June 14.
GOALKEEPERS
Club: Manchester City
Age: 26
Caps: 39
Sky Bet odds to be in the squad: 1/50
Despite a poor run of form earlier in the season which allowed Costel Pantilimon to temporarily take his place in the Manchester City side, Hart has since recovered and remains England's undisputed number one.
Club: Celtic
Age: 26
Caps: 1
Sky Bet odds to be in the squad: 8/15
I personally feel the giant Celtic stopper should be second choice goalkeeper behind Hart but I guess he won't be able to convince everyone of his talents unless he plays in the English Premier League.
Club: West Brom
Age: 31
Caps: 6
Sky Bet odds to be in the squad: 2/7
The third-choice goalie spot is the most pointless member of any travelling party unless there is a freak succession of injuries to those ahead of him so I don't think it matters who gets the nod out of the remaining hopefuls, which include Jack Butland and John Ruddy.
DEFENDERS
Club: Chelsea
Age: 28
Caps: 22
Sky Bet odds to be in the squad: 1/20
Considering England's options at centre back aren't exactly laden with proven star names on the international stage, there can be few doubts that Cahill, a regular in title-chasing Chelsea's line-up, will start in Roy Hodgson's opening line-up to face Italy.
Club: Everton
Age: 31
Caps: 24
Sky Bet odds to be in the squad: 1/16
The experienced Everton centre-back will partner Cahill having done so throughout the majority of the World Cup qualifying campaign and his superb season helping the Toffees push for a top-four spot can only further justify his credentials.
Club: Manchester United
Age: 24
Caps: 10
Sky Bet odds to be in the squad: 1/2
Up against the likes of Joleon Lescott, Michael Dawson and Steven Caulker for the back-up spot in central defence, I'm going to give the nod to the Manchester United youngster despite the fact he's failed to impress this season. He's surely got potential to enjoy better year and therefore giving him valuable World Cup experience now - even if he plays a bit-part role - is the basis of my thinking here.
Club: Liverpool
Age: 29
Caps: 50
Sky Bet odds to be in the squad: 1/8
The Liverpool right-back is my first-choice in this position and I believe he should start in Hodgson's line-up if he stays fit following what has been a fairly decent season at Anfield during the times when he hasn't been sidelined through injury.
Club: Manchester United
Age: 22
Caps: 9
Sky Bet odds to be in the squad: 1/4
His youth and versatility makes the Manchester United defender a pretty safe pick to make the plane to Brazil and although primarily the back-up to Johnson, Jones can obviously operate in central defence if required.
Club: Everton
Age: 29
Caps: 22
Sky Bet odds to be in the squad: 1/25
In my eyes - and I'm sure I'm not alone - the Everton left-back is clearly the best player in this position right now and one of the main reasons why the Toffees have flown so highly. His dead-ball skills are lethal and you would almost bet one of your hotels on Mayfair (In Monopoly money of course) that he wouldn't miss a penalty.
Club: Southampton
Age: 18
Caps: 1
Sky Bet odds to be in the squad: 6/4
This selection isn't me necessarily saying this young Southampton talent is currently a better left-back than 108-cap veteran Ashley Cole but we've got to look at the bigger picture here. Shaw has a potentially long England future and Cole doesn't. If very few fans or pundits expect us to even go close to lifting the trophy then why waste a spot in the squad for a player who won't appreciate warming the bench over someone who will hopefully use the experience to learn and improve.
MIDFIELDERS
Club: Liverpool
Age: 33
Caps: 109
Sky Bet odds to be in the squad: 1/25
Gerrard is arguably the only player from England's 'Golden Generation' still playing to a standard to match the hype which was ultimately unfulfilled by the team at international level. His outstanding year as Liverpool captain not only makes him a dead cert for a starting role but makes him worth a strong shout in the top scorer market considering how much the Three Lions will rely on his contribution this summer.
Club: Arsenal
Age: 22
Caps: 15
Sky Bet odds to be in the squad: 1/8
The time has come for the Arsenal star to make his mark at the highest level and he's certainly got what it takes to provide the creative spark which could help England reach at least the quarter-finals. His rivals for the other central midfield spot simply lack his natural flair and talent.
Club: Liverpool
Age: 23
Caps: 8
Sky Bet odds to be in the squad: 1/2
It's not that long ago when the Liverpool midfielder was regarded a waste of money following his 2011 move from Sunderland but this season he's emphatically silenced his critics with a string of standout displays during the Reds' surprising title bid. His energy, work-rate and mentality make sure he gets the nod out on the right of my diamond midfield of four although his versatility to play in the middle is also important if injuries hit others.
Club: Liverpool
Age: 19
Caps: 2
Sky Bet odds to be in the squad: 4/9
The Anfield starlet completes a Liverpool-dominated midfield and who could complain given the way Sterling and his team-mates have ripped through opposition defences on such a regular basis this season? It's fortunate Brendan Rodgers' side have such an English core because it means selecting most of them should bring a winning mentality and a certain degree of telepathy to the Three Lions line-up.
Club: Everton
Age: 20
Caps: 3
Sky Bet odds to be in the squad: 4/9
As previously mentioned, I feel England must use this World Cup to look to the future and who's to say this approach would give us less of a chance in Brazil anyway? Big things are expected of Barkley and he's proved just as much on a number of occasions this season so giving him a dose of World Cup fever will also help him become immune to stage fright in years to come.
Club: Manchester City
Age: 28
Caps: 45
Sky Bet odds to be in the squad: 1/10
While youth is the flavour of the squad, there's no harm in selecting one or two experienced campaigners who still have a number of years left at the highest level and one of those is Milner. Although he's not exactly a player to get the pulses racing, the Manchester City player will work hard and is full of running, which is a useful attribute to have when others tire in extra-time.
Club: Liverpool
Age: 20
Caps: 14
Sky Bet odds to be in the squad: 1/3
The Arsenal midfielder will give my England side a lift from the bench if we're chasing the game and need some extra pace, flair and energy to make a breakthrough. Sure, he's missed a large chunk of the season due to injury but that might ultimately well work in our favour now he's fit and fresh.
Club: Southampton
Age: 25
Caps: 3
Sky Bet odds to be in the squad: 1/8
The Saints skipper deserves his chance in the squad having been a key driving force behind his club's impressive season. He's earned his first caps under Roy Hodgson so it appears as if only injury can ruin his Brazilian summer.
Club: Sunderland
Age: 26
Caps: 11
Sky Bet odds to be in the squad: 10/1
The Sunderland winger is highly unlikely to make the real squad when you keep in mind he was left out of the 30-man party to play Denmark back in March despite leading a Black Cats revival and winning January's player of the month award. But this is my squad and I'd rather have Johnson as the final midfielder than Andros Townsend, who is still dining out on a couple of good displays for England which shouldn't be a deciding factor. That said I wouldn't play Johnson unless injuries hit my squad in the summer so this selection dilemma won't cause sleepless nights.
STRIKERS
Club: Manchester United
Age: 28
Caps: 89
Sky Bet odds to be in the squad: 1/66
The Manchester United striker certainly won't want to remember this season for too long from an individual and team point of view but this could make him all the more desperate to rediscover his best form on the world stage. Obviously only injury will stop him starting every game in Roy Hodgson's side and all England fans will be hoping he can score more goals like the cracker he struck against Brazil in last year's friendly in Rio.
Club: Liverpool
Age: 24
Caps: 10
Sky Bet odds to be in the squad: 1/20
After a dazzling season alongside Luis Suarez at Anfield, Sturridge has emerged as one of the most prolific English strikers around and he'll get the chance to secure bragging rights over his club team-mate in our second match against Uruguay. He may miss playing in the same side as the player of the year elect, but he should combine well with  Rooney and with the support of his Reds colleagues behind him.
Club: Manchester United
Age: 23
Caps: 21
Sky Bet odds to be in the squad: 1/20
Would make little sense leaving the Manchester United youngster out considering he played a role in qualifying and will probably be involved in the England set-up for years to come but he's behind Rooney and Sturridge in the pecking order.
Club: Southampton
Age: 32
Caps: 4
Sky Bet odds to be in the squad: 1/2
Sure, this selection goes against the rationale used in many of my other selections but I think I can afford to hand one spot to a man who deserves to realise what would have almost been considered an impossible dream not too long ago. Having worked his way up through the divisions with Southampton, the 32-year-old has consistently found the net this season and quickly seized his chance on the international scene with two goals in four games. He's also good at taking penalties.
My full squad
Joe Hart, Fraser Forster, Ben Foster, Phil Jones, Luke Shaw, Leighton Baines, Gary Cahill, Phil Jagielka, Chris Smalling, Glen Johnson, Steven Gerrard, James Milner, Jack Wilshere, Jordan Henderson, Ross Barkley, Alex Oxlade-Chamberlain, Raheem Sterling, Adam Lallana, Adam Johnson, Wayne Rooney, Danny Welbeck, Daniel Sturridge, Rickie Lambert
Team to face Italy
Formation: 4-4-2
Goalkeeper: Joe Hart
Defence: Glen Johnson, Gary Cahill, Phil Jagielka, Leighton Baines
Midfield: Steven Gerrard (C), Jack Wilshere, Jordan Henderson, Raheem Sterling
Strikers: Wayne Rooney, Daniel Sturridge
From an attacking point of view, I'm going to adopt Liverpool's system which has helped the Reds tear through so many opponents in the Premier League this season. Using the nucleus of their midfield and also selecting Daniel Sturridge up front alongside Wayne Rooney means we'll transplant the winning and free-scoring Anfield mentality into the England set-up and bring a certain degree of natural telepathy to our play which isn't quite as possible when selecting players from a variety of different clubs. Spain's all-conquering side was packed full of Barcelona players who knew each other inside out so it's a strategy worth bearing in mind. My captain Steven Gerrard will play a similar role to the one he plays at Liverpool in front of the fairly uncontroversial back four with Jack Wilshere undertaking the more forward position in the midfield diamond, which has Raheem Sterling and Jordan Henderson operating in the wide positions. Up front we have the no brainer selections of Rooney and Sturridge while there's plenty of energy and youth on the bench such as Alex Oxlade Chamberlain, Adam Lallana, Ross Barkley and Danny Welbeck.
Missing Out
Notable players to stay at home this summer
Goalkeepers: Jack Butland, Stoke (11/10), John Ruddy, Norwich (6/1).
Defenders: Kyle Walker, Tottenham (1/8), Ashley Cole, Chelsea (1/4), Joleon Lescott, Manchester City (3/1).
Midfielders: Frank Lampard, Chelsea (1/4), Michael Carrick, Manchester United (4/7), Andros Townsend, Tottenham (4/7), Tom Cleverley, Manchester United (6/4).
Strikers: Andy Carroll, West Ham (evens), Jermain Defoe, Toronto (9/2).