Drogba out to beat Blues
Didier Drogba hopes to mark his return to Chelsea with a Galatasaray victory on Tuesday night when he plans to keep his emotions in check.
The 36-year-old, whose final act after eight years as a Chelsea player was scoring the decisive penalty in the 2012 European Cup win over Bayern Munich, returns to his old stomping ground with the Champions League last-16 tie finely poised at 1-1 after the first leg.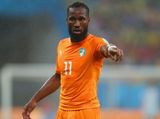 11. Didier Drogba
| Title | Number |
| --- | --- |
| Appearances | 12 (3) |
| Goals | 5 |
| Assists | 1 |
| Yellows | 4 |
| Reds | 1 |
*Current Season
The Ivory Coast striker admitted he would feel mixed emotions when he was asked if he would celebrate the winning goal at Stamford Bridge, if he scores it.
"With all the respect that I have for this club, for the fans and for the players, I might not celebrate, but if we win I'll be happy," said Drogba, who was speaking at Stamford Bridge.
"I'm really happy to come back and to see some familiar faces.
"It's a big game. The Champions League is a big competition and it means a lot for my team. I'll find a way to play.
"It's very difficult to play against Chelsea, but it's not going to be difficult for me to put myself into the competition mode.
"Now I belong to Galatasaray. I need to be professional.
"Of course there will be emotions. Like the first leg to see my ex-team-mates and also the Chelsea fans in the stadium was special.
"But then there was the game and the game as you could see was tough, was good, with high intensity. I think it's going to be the same tomorrow."
Prior to the draw in December, Chelsea boss Jose Mourinho hoped for his side to be reunited with Drogba, who netted 157 goals in 341 appearances before leaving for a spell in Shanghai.
Mourinho, who signed Drogba for Chelsea from Marseille in 2004, was given a rousing ovation when he made his return to the Blues dugout in August after a near six-year absence and hopes the Ivorian will experience similar acclaim.
It is anticipated he will, after his decisive interventions in Munich left an indelible mark on the hearts and minds of all Chelsea fans as they became the first London club to lift the European Cup.
"To leave Chelsea on a high like I did, if I could do it I would do it again the same way," Drogba added.
"But then I always say that I believe in destiny and if I ever wanted to play again for this team, I think it could've happened a long time ago. As it didn't there's no problem with that. I'm really happy at Galatasaray.
"I'm focusing on this game tomorrow, because for me it's an important one and I want it to be the best one."
Drogba returns almost two years after his magical moment in Munich and Mourinho knows he is one of the most key players to wear the blue of Chelsea.
"Undoubtedly, he's one of the most important players in the history of this club," Mourinho said.
"All Chelsea supporters, we agree with that. We don't say the most important one because it's not fair on other people.
"Is he the same player at 36 than he was at 26? I think nobody is, but he's one of the best strikers in the world, that's for sure."
Mourinho believes Drogba returning to Chelsea in future, as a player or as a coach, is a possibility.
"(Tuesday) is a big game and I don't think it's the right moment to speak about it," Mourinho said.
"He's a Galatasaray player. We know he's a free agent. We know he finishes his contract at the end of the season, but we know it's not the right moment.
"I think it has to happen one day. When, I don't know. As a player, as a coach, as an ambassador, next year, in four, five years, in 10 years, I don't know.
"But when a person represents so much to a club and when a club represents so much to a person, and that's the case, I think he has to be back one day."
---
New Sky Bet customers: Free matched bet up to £30
---