Weekend review: Moyes misery
Our football team answer the latest questions, including views on what next for Manchester United and Tottenham.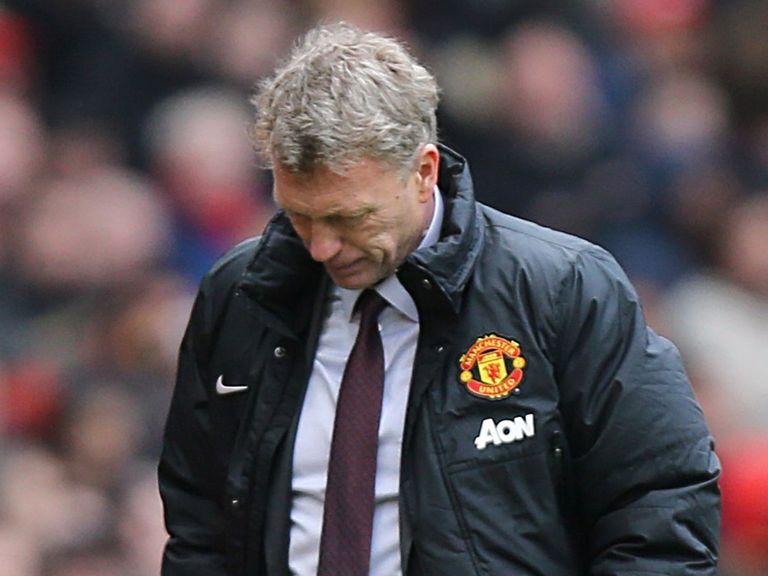 The pressure is now on Manchester United boss David Moyes even more intensely following the 3-0 defeat at home to Liverpool. Is there any hope of a Champions League comeback against Olympiacos in midweek or will the misery just keep on coming for the rest of the season?
Ben Coley: There's definitely hope of a comeback given that Olympiacos have lost three times in three visits to Arsenal, twice in two visits to Old Trafford and also at both Liverpool and Chelsea. But what will that achieve for United, really? The straight and simple answer is a quarter-final place in the Champions League but they simply will not win the competition and I'd be massively shocked if they made the semi-finals, so any comeback on Wednesday will represent short-term relief from this long-term malaise.
Nick Hext: There's certainly hope against Olympiacos but not of winning the Champions League or reaching the top four. There's simply better sides they will come up against in Europe and already clear of them in the Premier League. The display against Liverpool was appalling and most worryingly of all for United fans it featured a complete evaporation of discipline. Conceding three penalties - two of which were completely justified and the third via a stupid tackle from Nemanja Vidic that gave Daniel Sturridge the perfect opportunity to tumble - is unforgivable and don't forget Rafael should have picked up his second booking for conceding the first spot-kick. That kind of indiscipline sticks out like a sore thumb at amateur level never mind the Premier League. The good news is as night follows day there is another game quickly on the horizon. Olympiacos aren't to be feared and the best inspiration the Red Devils can get is from Middlesbrough's UEFA Cup run back in the 2005/06 campaign. A famous comeback would at least provide some smiles temporarily.
David John: On the form that United are showing at the moment there is little hope of turning around a 2-0 deficit if Olympiakos turn in anything like a competent display at Old Trafford. I wasn't convinced one iota that David Moyes and his side had turned some sort of corner with the win over West Brom and their current deficiencies were exposed by Liverpool, who did not even have to be at their best. Wayne Rooney cuts little more than a frustrated figure on the fringe of a game while Robin van Persie is a shadow of the player that has punished Premier League defences during his career. The midfield look clueless, the defence leggy and the best player on the pitch these days ironically is the much-maligned David De Gea. It would be unfair to expect Moyes not to have a period of transition but the drop-off for this club has been frankly astonishing.
Dave Tickner: There is hope of a comeback against Olympiacos, but it would be a sticking plaster for an open, infected wound. The winner of that tie will be the weakest of the eight quarter-finalists. The rest of United's season is now primarily about trying to minimise humiliation and pretending that trying to qualify for the Europa League is something more than a Pyrrhic victory.
Who gets your vote as the next person in the Old Trafford hotseat if Moyes is sent packing?
BC: Jurgen Klopp maybe. He has all the ingredients needed to succeed at Old Trafford in that he's experienced, has achieved great success - both domestically and in Europe - and is very much his own man. These are, of course, the ingredients United should've been looking for when replacing the greatest manager of the modern era and not a friend of Fergie who hasn't won trophies, hasn't managed in Europe and wasn't ever the right man for this job. I feel sorry for him and I blame Sir Alex for leaving the club on the brink of this type of disaster with apparently no concern for its future.
| Team | Versus | Team |
| --- | --- | --- |
| Man Utd | v | Olympiakos |
| West Ham | v | Man Utd |
| Man Utd | v | Man City |
| Man Utd | v | A Villa |
| Newcastle | v | Man Utd |
| Everton | v | Man Utd |
NH: I agree with the argument for Jurgen Klopp. He's a big personality, would get the fans all - excuse the pun - United behind the team again and from a neutral perspective would make the Premier League a much more interesting place. Sometimes it just won't go right for a manager no matter what he does. Moyes is in that position - see Roy Hodgson's reign at Liverpool for a similar example - and just looks helpless as the problems keep on mounting. He also doesn't help himself by saying United played well after falling to defeat. Moyes is far from the only manager guilty of this but it gets magnified at Old Trafford.
DJ: United will surely have to swallow their pride and get rid of Moyes. This was going to be a bit of a poison chalice for whoever took over following the Sir Alex Ferguson era but Moyes has simply not looked up to it mentally or tactically. Does he really think he is kidding anyone when he keeps coming out and saying they have played well as he attempts to mask some awful performances? His big purchases Marouane Fellaini and Juan Mata were the acts of a desperate man - one isn't good enough and the other solves none of his current issues. As a replacement, I would go back to Fergie at least to get some stability. He seems to be at every match so why not pull the strings from the dugout.
DT: It will need to be a big name, with the pedigree and track record to cope with the lengthy shadows cast by Fergie. Going back to Ferguson now would be counter-productive; it won't solve the problem of who replaces the great man, means this terrible season has been a complete write-off, and only further increases the pressure on whoever is the next man to try and replace Fergie. At least a new manager now will face the less daunting task of replacing Moyes. Klopp's an ideal candidate. Louis van Gaal will be available in the summer and has the right CV, but at 62 years old would represent a change of strategy. Mind, an acknowledgement that seeking the lightning-striking-twice of a second hugely-successful 20-year reign was flawed may be no bad thing.
Speaking of managers under pressure. What next for Tim Sherwood and Tottenham in both the short and long-term?
BC: Next for Tim Sherwood is unemployment. Next for Tottenham is fifth or sixth and another reshuffle. Louis van Gaal is reportedly next in line but if they turn to him, Spurs have to do what they've failed to in recent years and that's accept that change takes time and bold managers with their own styles will upset a few people along the way. While they continue to change as soon as the going gets tough, they'll continue to sit just below the top four but comfortably within the top six.
NH: Sherwood will be gone in the summer to probably get a chance in the Sky Bet Championship at some point. It may work out for him at another club, it may not but he should be much wiser for his spell in charge of Tottenham if he learns from the experience. He can't get away with just looking angry and telling the players home truths after every match. Who comes next? Mauricio Pochettino looks the best candidate to me but I wouldn't be certain he could turn things around at White Hart Lane and it might not be the most sensible move from his evolving Southampton side. Whoever gets the nod needs to be backed and not cast aside as quickly as Andre Villas-Boas was at the start of this season.
DJ: I think Spurs were stuck between a rock and a hard place after they took the decision to get rid of Andre Villas-Boas so handing an 18-month deal to Tim Sherwood was probably a reasonable option for Daniel Levy rather than shuffle in another big name. But Sherwood increasingly looks unable to get the best out of his valuable squad and will surely be shown the door in the summer. There seems to be no strategy or tactics and though they showed plenty of determination against Arsenal to get back on level terms, erratically throwing the kitchen sink at the opposition is something the better teams can deal with. That said, they don't have a hugely demanding run-in so there still could be time for the boss to make some sort of positive impact despite a place in the Champions League slipping further out of their grasp.
DT: Sherwood's hubris is matched only by his incompetence. His belief that becoming a number two or dropping a level would be beneath him suggests he has learned little from an opportunity he never deserved but appears to believe was his destiny. He will have to swallow his pride if he wants another job at Spurs or elsewhere in the summer - there is no chance he keeps his current one. Spurs, meanwhile, will spend a lot of money on a new manager, sell half-a-dozen players and buy half-a-dozen more at roughly break-even and embark on yet another transitional period in which they try and finish fourth but probably finish fifth or sixth.
There were plenty more twists and turns at the bottom of the Premier League on Saturday. Can you give us a confident (or not) prediction of who will join the Sky Bet Championship ranks next season?
BC: Yes, I can. Fulham - they're doomed. Cardiff - they're even more doomed. And finally I'll go with Norwich. Chris Hughton's side are currently four points off relegation and have four winnable games to come. However, their last four are against Liverpool, United, Chelsea and Arsenal, and on all known form we can mark them down for a maximum of two points from those. The players will be well aware of how difficult the end of the season is and that heaps pressure on their upcoming games. Lose three of their next four and that's that.
NH: A very, very tough question given the turbulent nature of this season's survival battle. I would go for Cardiff, who have made a real meal of things thanks to Vincent Tan forcing out Malkay Mackay. I'm not sure they'd be that much further up the standings if Mackay had stayed but there would be a much more united front at the club. Crystal Palace have been fantastic but still remain in big trouble. That always worries me when a club has been playing at their optimum and it still doesn't seem quite enough. I'll go for Norwich as my final pick. That final run-in will put big pressure on the Canaries in the coming weeks and the fans have never really taken to Chris Hughton. Fulham therefore have the pressure to complete the great escape. Over to you Felix Magath!
DJ: You could potentially perm any three from nine teams such is the closeness of the relegation battle working on the assumption that Aston Villa and Stoke can eke out a couple more wins in 10th and 11th. Sunderland have two or three games in hand on those around them but I would not be convinced they will turn them into points and a huge worry is the lack of goals on Wearside. Cardiff have bags of spirit, I like Ole Gunnar Solskjaer and they have the right attitude for a battle - on the other hand I am not convinced by Crystal Palace. Their little revival under Tony Pulis seems to have stalled with no wins in five and they are still right in the mire so they would be my pick at this stage to be one of the three through the trapdoor.
DT: I said Cardiff, Fulham and Norwich a month ago. I wouldn't necessarily call it a confident prediction (I'd maybe call it a two-thirds confident prediction) but it remains as good a shout as any.
---
New Sky Bet customers: Free matched bet up to £30
---