Sir Tom Finney dies
Former Preston and England forward Sir Tom Finney has died at the age of 91.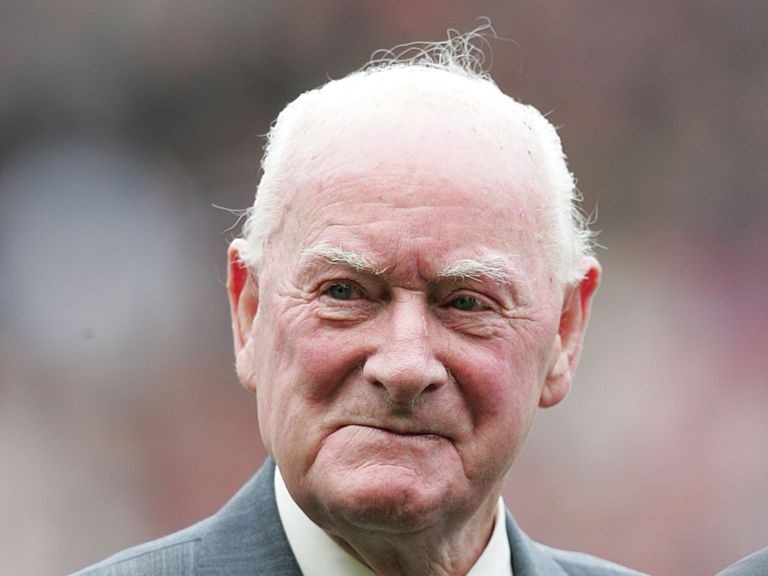 Preston confirmed the news in a statement on Friday night which paid tribute to the club's most famous son, who emerged as one of this country's greatest talents in the post-war era.
"Preston North End have been informed of the extremely sad news of the passing of Sir Tom Finney," the statement read.
"Sir Tom was the greatest player to ever play for Preston North End and one of the all-time greats for England.
"The thoughts of everyone at the club, and those connected with it, are with his family at this time.
"The club will be making an official statement on Saturday 15th February 2014, but have no other comment at this time."
Finney made his debut for North End in 1946 and remained with the club until his retirement in 1960. He scored 210 goals in 473 appearances for the Lillywhites, while his record for England was equally eye-catching, netting 30 times in 76 appearances.
Finney was renowned as one of the game's great wingers and was famed for his double act in England colours with fellow wideman Sir Stanley Matthews.
He also proved a highly effective centre forward during his career which, after being delayed by the Second World War, spanned from 1946-60.
He played in three World Cups and was the first player to win two Footballer of the Year Awards.
Bill Shankly, the great Liverpool manager and a former Preston team-mate, once said: "Tom Finney would have been great in any team, in any match and in any age... even if he had been wearing an overcoat."
Finney spent his whole career with hometown Preston, where he lived his entire life.
Finney was nicknamed the 'Preston Plumber' during his career after his first trade, to which he returned and ran a successful business in after retiring from the game.
Additionally he worked in the media, was chairman of the Preston Health Authority and in 1998 was awarded a knighthood.
Aside from a Second Division championship title, Finney never won any of the game's major honours.
In 1954 the FA Cup final was billed to be his day - a year after his friend and rival Matthews inspired a famous Blackpool win - but Preston were beaten by West Brom.
Preston also finished First Division runner-up twice during his career.
Despite the lack of medals, Finney's reputation was immense, both on and off the field. He never lost sight of his humble roots and was regarded as a gentleman.
Preston were relegated from the top flight a year after Finney's retirement and have not returned since.
Club captain Kevin Davies tweeted: "Tonight we have lost a footballing Legend. A true gent and a loyal servant to his beloved PNE. RIP Sir Tom Finney."
Finney remains joint-sixth on England's all-time goalscoring list.
Gary Lineker, the second-highest scorer with 48, tweeted: "Sir Tom Finney has left us. One of the greatest players this country has ever seen, and a true gentleman. #RIP."
Former Republic of Ireland international Kevin Kilbane, who began his career at Preston, said: "I'm proud to say I grew up on the same street as Sir Tom Finney. Very sad to hear of his passing. #RIPSirTom #theprestonplumber".
Finney was the subject of interest from Italian side Palermo in 1952. They offered sums unthinkable for English professionals for the then 30-year-old, but Finney declined.
Former England captain Jimmy Armfield told BBC Radio Five Live: "He, in my opinion, is one of the really great footballers that this country has produced.
"Even going back to his early days, the Italians tried to snatch him away from England - but he wouldn't leave Preston. He was a loyalist as well.
"As much as anything else, and it's hard to explain to many people today, but it was the way he played and the way he carried himself - his whole demeanour of life. Really, Preston will be a very sad place."
Preston's rivals Blackpool, for whom Armfield played, announced via Twitter: "A legendary opponent and friend of Jimmy Armfield, BFC pass on condolences to the family of Sir Tom Finney. #RIP".
A statement from the Football Association read: "The FA is saddened to hear of the passing of Sir Tom Finney, one of England's all-time greatest players."
Football League Chairman Greg Clarke also added to the tributes, saying: "The Football League is deeply saddened to learn of Sir Tom's death and I offer my condolences, on behalf of all our clubs, to his family and friends, including all those at Preston North End.
"He was quite possibly the finest player to have ever played in The Football League and was a true gentleman. He was also the epitome of the one club man with few people ever having contributed as much to a single team, their city or our competition.
"He will be greatly missed by the English game."
Sir Tom Finney factfile
1922: Born April 5 in Preston
1946: August 31 - Makes official debut for Preston after previously playing for the club in unofficial games after signing before the Second World War. He scores in a 3-2 win over Leeds at Deepdale.
September 28 - Makes England debut and marks it with a goal in a 7-2 win over Northern Ireland.
1950: May 14 - Scores four goals as England beat Portugal 5-3.
June/July - Plays in all three games as England finish second in their group at the 1950 World Cup in Brazil.
1951 - Plays a key role as Preston win the Second Division title.
1953 - Helps the Lilywhites to finish as runners-up in the First Division.
1954 - Plays in the FA Cup final as Preston are beaten 3-2 by West Brom at Wembley.
June - Plays in all three games, scoring in the quarter final defeat to Uruguay at the 1954 World Cup in Switzerland.
Named Footballer of the Year for the first time.
1957 - Named Footballer of the Year again, becoming the first man to win the award on two occasions.
1958: Wins a second First Division runners-up medal with Preston.
June 8 - Scores against the Soviet Union as he makes just one appearance for England at the World Cup in Sweden
October 4 - Scores his 30th and final goal for England against Northern Ireland.
October 22 - Makes his 76th and final appearance for his country against the Soviet Union.
1960: April 30 - Makes the last of his 473 appearances for North End against Luton at Deepdale having scored 210 goals.
1961 - Awarded an OBE.
1998 - Awarded a Knighthood.
2002 - Inducted into the National Football Museum Hall of Fame.
2004 - His statue is unveiled outside Deepdale.
2014: February 14 - Dies at the age of 91.