Leeds saga rumbling on
Nick Miller takes a look at the saga surrounding Leeds in the latest edition of his Sky Bet Football League column.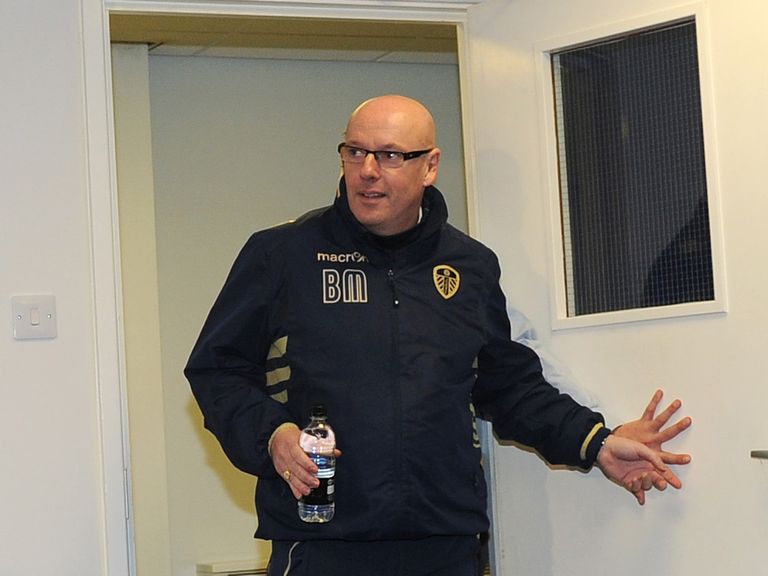 One of the strangest things about the recent goings on at Leeds was that, on the morning of Friday January 31, if you'd taken a poll of their fans and asked: 'Who would you rather keep: Ross McCormack or Brian McDermott?' the results would probably have skewed towards their top-scorer rather than manager.
Under McDermott, Leeds had suffered some calamity, having not won since the middle of December, a run that featured a 6-0 humiliation at struggling Sheffield Wednesday, and being knocked out of the FA Cup by League Two Rochdale. So bad had they been, that a 1-0 home defeat to Leicester looked like a return to form because at least they didn't embarrass themselves against the best team in the division.
However, as word emerged that prospective - and that is of course the crucial word here - new owner Massimo Cellino had tried to sack McDermott and install his own man, Gianluca Festa, there was uproar, with fans chasing his taxi away from Elland Road to the extent that the cab firm involved had to appeal for them to stop on the basis that the car was driving round and round and was running out of petrol.
McCormack, having just hours before told Sky Sports News that he wouldn't be leaving Leeds despite talk of interest from the Premier League, was then left baffled and indeed outraged at McDermott's proposed dismissal.
McDermott was of course reinstated when some bright spark pointed out that, as he didn't actually own the club, Cellino couldn't really sack the manager, despite instructing his lawyer to do just that, even going as far as to make sure the message was delivered on club stationary.
The statement Leeds put out on Saturday, more or less to the effect of 'What? Of course he isn't sacked, how silly of you to think otherwise' was laughable.
However, McDermott wasn't in place for their game against Huddersfield on Saturday, when a McCormack-inspired Leeds spanked their local rivals 5-1, with barely-contained fury from the stands channelled into something more positive.
Festa has been hanging around Elland Road, not quite like a vulture waiting for something to die, but more like a junior vulture told by a senior vulture to wait around for something to die.
McDermott wouldn't allow him to be in the dugout for recent games, as requested by Cellino, but was in the stands for the Huddersfield game, and was at their training ground on Monday.
As was Andrea Tabanelli, a player possibly signed on loan (although nobody seems quite sure if that deal has actually been ratified) from Cagliari, Cellino's Italian club, despite McDermott admitting he didn't have a clue who he was.
It is, of course, a mess. The problem is, it's difficult to imagine how this mess will be cleaned up soon.
Current owners Gulf Finance House have to sell because the club is haemorrhaging money and Cellino's is currently the only concrete offer available to them, despite talk that managing director David Haigh, who reportedly tried to resign over the treatment of McDermott, was putting together another offer after his initial bid fell through last month.
The Guardian reported on Tuesday that potential new investors were talking to GFH, but it is tricky to see an entirely new bid being ratified while cash spills out of the Elland Road coffers at a rate of about £1million a month.
The hope that the FA's fit and proper person's test would save them appears to be forlorn too, as Cellino's convictions for 'fraud-related offences' are now 'spent' under British law, as they happened over 10 years ago.
While the test in itself is well-intentioned, if misinterpreted by many (its purpose is not to predict that prospective new owners might do something stupid - what sort of test could do that?), it would seemingly be rendered utterly pointless if it waves through a convicted fraudster.
The only hope for McDermott's long-term (hell, even medium-term) future seems to be if Cellino recognises the somewhat adverse reaction from the Leeds fans and acts accordingly.
However, he seems determined and, as we know from countless current examples like Vincent Tan at Cardiff and Assem Allam at Hull, when prospective new owners set their minds on something, they will do it.
Cellino's attitude to binning managers at Cagliari (he has sacked a whopping 35 in 21 years) suggests a fan protest wouldn't dissuade him from showing McDermott the door. Again.
Leeds fans, with Peter Ridsdale, Seth Johnson's apocryphal but entirely believable contract negotiations, £240 goldfish, relegation to League One, Ken Bates and administration relatively fresh in their memory, must have thought they'd seen the worst.
Unfortunately, events over the coming months might make them think again.
---
On the subject of unpopular club owners, Carson Yeung finally stepped down from his position as Birmingham chairman on Tuesday, as he awaits the verdict from a Hong Kong court in his trial for money laundering.
Again, this was not an altruistic move in deference to fan protests, but an attempt to make the club more attractive to potential purchasers, as was a recent move to reduce the club's financial problems by converting debts 'owed' to Yeung into equity.
Indeed, the club's parent company were said to be in talks with an 'independent third party' about investing in Birmingham last month.
For manager Lee Clark, who hasn't so much been working with one arm tied behind his back as with both arms trussed, a leg and with no shoe on the one foot left on the ground, freedom cannot come soon enough.
---
From men who don't necessarily have the best interests of the Football League at heart, to one that does. Graham Turner stepped down as Shrewsbury manager last month, ending an association with the club that stretches back 41 years.
Turner signed for the Shrews as a player in 1973, taking over as player-manager in 1978. He left for Aston Villa in 1984, going on to manage Wolves and Hereford, before returning to Shrewsbury in 2010.
And it seems, as rare as this might be in football these days, it appears Turner wasn't pushed out, and was simply honest enough to recognise that, with the Shrews at the dicey end of the League One table, he was no longer the right man for them.
"There's been a sequence of results where for several weeks now I thought I could improve things," he said after stepping down, admitting that his managerial career was probably over. "It hasn't materialised so I felt that there was a need for a decision to be made.
"I don't think we could just carry on in the same vein and the decision I reached was that I would step down as team manager of Shrewsbury Town."
Turner was the longest-serving manager in English football, and goes with the club's blessing. Shrewsbury chairman Roland Wycherley said:
"Graham has rightly achieved 'legend' status at our club and I trust that history will treat him with the respect that his endeavours for this club deserve."
---
New Sky Bet customers: Free matched bet up to £30
---