Moyes: RVP happy at United
David Moyes insists the whispers that suggest Robin van Persie is not happy at Manchester United are false.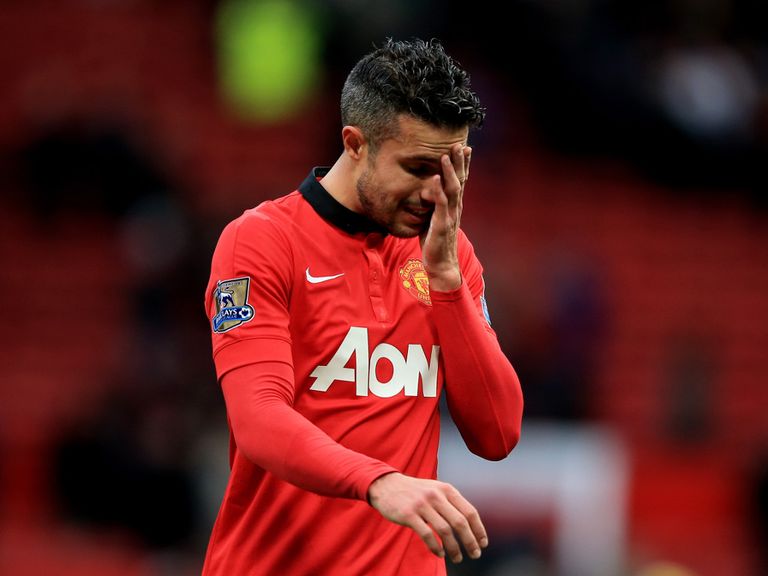 Along with strike partner Wayne Rooney, Van Persie will again be missing when United head to Chelsea on Sunday.
Not even a week's warm-weather training in Egypt has helped Rooney overcome a groin injury, whilst Van Persie will be sidelined for a 10th game with the thigh problem he sustained in the Champions League win over Shakhtar Donetsk last month.
Van Persie is due to return to training next week though, which is welcome news for Moyes, as was the Dutchman's decision to speak up for his manager on Thursday when he insisted Moyes should be given time to get the job right.
Those words have helped dampen down talk that Van Persie does not get on with his boss, to the extent of gossip that he would not have signed for United had he known Sir Alex Ferguson was going to leave after a single season almost becoming accepted fact.
Moyes has never understood why.
"I keep saying it is untrue but for some reason people don't want to write it or hear it," he said.
"But it is the fact. Most people know that I talk pretty straight.
"If there was something wrong I would be the first one to come out and say it.
"I have a really good relationship with Robin, as I do with all the players.
"But when you are not winning, people look for reasons, and probably think I am not getting on with Robin.
"It couldn't be further from the truth."
After such a difficult period, the return of the back-to-back Golden Boot winner is eagerly awaited.
The same can also be said of Rooney, who is a little ahead of his team-mate in their respective battle for fitness, having at least managed to return to the training field this week.
Neither will be involved at Stamford Bridge though, and given the Capital One Cup semi-final with Sunderland is looming on Wednesday, it could be the return to Old Trafford of new Cardiff manager Ole Gunnar Solskjaer on January 28 when either man is ready to start.
"Wayne has been away, as everybody is aware," said Moyes.
"He is looking quite good. He has done a lot of strengthening work around his groin but he won't be available for the game on Sunday.
"I don't want to say he'll be fit for whatever game and then find he's not, but hopefully we can get him back as quickly as we can because he is an important player.
"It will be a great boost for us all if we can get Robin back out on the grass because he is a player we've missed."
In their absence, Moyes will rely on the squad that triumphed over Swansea last weekend to end a run of three successive defeats for a game he knows could revitalise United's campaign, which included a drab first encounter between the sides at Old Trafford in August.
"That was a difficult game for both of us that probably came a bit too early in the season," said Moyes.
"We know this is going to be hard because Chelsea are very strong at home. As you would expect, they have made a strong start to the season.
"We are a little bit disappointed at not being in closer contention with the teams at the top but we are hoping between now and the end of the season we can do that.
"We want to hang in there and if we could win this game it would make people think we are not that far away."
Meanwhile, Moyes does not want to get United fans' hopes up by promising big name signings during the present transfer window - but he insists the club are trying.
Moyes has poured cold water on suggestions he went on a scouting mission over the weekend, when he was spotted watching matches involving Juventus and Paris St Germain.
Even the departure of Brazil midfielder Anderson on loan to Fiorentina has been compensated for by the long-awaited return to fitness of Darren Fletcher.
Yet, given the lack of high quality options in his present squad, which have been brutally exposed at times this season, it would be a major surprise if Moyes was not plotting something.
And the Scot confirmed work was under way, even if it might not bear fruit.
"We are looking really hard," he said.
"As I have said many times, it is not a particularly good month to buy players.
"I would hate to get people's hopes up and end up with nobody.
"In the same breath we are certainly not sitting back and doing nothing, that's for sure. If we could pick up one or two players in this window we said we would try and do it."
Having failed with one attempt to sign Fabio Coentrao from Real Madrid, Moyes will have noted with interest the Spanish giants being linked with Sevilla's Alberto Moreno.
Benfica defender Ezequiel Garay, who has been linked with a move to United on numerous occasions in the past, is also being bandied about as a potential January signing.
Midfield is an obvious area of weakness, so much so that it has been suggested Moyes would be willing to spend big to lure Paul Pogba back to the club, despite the fact Sir Alex Ferguson let the France international leave for nothing in the summer of 2012.
"I can see it is a big task and a big job to get things the way I want it," said Moyes.
"Everybody recognises we have to make some changes. But that is not the reason for me globe-trotting all the time.
"I have always been an avid football watcher. I have always enjoyed going to games.
"When you are at a club like this, attention gets drawn to the fact you are there, then people make assumptions that you must be watching one player or another.
"But you don't always sign a player when you go to a game. In fact, you probably go to very few and do that.
"Maybe we are looking for the summer, not for now.
"The point is when you are at Manchester United you are in the spotlight wherever you go."
However, it is a fact that Anderson's time at the club is drawing to a close.
The 25-year-old, who joined United from Porto in 2007, has agreed to join Fiorentina on loan until the end of the season, by which time he will have a single season remaining on the contract he extended in 2010.
Given his lack of recent appearances, the Brazilian, who took a penalty in the Champions League shoot-out triumph over Chelsea in Moscow, has not convinced Moyes of his quality and it is not expected he will play for United again.
"We've not been able to get him as many games as he hoped, so we feel it is a good opportunity for him," Moyes said.
"He's going to a good club in a good league, so hopefully it gets him some benefit."