Transfer Focus: Juan Mata
Juan Mata is the subject of Transfer Focus as rumours continue about his Chelsea future.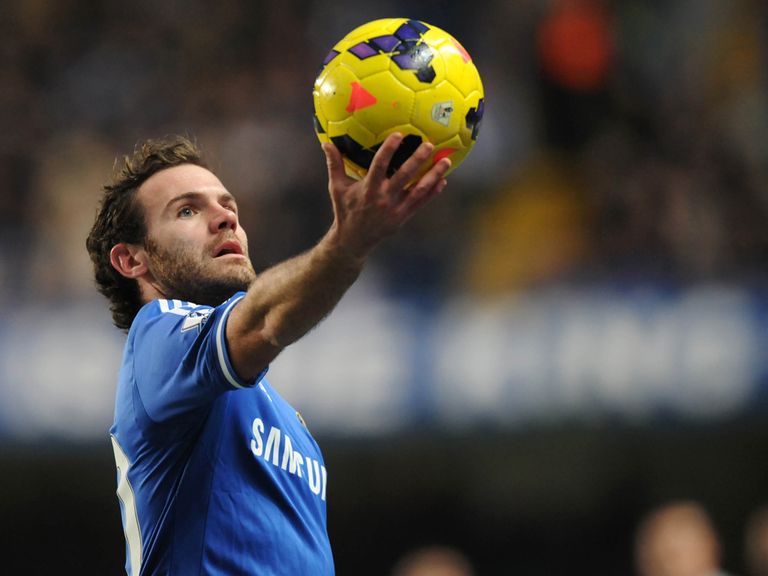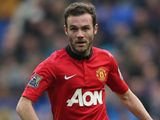 8. Juan Mata
| Title | Number |
| --- | --- |
| Appearances | 26 (9) |
| Goals | 9 |
| Assists | 4 |
| Yellows | 4 |
| Reds | 0 |
*Current Season
Juan Mata has been on the fringes of Chelsea's squad since Jose Mourinho's return to the club as manager in the summer.
Willian, Oscar and Eden Hazard are all ahead of Mata in the Stamford Bridge pecking order so it's no surprise his future at the club has been called into question.
Manchester United, PSG and Atletico Madrid are just three of the clubs who have been linked with a January move for the 25-year-old but will a deal happen?
Transfer Focus investigates...
Who Wants Him?
PSG (5/1 to sign Mata in January with Sky Bet): The French side were heavily linked with a move for Mata during the summer transfer window and it's no surprise to see the rumours resurface. There is already a glut of attacking talent at the Ligue 1 champions so could they find room for the 25-year-old? Zlatan Ibrahimovic is the main man at the Parc des Princes but the money is available to add to the talent pool.
Atletico Madrid (6/1): There was a little bit of interest in this move with Sky Bet on Wednesday evening. Atletico are level on points with Barcelona at the top of the Spanish Primera Division so represent an attractive proposition for any player. Mata would link up with plenty of burgeoning reputations at the Vicente Calderon and his own standing would benefit with success for Los Rojiblancos.
Manchester United (6/1): The Red Devils are clearly in need of a creative spark and Mata would be a fabulous addition to an underperforming squad. The Spaniard has already proved his Premier League credentials during his time at Chelsea and you can be sure David Moyes knows all about the midfielder's quality. Wayne Rooney and Robin van Persie would certainly welcome the service.
---
Get £60 from a £10 bet if Mata joins Man United in January!
---
Napoli (7/1): This link makes sense because former Chelsea boss Rafael Benitez is now in charge of Napoli. Benitez was effusive in his praise of Mata during his time at Stamford Bridge last season and would make the midfielder a key part of his plans in Serie A. Not a switch to rule out entirely.
Real Madrid (12/1): This is a move that looks unlikely given Real's galaxy of stars in forward positions. Cristiano Ronaldo is the central figure at the Bernabeu but the likes of Bale, Benzema, Isco et al show just what a tough task it is to get a starting spot. There is speculation that Angel di Maria is a target for Chelsea but it would seem unlikely that Mata would make the return journey.
Arsenal (16/1): You would have to say a move to Arsenal is an outside bet but everyone would have said the same about Mesut Ozil in the last transfer window. The Gunners are full of attacking midfield players so adding another shouldn't be top of their January wish list. A new striker would be a much more logical addition.
Liverpool (16/1): This transfer would get people sitting up and taking notice! There has already been recent business between Liverpool and Chelsea with Victor Moses making a loan move to Anfield but a deal for Mata would be on a completely different level. There is space for the Spain international to fit in Liverpool's attacking line-up and Brendan Rodgers definitely wouldn't need asking twice to push the move through.
---
Get £160 from a £10 bet if Mata joins Liverpool in January!
---
Also available with Sky Bet: Inter Milan (20/1), Manchester City (28/1), Bayern Munich (40/1), Juventus (40/1), Barcelona (50/1), Borussia Dortmund (50/1), Monaco (50/1), Tottenham, (50/1).
Sky Bet's Stuart Dallimore says:
"Manchester United are currently among the favourites to be Juan Mata's next destination if he is to move during this transfer window.
"United are desperate for some creativity in midfield with Shinji Kagawa failing to shine so far this season.
"We've seen a little bit of cash for him to go to Liverpool but most of the remaining money has been for him to move away from the Premier League.
"PSG are the main club he's being backed to join and are currently 5/1 favourites. At the end of the last window he was quite heavily backed to join the French giants, perhaps they will be in for him again."
The Stats
This season: 18 games, two goals - Mata has been on the periphery of things at Chelsea this season since Jose Mourinho's return to the club. His only Blues goal - the midfielder also netted for Spain against Georgia - came in the 2-0 Capital One Cup win at Arsenal.
Last season: 70 games, 22 goals - The 2012/13 campaign was very busy for Mata as he started with the Community Shield and ended with the Confederations Cup. The Spaniard was on top form as he netted twice in the 4-2 Premier League victory at Tottenham in October.
International record: 32 games, nine goals - Mata has 32 full international caps for Spain and has played all the way through from the Under-16s to Under-23s at youth level. His best moment came with a goal in the 4-0 victory over Italy in the Euro 2012 final.
Mata Facts
Mata started his career in the Real Madrid youth set-up before moving to Valencia in 2007.
Mata appeared just once as part of Spain's victorious 2010 World Cup squad, as a substitute in the group stage victory over Honduras.
| Team | Versus | Team |
| --- | --- | --- |
| Chelsea | v | Man Utd |
| Chelsea | v | Stoke City |
| Chelsea | v | West Ham |
| Man City | v | Chelsea |
| Chelsea | v | Newcastle |
| West Brom | v | Chelsea |
| Chelsea | v | Everton |
| Galatasara | v | Chelsea |
| Fulham | v | Chelsea |
| Chelsea | v | Tottenham |
Mata made his debut for Chelsea against Norwich on August 27, 2011 and scored after coming on as a substitute in the 3-1 win.
Mata was in Spain's squad for the 2012 Olympics but it wasn't a happy experience as they fell at the first hurdle.
Mata has been named Chelsea's player of the season for the last two campaigns in a row.
What Mata Says
October 2013: "I just keep going, train well and prepare for every game. I just have to do my best in training and in games. It's important to play with the ball and without the ball, but I'm very happy and looking forward to playing a lot of games throughout the season. I try to improve every season, my first and second seasons were fantastic but I want this one to be even better so I will try to improve, score goals, assist and do what I have to do. I'm not the kind of man that gets down. I always believe in myself and train really hard. This is my way to behave, to be positive as much as I can. I have really enjoyed playing for this club in the last two seasons. I know what I can give to the team and I'm just trying to do that. I have to do this (to adapt to Mourinho's instructions). I try to do my best in every game and I think I'm doing that." www.chelseafc.com
September 2013: "I think it's normal in every transfer window that there are lots of rumours but I'm happy here. It's been a very, very good two seasons for me here, maybe the best of my career, and what I want this season is the same. I'm looking forward to achieving as many trophies as we did the last two seasons and hopefully this is going to be a good season for us again." Chelsea TV
June 2013: "Nobody at Chelsea has told me that Mourinho wants me out. When I finished the season I was told that they were very happy with my performances and with the two years I've spent with the club. I have three years left on my contract. I'm very happy with Chelsea. Mourinho? I'd prefer to wait until I meet him and work with him before I judge him. That's simple logic." Marca
---
New Sky Bet customers: Free matched bet up to £30
---
What Others Say
January 2014, Chelsea manager Jose Mourinho: "I keep saying that I want him to stay. There isn't offers. We have no offers. When I said 'I don't want him to leave', he was focused on that and not focused on when I said 'the door is always open'. Today he trained in a fantastic way, so no problems."
November 2013, Chelsea manager Jose Mourinho: "There is one thing that is obvious, which is I can't change the rules and I can't start the match with 12, 13 or 14. I'd love that because many people deserve to play and Juan is one who deserves to play because of the way he works, behaves, the way we see him every day. But if I play him and I don't play (Eden) Hazard or Oscar, you are asking me about Hazard or Oscar in this moment. It's a consequence of the squad we have where, for these positions behind the striker, we have so many options. It's hard for me. I don't have a special pleasure leaving players out. I enjoy playing them and making them happy, but there's nothing I can do." London Evening Standard
April 2013, Chelsea manager (at that time) Rafael Benitez: "Juan Mata is scoring goals and giving assists. When you have a second striker scoring 18 goals and giving 29 assists, it's like a striker. If you analyse his performance in the whole season, he could be one of the players of the year, for sure. When you play in a team that plays one game a week, you can be good, but Juan has played two games a week for months and he's doing really well. He's a very good professional and his numbers are fantastic."
Paper Talk
Daily Star, January 13 - Manchester United are refusing to give up on signing Juan Mata this month - and are also weighing up a bid for Juventus midfielder Arturo Vidal.
Sunday Mirror, January 12 - Bayern Munich coach Pep Guardiola is planning a bid to sign Chelsea playmaker Juan Mata in the summer.
Daily Star, January 9 - Chelsea star Juan Mata is set to be offered a route out of Stamford Bridge with Real Madrid interested in signing the Spanish international.
---
Get £120 from a £10 bet if Mata joins Real Madrid in January!
---
Daily Express, January 9 - Real Madrid have identified Chelsea's Juan Mata as the man they want to replace Arsenal, Manchester United and Monaco target Angel Di Maria at the Bernabeu.
The Sun, January 8 - Juan Mata insists he is happy to fight for his future at Stamford Bridge.
Daily Mirror, January 7 - Juan Mata will hold showdown talks about his Chelsea future this week with Atletico Madrid ready to pounce.
Mail On Sunday, January 5 - Rafa Benitez's Napoli have not made a bid for Chelsea's Juan Mata and do not believe they can prise him away from Stamford Bridge this month.
Sunday Times, January 5 - Juan Mata's frustration at working under Jose Mourinho has reached the point where the Chelsea forward has turned to Rafa Benitez to help provide a way out of Stamford Bridge.
The Sun, January 4 - Jose Mourinho has made a huge U-turn over Juan Mata, just 48 hours after saying he would not stand in the Spaniard's way if he wanted to quit Stamford Bridge
Top Tweets
Chelsea FC, January 10 (@chelseafc) - Jose: "We have had no bids for Mata or Essien. We've had two for De Bruyne which we are analysing." #CFC
Oddschecker, January 7 (@Oddschecker) - Atletico Madrid in from 28/1 to 12/1 this morning to sign Juan Mata during January window
Oddschecker, September 2 (@Oddschecker) - Most popular #deadlineday bet in the past hour is Juan Mata to #LFC. That would be a stunning move
Juan Mata Garcia (the man himself), August 24 (@juanmata10) - Exactly two years ago, i signed for #Chelsea. Too many things happened since then... #CFC
Videos
May 2013 - Mata says Jose Mourinho is one of the best managers in the world and will be be welcomed back in the Chelsea dugout
April 2013 - Mata, David Luiz and Petr Cech underline their passion for Chelsea - by getting covered in blue paint!
Our Verdict
Jose Mourinho would like to keep Mata at Chelsea but money talks and a massive offer would have to be considered. PSG look to be the side most capable of pushing a deal through especially with the Blues understandably reluctant to sell to a Premier League rival. PSG's Ligue 1 title rivals Monaco should be considered at 50/1 if they decide to use January to make a big statement.
---
Get £500 from a £10 bet if Mata joins Monaco in January!
---