Reds a priority FA Cup bet
Our Andy Schooler picks Liverpool and 100/1 outsiders Hull in his outright preview of this season's FA Cup.
FA Cup. Click here to bet.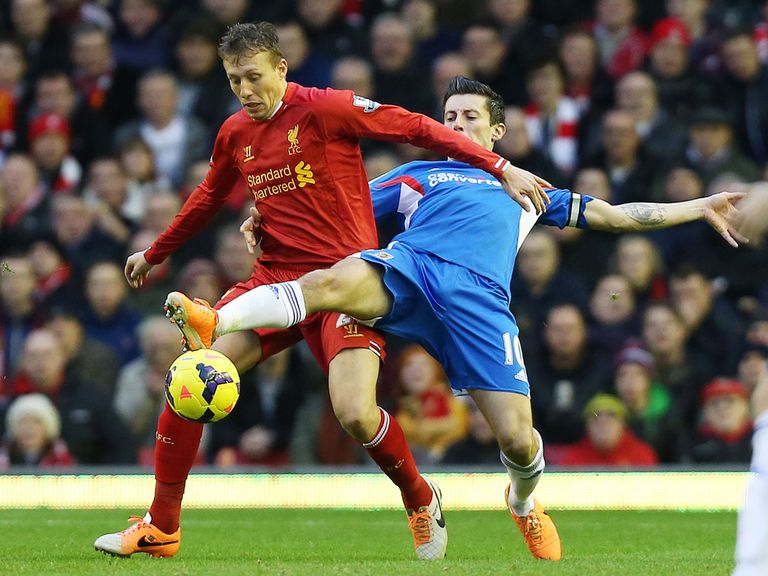 FA Cup third-round weekend is almost upon us, so it's time to seek out a potential winner of the grand old competition.
With it's free-draw format, this can be a thankless task - the best-laid plans can soon be hampered by a nightmare draw - but try I shall.
My approach is to split my betting bank between a side from the top of the betting - one with a genuine ability to win any tie they are handed - and one further down the market, a team who simply looks overpriced and has a decent outside chance.
Starting at the top, it's no surprise to see Manchester City installed as favourites.
They have a strong recent record in the competition, winning it in 2011 and making the final last season. In the year in between, they can surely be excused losing to Manchester United in round three.
City also have arguably the best squad of players in the Premier League so are well equipped to fight on several fronts.
However, given they are still in both the Champions League and the Capital One Cup, it's a good job.
To me, it's that 'quadruple' factor which makes their 11/2 quote look a little short. If they draw a fellow big gun at a crucial point then will a much-changed team be able to cope? Possibly, but I'm not convinced, particularly given the price.
11/2 to win six ties is not a great one even if they do end up receiving some cushy draws and it certainly means there's little value in backing them each-way.
The team with the best recent FA Cup pedigree is undoubtedly Chelsea, winners of the trophy in four of the past seven years.
However, the competition wasn't a priority in Jose Mourinho's first spell in charge and I doubt it will be now. With Chelsea having drawn Galatasaray in the Champions League last 16, there's every chance they will have at least four European games around FA Cup dates. Again, the 6/1 is not for me.
Instead the side I like from the leading contenders is Liverpool at 7/1.
---
Back Liverpool to win the FA Cup at 7/1!
---
As Mourinho (in the form of a dig) pointed out last week, the Reds have little to worry on other fronts with the league their only other concern.
If sustaining a title push becomes too much, then the FA Cup will become their number one priority. And even if the title bid continues - definitely a possibility given they performed admirably in unfortunate defeats at Manchester City and Chelsea - the cup ties won't be a problem.
With a week's break a regular thing on the Liverpool fixture list, it's hard to see vast changes being made to their team at any point.
Luis Suarez has been absolutely flying of late in a team shorn of Daniel Sturridge and Steven Gerrard - both of whom will return soon.
The fact they have coped so well without the duo shows they are more than capable of challenging for this trophy, even if some tweaks are made by Brendan Rodgers.
In terms of cup form, the Reds made the final two seasons ago and the season before that only lost away to Manchester United which makes a shock defeat like last year's at Oldham look far from the norm.
Liverpool get the chance for revenge as it is Oldham who visit Anfield this weekend. They should negotiate that League 1 hurdle and from there I'm happy to take my chances, with very few ties out there of particular concern in the months ahead.
While some will quite happily write off those at 20/1 and above, history suggests my theory about looking for a long-odds outsider has plenty of merit.
Looking back at the recent history of the competition you see that in the last 10 years there have been eight what could genuinely be called 'surprise' finalists.
While the majority have finished runners-up - the likes of Stoke, Cardiff, West Ham and Millwall all turned out to be cracking each-way bets - both Wigan (last season) and Portsmouth went all the way and lifted the trophy at a whopping price.
My recommendation for a Wigan repeat is Hull at a tasty 100/1.
---
Back Hull to win the FA Cup at 100/1!
---
The way they have defied pre-season expectations is to be admired with Steve Bruce having used his experience to ensure his side are tough defensively.
Their success so far - they sit 10th in the Premier League table - is founded on a strong home record. With Liverpool among their victims at the KC, only the top five have accrued more points on their own patch this season and no-one would relish a trip there.
Admittedly they haven't been great on the road, and I can hardly guarantee a run of home ties, yet there have been a few encouraging signs with the victory claimed at Newcastle and the draw at Tottenham in the League Cup among them.
That League Cup run - which ended on penalties in the last 16 - showed they are capable of winning ties even without their first-choice XI on the pitch.
Certainly I feel they can survive this weekend's trip to Middlesbrough and go from there. If their current league form is maintained, relegation fears may be truly banished in a few rounds' time, which would be another bonus.
In addition, joining Hull is now a much more attractive proposition than it was in the summer (even then they managed to sign Tom Huddlestone and Jake Livermore among others) so if Bruce can bring in a proven goalscorer this month - a facet currently missing from the squad - the Tigers will become an even better bet.
I just can't agree with the bookies making them a longer shot than all of Sunderland, West Brom, West Ham, Norwich and Fulham and will happily throw some loose change at them in the hope of a fairytale run to Wembley.
Posted at 1125 GMT on 02/01/2014.
---
New Sky Bet customers: Free £30 matched bet
---