UEFA investigate Toure chants
CSKA Moscow have denied their fans racially abused Yaya Toure during their Champions League defeat to Manchester City - but UEFA are investigating the allegations.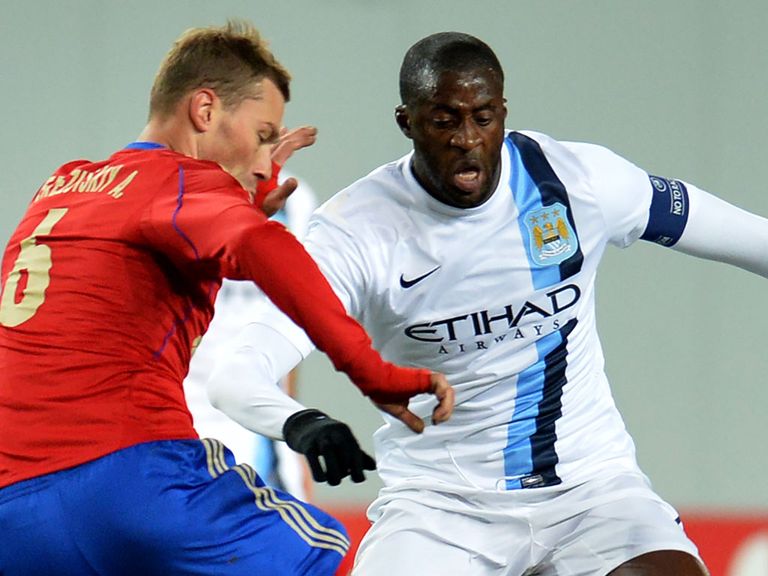 The sport's European governing body is waiting for the reports from the referee and match delegate who were at the match before deciding on any charge against the Russian club after Toure was subjected to apparent monkey chants.
City's Ivory Coast midfielder has called on UEFA to close the Moscow stadium as punishment for the abuse he suffered, and under the new rules a partial closure looks certain if the allegations are proved.
A first offence of racist behaviour by supporters carries a sanction of a partial stadium closure and a second offence leads to a full stadium closure plus a fine.
UEFA's communications director David Farrelly said: "In relation to the UEFA Champions League match between CSKA Moscow and Manchester City, we are waiting for the reports from the referee and the match delegate as they are our eyes and ears at the match.
"UEFA now has new regulations in place which were brought in at the start of the season.
"The executive committee, supported by the UEFA Congress, felt that fines were not a deterrent - this is not a financial problem, it is a human problem - and decided to change the regulations in order to tackle the problem in a more effective way.
"These new regulations have only been in existence for a matter of weeks but we have already seen them used by the disciplinary bodies."
CSKA Moscow issued a statement saying they were "surprised and disappointed" by Toure and City officials' allegations.
A club statement said: "Having carefully studied the video of the game, we found no racist insults from fans of CSKA. In many occasions, especially during attacks on our goal, fans booed and whistled to put pressure on rival players, but regardless of their race.
"In particular, this happened with Alvaro Negredo and Edin Dzeko. Why the Ivorian midfielder took it as all being directed at him is not clear."
CSKA also quoted their own Ivory Coast player, striker Seydou Doumbia, as saying he did not hear any racist abuse.
Doumbia said: "I didn't hear anything like that from the CSKA fans.
"Yes, they're always noisy in supporting the team, and try to put as much pressure as possible on our opponents, but they wouldn't ever allow themselves to come out with racist chants.
"So my Ivory Coast colleague is clearly exaggerating."
CSKA said they had never been sanctioned for racist abuse in all their years in European competition and will "continue to fight against racism".
City confirmed they will make an official complaint to UEFA over the matter and confirmed that Toure voiced his concerns about the chanting to the referee during the match.
Toure said: "I'm not just disappointed, I'm furious.
"I'm very, very disappointed about what those fans have done and I think UEFA has to take action because players with the same colour of skin will always be in the same position.
"For me, as captain, I was wearing an armband which said 'no to racism' and I was totally disappointed.
"Maybe they could ban the stadium, I don't know, for a couple of years or a couple of months.
"It's stupid these people. I don't know, it just happens in football. It's unbelievable. UEFA has to take action to right it otherwise I think they will just continue."
Manchester City insist it was not just Toure who heard the abuse.
Club officials say they also heard the monkey chants, as did other players, and that the abuse was mentioned by broadcast media during television transmissions.
The club lodged a verbal complaint with the UEFA match delegate on Wednesday night and are expected to follow that up in writing on Thursday.
So far this season, UEFA has imposed full stadium bans on three clubs - Dinamo Zagreb of Croatia, Legia Warsaw of Poland and Honved of Hungary - for racist behaviour by their supporters while five other clubs have had partial stadium closures imposed. They are: Lazio (who were originally handed a full stadium closure but that was reduced on appeal), Polish clubs Lech Poznan and Piast Gliwice, APOEL Nicosia of Cyprus and Croatian outfit HNK Rijeka.
---
New Sky Bet customers: Claim free £5 bet every week
---