City go to UEFA over chanting
Manchester City have confirmed they intend to submit a official complaint to UEFA over alleged racist chanting aimed at Yaya Toure during their Champions League tie at CSKA Moscow.
Champions League. Click here to bet.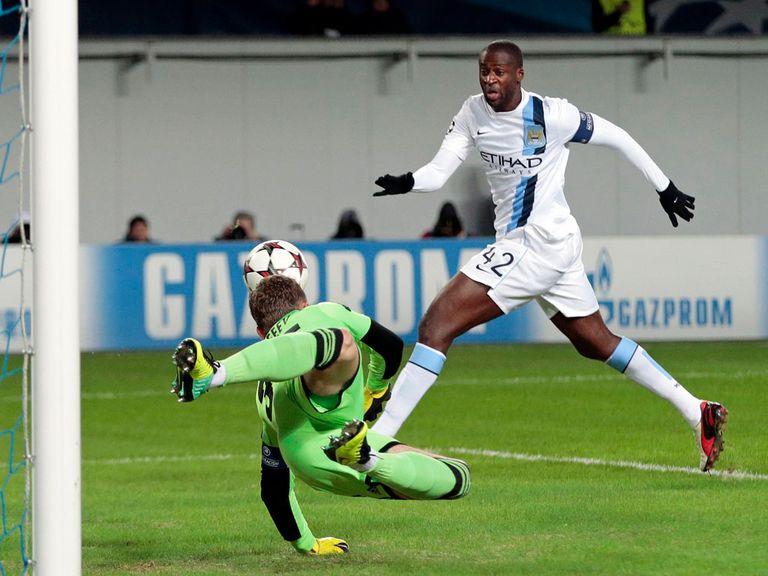 Noises that sounded like monkey chanting were heard during the game and Toure appeared to complain at one point to referee Ovidiu Hategan.
City spoke to UEFA's match delegate after the match at the Arena Khimki and intend to follow up by making an official written complaint after they return to Manchester.
Midfielder Toure spoke of his sadness over the matter at the end of the game. The Ivory Coast international told Sky Sports: "It is quite disappointing when you're talking about people continuing to do that.
"It is unbelievable and very sad on my part.
"I think UEFA need to do something strong. It would be nice if we could stop that.
"Some of the songs today were quite stupid and I think UEFA has to do the work.
"Every time we say something it continues, something has to be done to stop it."
City went on to win the Group D game 2-1 after two goals from Sergio Aguero. The incident comes 18 months after Porto were fined £16,700 by UEFA after their fans racially abused Mario Balotelli during a Europa League clash against City in February 2012.
City also lodged an official complaint on that occasion, when monkey-chanting had been prolonged and widespread.
Controversially, City were later fined £24,740 for delaying the kick-off of the second half of that same game by one minute.
With the prospect of a World Cup on Russian soil in five years' time, FIFA vice-president Jim Boyce called on the Russian authorities to clamp down on racism.
Speaking to Radio Five, he said: "Absolutely no shadow of doubt about it. The Russian federation have got to assure - along with the Russian government - that these incidents are put to bed because it's happening too often. Too much abuse has been happening in many, many parts of eastern Europe.
"Eastern Europe have problems, but we have problems in other parts of the world as well. It's got to be eradicated and the only way is to take serious action against the people who do it - don't allow them to watch football matches."
He continued: "I am absolutely appalled by events of this evening. I've always been outspoken against any form of racialism or sectarianism in sport.
"FIFA and UEFA are absolutely united in making sure these offences hopefully will become a thing of the past.
"I've always said fining clubs is not a solution to this problem. A lot of the clubs take every step they can - they can't stop some of these idiots."
Piara Powar, executive director of Football Against Racism in Europe (FARE), believes UEFA has taken a step in the right direction by implementing stadium bans, but feels educating the fans remains the big hurdle.
"There's been some progress over the last year or so," he said. "UEFA have changed their rules and already this season sanctions are harder than ever before.
"For a first offence you face a partial stadium closure; for a second offence your stadium will be closed for a match. This has happened already or I think in something like 10 matches.
"It's taken a long time to get here, but I think we are seeing some movement on the sanction side. In terms of education, I don't know how long that's going to take to educate fans like we've seen at CSKA tonight."
He added: "The key thing is Yaya Toure did what he should do, which is to approach the referee and tell him about it.
"That means technically the UEFA process is triggered. The referee will have to mention it to the UEFA delegate, the senior UEFA guy at match he will have to put it in his report and UEFA will have to charge CSKA.
"That process should be rolling by now already."
---
New Sky Bet customers: Claim free £5 bet every week
---