No Pep talk from Mourinho
Jose Mourinho refused to fan the flames of his rivalry with Pep Guardiola ahead of a reunion at the European Super Cup on Friday night, but disputed his poor record against the Spaniard.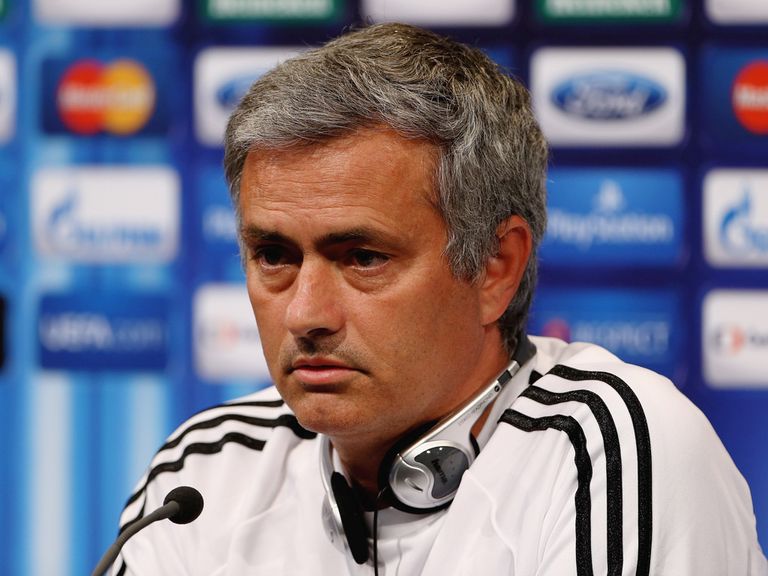 As head coaches of Barcelona and Real Madrid, respectively, the pair enjoyed a fierce rivalry which has endured ahead of the Prague clash between European champions Bayern Munich and Chelsea, the Europa League winners.
The first question posed at Stadion Eden on the eve of the match provoked Mourinho's anger.
The inquisitor asked former Real boss Mourinho why he found it difficult to win matches against Guardiola's Barca, pointing out the Portuguese has three wins from 15 games over his old adversary.
"Your statistics are wrong and very wrong," Mourinho said.
"But I don't want to discuss that. Because it's not important. It's wrong.
"Go there and see what happened with Inter in the Champions League semi-final. I won the Spanish Cup final in Valencia, I won the Super Cup in Spain. I was champion in Spain.
"I won the match for the title in Barcelona with Real Madrid.
"You are very, very wrong, you are wrong."
Asked if Mourinho had the real statistics, he relented somewhat, suggesting his inquisitor may, in fact, be correct.
"I don't know," the Portuguese added. "Maybe you are right and I am wrong. But I don't care. It's not important."
The three wins for Mourinho are correct, but he did enjoy aggregate success in two-legged ties over Guardiola.
Mourinho was then asked about the portrayal of Barcelona as a beautiful footballing side and his functional Madrid, who broke the Catalans' hegemony by winning the 2012 Primera Division title.
The self-proclaimed Special One, in his second spell at Chelsea after leaving Madrid in acrimonious fashion at the end of last season, grabbed the badge on his white polo shirt and pointed at it.
"It's white, but it's Chelsea," he said.
"If you want questions about Chelsea I'm here until four o'clock.
"If you want questions about Real Madrid and Barcelona or wherever, I'm not here.
"That's not about me and Pepe. It's about Chelsea and it's about Bayern Munich.
"It's about a Super Cup where the European champion is playing against the Europa League champion.
"Pepe is not European champion and I'm not Europa League champion.
"We just coach now the European champion and the Europa League champion. This is not about us. It's about Chelsea and Bayern."
The match is a re-run of the 2012 European Cup final, won by Chelsea, but, as Mourinho points out, two of the main protagonists are different.
Guardiola, following a year's sabbatical after leaving Barcelona, has replaced Jupp Heynckes, who retired after lifting the European Cup in the all-German final at Wembley in May.
Mourinho, meanwhile, returned to Stamford Bridge in place of Rafael Benitez, who as interim boss led Chelsea to the Europa League title in Amsterdam in May.
Mourinho has downplayed Chelsea's Europa League success, a run which began in Prague in February after the Blues became the first holders to be dumped out of the Champions League at the group stage.
The continental focus this term for the Blues is the Champions League and Mourinho believes the Bayern encounter is important for his developing squad as Europe's elite competition is on a "another planet".
"Champions League is another world," he added.
"I don't want players to feel that because we were successful in the Europa League, you can keep the same level and you can be successful in the Champions League, because it's a different planet.
"I think it's good for us. Before we start the Champions League it's very good to play with Bayern and you have this feeling."
Mourinho was effusive in his praise of Bayern.
"Bayern's strength is the team," he said.
"The team is an end product. The team is a team of players in the best moment of their career.
"They come from a season where they show that they were the perfect team, because to win the treble only perfect teams can do it.
"That's their best quality. This incredible footballistic power and the stability they have, the personality they have. They are an end product, a fantastic team."
Mourinho has never won the European Super Cup, despite winning the Champions League twice, in 2004 with Porto and 2010 with Inter Milan, as on each occasion he changed jobs. His UEFA Cup-winning Porto team lost the 2003 edition to Valencia.
Chelsea lost last year's showpiece 4-1 to Atletico Madrid in Monaco, but Mourinho is confident his side can triumph on this occasion.
"What I really feel is that in spite of a difference in experience between the two teams and the stability Bayern has, because over the last years they were basically the same team, the same players, is that we can compete against them," the Portuguese added.
"And when you compete eye to eye, it means you think you can win and we think we can."
Goalkeeper Petr Cech is among those keen to make amends for Chelsea's Super Cup capitulation last term, which began a downward spiral and ended with Roberto Di Matteo being replaced by Benitez.
"We want to forget about last year's Super Cup and would like to have a different story this time," Cech said.
New signings Willian and Samuel Eto'o have not travelled to Prague in a 26-man squad which includes David Luiz (hamstring) and Tomas Kalas (leg), who have not played this season.
---
Sky Bet Free Bet Club: £10 free bet - £5 free every week
---