Transfer Focus: Cristiano Ronaldo
Cristiano Ronaldo is always making headlines in the world of football and this summer will be no different.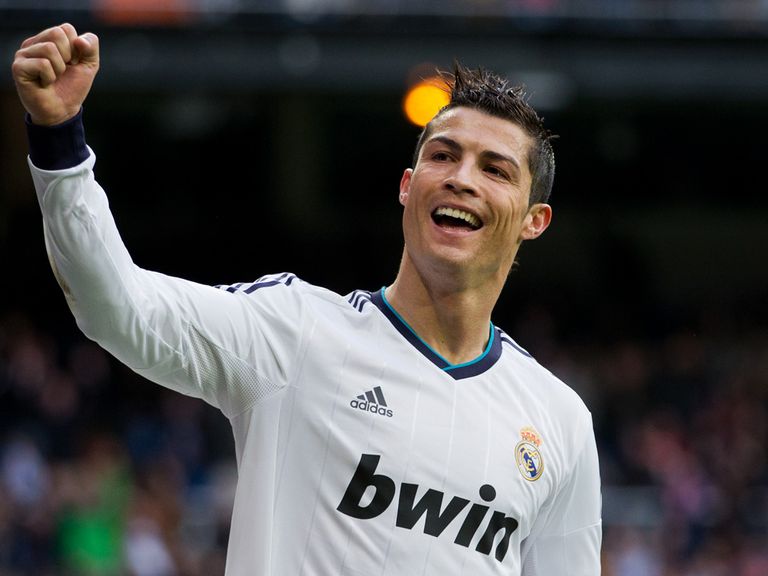 7. Cristiano Ronaldo
| Title | Number |
| --- | --- |
| Appearances | 11 (0) |
| Goals | 5 |
| Assists | 2 |
| Yellows | 2 |
| Reds | 0 |
*Current Season
The Real Madrid star has been linked with a move away from the Bernabeu and former employers Manchester United are the 5/2 favourites with Sky Bet to bring the forward back to Old Trafford.
PSG and Chelsea have also been credited with holding an interest in the Portugal international and both clubs have money to spend.
Real Madrid president Florentino Perez has insisted he wants to keep Ronaldo at the club by making him "the best paid player in the world" but is that enough to put off the potential suitors.
It would take a huge offer for the Spanish giants to even consider selling Ronaldo but it's not impossible and that is why the 28-year-old is the subject of our latest Transfer Focus.
Who Wants Him?
Manchester United (5/2 to sign Ronaldo this summer with Sky Bet): Ronaldo was a standout performer during his time at United and there's no doubt he would be welcomed back with open arms by the club's fans. Talk of a return was looking more likely before Sir Alex Ferguson's departure from the Old Trafford hotseat but David Moyes wouldn't say no if he were offered the chance to sign the forward. Other clubs are likely to spend more this summer so would the Red Devils be prepared to match a sensational bid from elsewhere?
PSG (7/2): Definitely the club to watch out for in the transfer market but a move for Ronaldo still appears unlikely. PSG boss Carlo Ancelotti is widely expected to become the new coach of Real Madrid so it wouldn't make much sense for the Spanish giants to allow their biggest asset to go the other way. An offer could go in but that doesn't mean a deal will come close to being completed.
Chelsea (5/1): This would be very interesting. Jose Mourinho is 1/50 with Sky Bet to become the next Chelsea manager and he already knows all about Ronaldo's talents from their time together at Real Madrid. Roman Abramovich has spent big before to make a major statement to the Blues' rivals and statements wouldn't come any bigger if this transfer happens.
---
Get £50 from your free £10 bet with Sky Bet if Ronaldo joins Chelsea
---
Also available with Sky Bet: Bayern Munich 33/1, Manchester City 33/1, AC Milan 40/1, Juventus 40/1.
Sky Bet's Chris Spicer says: "Chelsea are our worst result in the book at 5/1 as punters have latched to the Mourinho move. The pair worked together at Real Madrid but we have always been against this switch given the talks of unrest between the pair towards the end of the season.
"Manchester United are the 5/2 favourites to sign their former number seven but whether their new man David Moyes will be offered such significant financial backing at this stage is unclear.
"The interesting one is mega-rich Manchester City who are 33/1 to sign Ronaldo. They surely have the funds in place but whether he would feel comfortable about signing for a former rival is hard to know."
---
Get £330 from your free £10 bet with Sky Bet if Ronaldo joins Man City
---
The Stats
This season 55 games, 51 goals - Ronaldo's near goal-a-game return during the current campaign includes hat-tricks against Deportivo, Ajax, Getafe and Sevilla. He's also found time to pick up 12 bookings
Last season 61 games, 66 goals - It was over a goal-a-game for Ronaldo when the adding up was done at the end of the 2011/12 campaign. Hat-tricks were scored against Zaragoza, Rayo Vallecano, Malaga, Osasuna, Sevilla, Levante and Atletico Madrid
International record 102 games, 38 goals - There have been plenty of memorable moments during Ronaldo's Portugal career from that wink when Wayne Rooney was dismissed at the 2006 World Cup to finishing joint top-scorer at Euro 2012. He also played at the 2004 Olympics
Ronaldo facts
Ronaldo could have been called Cristiano Dos Santos Aveiro but his father gave him the second name Ronaldo in honour of his favourite actor and then-American president Ronald Reagan
Sir Alex Ferguson says he knew Manchester United had to sign Ronaldo at half-time of a friendly against Sporting Lisbon in 2003
Ronaldo became the first Premier League player to win the FIFA World Player of the Year award in 2009
Ronaldo made his debut for Real Madrid in a 1-0 friendly victory against Shamrock Rovers on July 21, 2009
Ronaldo became the first player to score against every team in a Primera Division season during the 2011/12 campaign
Ronaldo won his 100th cap for Portugal in the 1-1 draw against Northern Ireland in October, 2012
What Ronaldo Says
May 2013: "I have two more years on my contract, I am not concerned about that. I want to win wherever I am. That is what I want most, I am not concerned about renewing."
April 2013: "I still have a lot to give to Real Madrid and the club can count on me because I'm always available. The important thing is winning, playing and Real Madrid, and my future does not matter."
---
Get £400 from your free £10 bet with Sky Bet if Ronaldo joins AC Milan
---
September 2012: "That I am feeling sad and have expressed this sadness has created a huge stir. I am accused of wanting more money, but one day it will be shown that this is not the case. At this point, I just want to guarantee to the Real Madrid fans that my motivation, dedication, commitment and desire to win all competitions will not be affected. I have too much respect for myself and for Real Madrid to ever give less to the club than all I am capable of. Abrazos (hugs) to all madridistas." Twitter
What Others Say
May 2013, Real Madrid president Florentino Perez: "He told me in the summer he was sad and I told him we would do everything possible for him to be content. I think Cristiano is the best player in the world. We want to build the Madrid of the future around him and I would like Cristiano to be the best-paid player in the world. I don't know if he has an offer from PSG. I think Cristiano is the best player in the world. We want to build the Madrid of the future around him and I would like Cristiano to be the best-paid player in the world." Cadena Ser
April 2013, PSG director of football Leonardo: "On Ronaldo, there has never been an offer. I've never heard anything about (Wayne) Rooney or (Edinson) Cavani either. I do not rule out big signings, but only if there is a suitable opportunity. We do want a larger squad with adequate cover in all areas in order to avoid the sort of problems we had in January in midfield with all the injuries and suspensions." Gazzetta dello Sport
March 2013, Real Madrid legend Emilio Butragueno: "Cristiano is under contract and we are very happy with him. We are delighted he is at Madrid because he is a fantastic professional, and very ambitious in a positive way. His contribution to the team and the club has been amazing since he arrived. We are very grateful he came to us and are lucky he plays for Real Madrid."
March 2013, Manchester United captain Nemanja Vidic: "It would be a big ask for many reasons (to bring Ronaldo back). I would love to see Cristiano here. I could see it. He is a United supporter. Even though he left he still follows United and still misses the club and the environment here." The Sun
Paper Talk
Daily Star, May 29 Real Madrid will make Cristiano Ronaldo the highest-paid star in the world to stop him returning to Manchester United.
Daily Express, May 23 PSG have made contact with Wayne Rooney as they step up their attempts to sign the striker and his former team-mate Cristiano Ronaldo.
Daily Mail, May 18 Cristiano Ronaldo is at the centre of a bidding war after it emerged the Manchester United target is also wanted by Chelsea.
Top Tweets
Guillem Balague, May 26 (@GuillemBalague) - for those of u who ask: Rooney not wanted by Madrid and Ronaldo not leaving this summer either
MailOnline Sport, May 17 (@MailOnlineSport) - EXCLUSIVE: Special Ron! Jose hopes to hijack United bid & sign Cristiano #Ronaldo for his #Chelsea revolution #mufc
Michael Owen, May 17 (@themichaelowen) - Is there any weakness to Ronaldo's game? He is different class in every department.
OptaJoe, May 15 (@OptaJoe) - 9 - Only Ronaldo (12) & Lewandowski (10) have scored more goals than Fernando Torres (9) in Europe this season. Value.
OptaJose, May 4 (@OptaJose) - 12 - Cristiano Ronaldo has scored more headed goals than any other player in La Liga in the last two seasons. Persistent
Cristiano Ronaldo, March 6 (@Cristiano - the man himself) - Thank you for a massive and unbelievable reception. I'm happy to win but also sad for Manchester United.
Videos
March 2013 - Ronaldo praises Manchester United's fans after Real Madrid's Champions League match at Old Trafford
February 2013 - Ronaldo's goal for Real Madrid against Manchester United in the Champions League match at the Bernabeu
September 2012 - The Revista de La Liga panel discuss the future of Ronaldo amid speculation he is unhappy at Real Madrid
---
Click here for completely free £10 bet with Sky Bet
---