Whelan keen to keep Martinez
Chairman Dave Whelan does not believe Roberto Martinez should leave Wigan for Everton as they are not a big enough club for the Spaniard.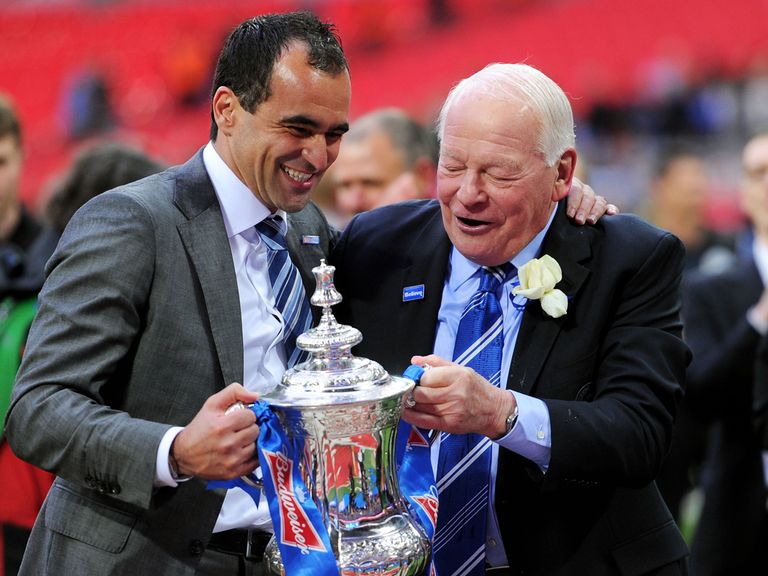 The Latics were relegated to the power Championship on Tuesday night following a 4-1 defeat to Arsenal which further increased speculation that Martinez is set to leave the DW Stadium.
The 39-year-old was heavily linked with Liverpool last summer and has now emerged as one of the bookmakers' favourites to replace David Moyes at Goodison Park this summer when the Scotsman leaves for Manchester United.
After guiding Athletic to FA Cup success on Saturday, Martinez's stock as never been higher, despite also adding a relegation to his CV, and Whelan believes his manager should be setting his targets higher than the Toffees.
He told Sky Sports News: "Roberto, when he goes to a big club, I was thinking one of the big European clubs or a big English club.
"Everton are a great club by the way and, if he chose to go to Everton, I'm sure the Everton supporters would be delighted."
He added: "I have nothing whatsoever against Everton, I love that club. I love playing against them, I love the supporters, everything about them is top class and if he went to Everton I would wish him the very very best of luck.
"But I just think he will go to a bigger club than Everton, in reality.
"Throughout Europe there are some massive clubs and Roberto being what he is, he is so good.
"Sooner or later, I've always said he will go to a massive European club and he'll do well.
"Whoever he goes to, Roberto is a brilliant, brilliant manager."
Despite the talk of Martinez's bright future on the bigger stage, Whelan insists his exit is not a foregone conclusion this summer.
The Latics have spent the last eight years in the top flight and Whelan remains hopeful that Martinez will be the man to guide them back there next season.
"I will have a meeting with Roberto on Monday next week and, as every year and every week, we sit down and have a meeting," he said.
"We both trust each other implicitly and whatever Roberto says I believe and I know whatever I say to him, he will believe that.
"All we're doing is meeting in the interests of Wigan Athletic because Roberto has been a fantastic manager and I hope that he will continue to be a fantastic manager for Wigan for at least two or three years to come.
"I've always said to Roberto, we're very honest with each other, if you want to leave Wigan and go to a big club, you just say and I will release you immediately."
While Whelan may face a battle to keep hold of his manager, he could have even more trouble keeping hold of his top players.
The likes of Arouna Kone, James McArthur, James McCarthy, Callum McManaman and Shaun Maloney have all caught the eye in a struggling team this season and Whelan will not stand in the way of players who want to leave the club, if the the money is right.
"Some of the players who want to stay in the Premier League will definitely want to move," he said.
"I can't blame them for that because it's such a fantastic place to play.
"And if the players come and say I want to go and we get the right offer, I will not stand in their way.
"Roberto is of the same opinion, we've got to be fair with players and the players have got to be fair with us."
One man who will be staying at the DW Stadium is Whelan himself.
The 76-year-old bought the club in 1995 when they were in the fourth tier and, despite talk that he was considering taking a step back from the club, he is determined to steer them back into the Premier League.
"We're out of the Premier League, my priority is one thing: Get Wigan Athletic back in the Premier League," he said.
"If I was thinking of stepping off a little next year that's been put on ice now, I'm back and I'm back 110 per cent behind Wigan Athletic.
"I've one ambition now left in my life and that is to get Wigan back in the Premier League."
Wigan confirmed on Wednesday night they will celebrate their FA Cup victory with an open-top bus parade on Monday evening.
The ceremony will begin at around 5pm with the bus travelling the length of Standishgate before players and management disembark in the Market Place, where they will take to the stage to celebrate with fans.
"This is a very special moment in the club's history and we want to thank everyone from our home town for the tremendous support we have received and the belief the town and the council has shown in us,'' said Martinez.
"We hope lots of people will turn out to celebrate with us.''
Lord Peter Smith, the leader of Wigan Council, added: "Wigan Athletic have achieved something that seemed like a pipedream. But due to the hard work of Roberto, Dave Whelan and everybody at the club, that dream has become a reality.
"We are extremely proud of them and their fans and we are delighted to be able to host this celebration right in the heart of Wigan.''
---
Click here for completely free £10 bet with Sky Bet
---