Laudrup dismisses future talk
Michael Laudrup has insisted it is not the time to consider his future as he focuses on Swansea City's quest for Capital One Cup glory, but chairman Huw Jenkins has admitted he is already preparing for the day the manager leaves.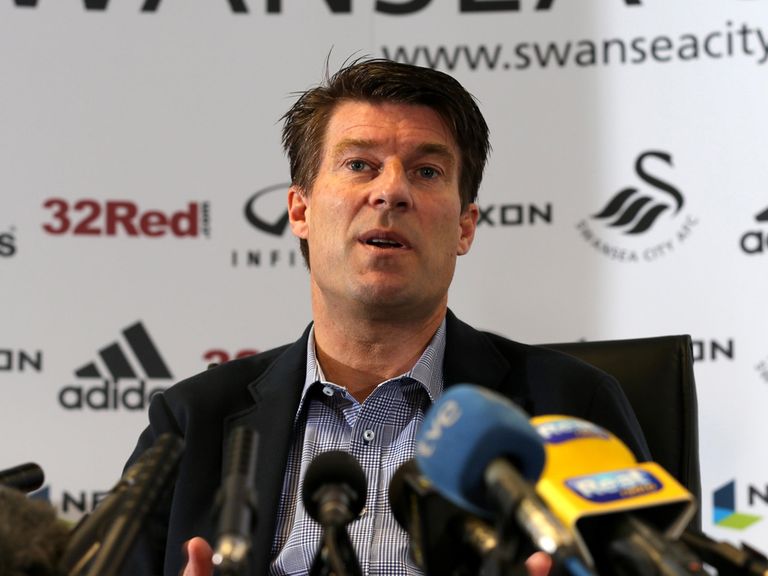 Laudrup has earned rave reviews for his work at Swansea this season and has guided the club to a place at Wembley for Sunday's League Cup final against League Two side Bradford City.
Speculation has suggested that he could replace Jose Mourinho as Real Madrid boss in the summer but the Dane is concentrating solely on trying to make history with the Swans as he feels the club could go from strength to strength with a win this weekend.
He said: "It's not the moment to talk about the future. We're days away from one of the biggest games in the history of this club, so to speak about other things would be a little ruthless.
"We don't have to let anything come between us now. We have to focus on this game. Anything else, it's secondary right now.
"Winning a trophy would do a lot (to change Swansea's image). It would mean to go into Europe and that would be fantastic: what it gives to the club and the fans - less in terms of money - and maybe to the outside world as well, as players might want to play in the competition."
While Laudrup is thinking only about the clash with Bradford, chairman Jenkins has admitted that he has already started to mull over potential candidates for the manager's role in the future.
Jenkins accepts that managers, like players, will get linked with moves elsewhere when they are successful and he is determined to be ready for when Laudrup does leave.
"I think we have to be aware of different managers and what they stand for," Jenkins, who is reportedly set to offer Laudrup a one-year extension to a contract that expires at the end of next season, said in the Daily Telegraph.
"We're probably aware of certain managers who could come here in the future. It's an ongoing process. Whether it happens in a year, two years or five years, we have to be ready.
"There are bigger clubs than us having that problem. When Man United lose [Cristiano] Ronaldo or Arsenal lose [Robin] van Persie, for us to question whether we'll lose people would be a little unlikely. We just need to be ready."
---
Get £80 from your free £10 bet with Sky Bet if Wells scores first
---